Red Bull KTM again proved to be unbeatable in the sand and around the dips and bumps of the Valkenswaard circuit for the Grand Prix of the Netherlands yesterday. MX1 winner Tony Cairoli (four-time winner at the track) and MX2 victor Jeffrey Herlings (three years in a row here and six motos unbroken) chatted about their positive opening to the 2012 FIM Motocross World Championship
Racer X: Tony, although Steven Frossard and Clement Desalle were with you for a while it seemed you didn't have much trouble in pulling away.
Tony Cairoli: Maybe it looked that way but it was not easy. It was the first race and I didn't really know where my level would be. We raced the Italian Championship over the previous month or so and had some nice battles with Steven but the tracks were too easy and you couldn't judge the speed. I like the track here and everything went perfectly. We had to change a few settings yesterday but we did a good job and the bike was better.
You took a little bit of a cautious approach in the first laps and let Frossard and Desalle show the way.
I did not want to make a mistake and was riding a bit carefully in the beginning. Steven was also very fast and pushing hard. I tried to follow and he made a few mistakes so I could pass and then I worked on pulling away. I messed up the first corner of the second moto and went a bit wide and almost crashed in the second turn because Christophe [Pourcel] broke really hard.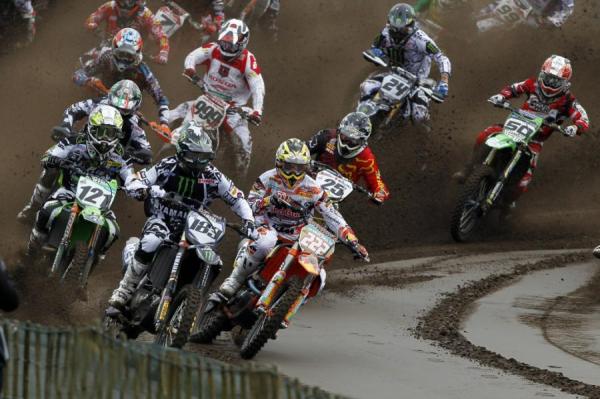 Cairoli (right, #222) had some pressure from Frossard (left, #183) early, but would cruise home to the opening round overall.
Photo: Ray Archer // KTM Images
So that's another win here at Valkenswaard.
For sure it is special to win four times in a row in Valkenswaard. I'm really happy with my riding today, it's all good.
The track seemed to present a different challenge this year, and not just for the weather.
It was a different track and it was important to be smart and not make mistakes because it was easy to lose it and crash. They flattened almost half the track for the second moto and I didn't think it was necessary. The jump take-offs, okay, you can fix those for safety, but I don't know why they did that [the rest of the course] because it didn't get so rough and was kinda easy.
Did you stay out of the Frossard-Desalle spat in the second moto and wait for it all to calm down?
I know that Clement…well, that's his style and I can imagine Steven didn't appreciate it. I was waiting and doing my best to keep a high tempo. I was looking for a little bit of a gap between them both so I could then start to think about the pass.
Bulgaria and Italy are next, both hard-pack and not much sand for a while now on the calendar.
I've been practicing more on hard-pack compared to previous years actually so I am confident and Sevlievo is quite an easy track. Everyone can have a good speed there.
Jeffrey Herlings:
Racer X: Jeffrey it wasn't a gate-to-flag set of wins but it was still pretty dominant!
Jeffrey Herlings: Yeah, it felt easy and I like coming here. The first moto was good. The track was quite rough and I worked my way up to a minute's gap in front of Tommy. I had a bad jump out of the gate in the second [moto] and came back from fifth up to the lead in one or two laps and then checked out. My riding was good, I just need to work on my starts in the coming weeks. That will be the key for Bulgaria: getting that holeshot. I will make a billion [practice] starts if I have to get it right!
Yet again your fans here in Holland had plenty of reasons to be cheerful.
I could hear the fans, especially in the last few laps of each moto where I took it easy. The last lap of the second moto was special. I've been winning here for three years now, with a double moto win! Having the red plate only counts if it is at the last race of the year. I only had it once in 2011. Anyway I hope to keep it on my KTM now.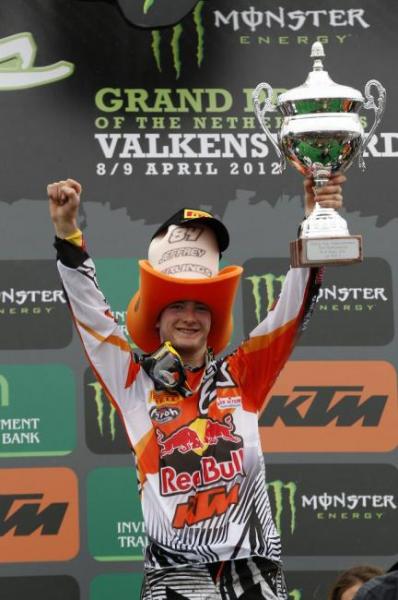 Herlings celebrates the MX2 overall at his home race.
Photo: Ray Archer // KTM Images
What's the story behind the weird hat on the podium?
The guy from Twin Air called me this morning and asked if I could give around 50 of the hats to some fans at the track and one of them threw it to me at the front of the podium. I thought it would be fun to put it on and I always like to do something a bit different at the Dutch GP.
You're running a new engine on the 250SX-F. How is it?
The bike is much better with the different kind of engine I am running now. I just need to sharpen my starts. It feels like I have the bottom of a 350 with the cylinder of a 250! It rides more like a 350, especially on the hard-pack tracks where it is really smooth. We tested both the old and the new engines back-to-back and there was always a one or two second difference in the lap-times. It is a really positive thing. It is a brand new engine so we can't expect too much right away, and the starts need to be better, but it is an improvement from what we had.
Do you think the guys next to you on the podium – Roelants and Searle – will be your main and only rivals for the titles this year?
Some guys are injured like [Zach] Osborne and [Arnaud] Tonus and I keep seeing Tommy as my biggest rival but I think Joel can do well. I think Jeremy Van Horebeek can also be there, but for sure Tommy is my biggest threat at the moment.