Les Smith describes his 2012 season so far as up and down, although there are many riders out there who would be thrilled to have his results. Smith has qualified for five of seven main events, has finished inside the top ten with a ninth in Indianapolis, and sits thirteenth in the points heading into the break. We thought results like that warranted some press, which is why we got in touch with Smith for this week's Shoei Privateer Profile.
Racer X: How has your season been going so far this year?
Les Smith: It's been up and down so far, I've struggled a little bit with some things here and there. I feel all right though, and I think it's getting better. Our best finish so far has been a ninth (in Indianapolis), and I definitely want to do a lot better than that. I think we're starting to click with everything, so it should get better from here.
When you say you've been struggling with a few things, what are you referring to?
I've been riding really tight at the races. I've been riding really good at home, but I get to the race and I feel tight. I've been trying to do different things at home, just to try to help me loosen up at the race, and I feel like the last couple weekends, I've finally started to feel a lot better on the bike at the race. I made a couple changes to the bike to help with that, but it's mostly just me. I need to try to loosen up and not be so tense.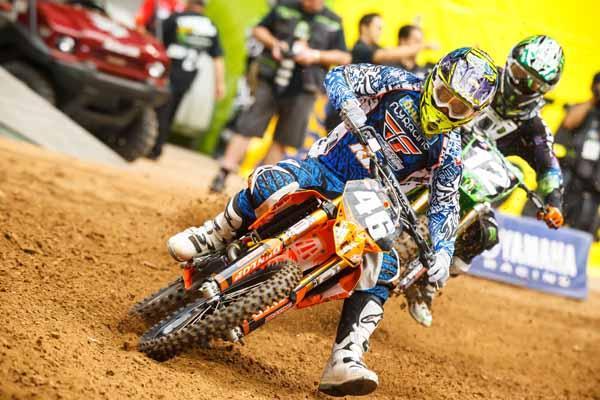 Smith sits thirteenth in the points heading into the break.
Simon Cudby photo
You bounced back and forth between quite a few teams last year. It's got to be nice to have a steady home for the whole year.
It definitely helps a lot to be on the same team for the year. Last year was kind of a whirlwind of bouncing around, and it's funny because I went riding with my mechanic today, and we were just talking about that. I rode my 450 today, for the first time for outdoors, and it's going to be nice to be able to be on one team for the whole season and not have to worry from week to week. The teams I rode for last year worked really hard to make sure I was as comfortable as possible, but still, it eases your mind so much to know that you'll be with your team every week, and you've got the whole season. No matter how good the bike is, having peace of mind is a huge part of it.
This is a first-year effort for your team, Ohlins/Langston Motorsports/KTM. How is that going?
It's great, we've got a really good group of guys. It's new to everybody, and everyone is starting to find their place and work together well. Obviously it's taken some time for everybody to learn exactly what their role is, but luckily everyone works really hard and puts in a lot of effort. Things are really starting to come together, and I think that we've got a good group of people, everyone wants the same thing, and we all want to go far with this. I really think it's going to end up being really good.
Do you have any funny stories about your team manager Grant Langston yet?
Quite a few! I've got a whole lot, but I don't know how many of those I can tell you! I hear that he's going up for team manager of the year, he's the head of the team. But he's also the head of entertainment for all of the other teams every weekend. I don't get to be on that side of it, but from what I hear, he shows everybody a good time after the races.
With only two races left in the Eastern Regional Supercross Lites series, are you starting to concentrate on the outdoor season, or are you still focused on supercross?
I'm still 100 percent focused on supercross. I just got the 450 yesterday, and I was excited to have it so I went and rode it today since we have this weekend off, but I'm going to go back to the supercross track tomorrow. I still don't feel like I've done as good yet in supercross as I feel like I can. I'm going to keep chipping away on the supercross track trying to get as comfortable as I can and put in some good results in these last two races. I want to get back up there where I belong in these next two races, and show people that the team can do it. That's a big thing for me, the team's really good and everybody works really hard, and I want to show everyone that it's a really solid deal.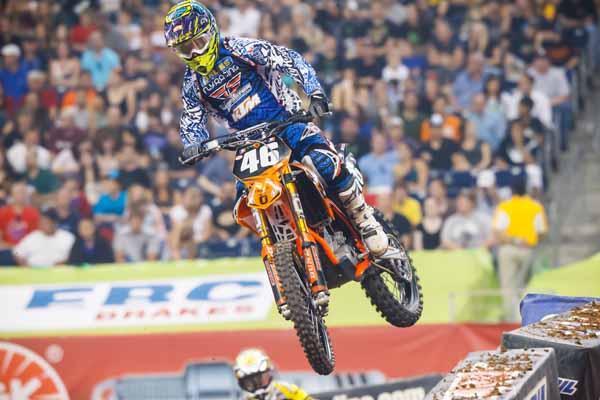 Smith will make the switch to the 450 for outdoors.
Simon Cudby photo
What made you want to ride a 450 outdoors after riding a 250 in supercross?
I'm a bigger guy, I've always been a little bit bigger, and outdoors, I seem to struggle on the 250 a little bit. I've always liked riding a 450 more, and last summer when I rode on the JGR team, I felt really good on the 450 and I had a couple top tens on it, and still felt like there was more room for improvement. The 450 just suits me really well, I really enjoy riding it, and I'm looking forward to getting a whole summer on it. I want to get up there and try to run with some of the guys I used to watch on TV when I was little.
I saw on Twitter that you rode at Club MX (owned by Zach Osborne and Brandon Haas) in South Carolina today. I've been hearing more and more about that place lately. How is it?
Man, it is awesome. They work really hard on it, and Brandon is always changing the track. I love to go down there and ride their supercross and outdoor tracks. It really is awesome. Their outdoor track is so much fun, you just smile the whole time you ride it. They have a lot of big jumps, it gets really rutted, and they've also got a back track with sandy rollers, kind of like a European-style track, and it's really good for training. It's a really good place to go whether you want to pound motos or just do some whips and have fun. It's just over an hour from my house, so I really enjoy sneaking down there every chance I get.
What'd we miss?
I'd really like to thank the whole Ohlins/Langston Motorsports/KTM team, my mechanic Nick, and everyone that's involved. Everybody has been working really hard and putting in a lot of hours, and I'm looking forward to finally getting that start, getting up there and showing everyone what the team can do.