Rogers Centre
Toronto

,

ON
Toronto
Monster Energy AMA Supercross Championship
Welcome to Canada. At least that's what the sign would say if I had made the short trip up to Toronto for this weekend's Monster Energy AMA Supercross race. This is the outside-the-USA round, across the border to Canada and Toronto, one of the most underrated cities I have ever been to. I had to miss it due to business at home, but we have our resident expat Steve Matthes back up where he belongs, at least for this weekend, so keep an eye on Racer X Online all day long for news and info from Canada.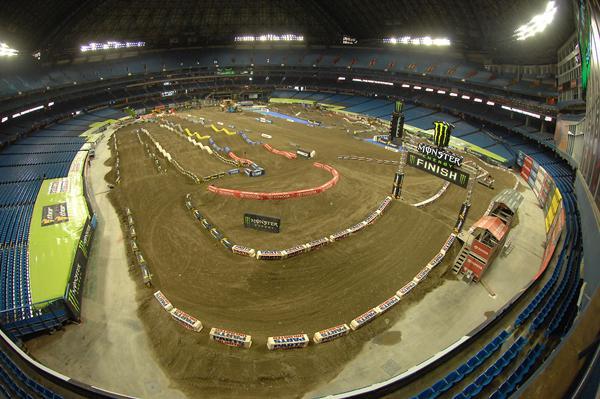 Here's a preview of the Toronto track where the Monster Energy AMA Supercross Series goes off tomorrow night.
Carl Stone photo
Tomorrow night's race will air live on SPEED again, beginning at 7:30 p.m. Eastern. I want to give it up again not only to Feld Motor Sports for showing so many of these races live, but also to Chris Bond and Jeff Manhart and everyone in the trucks for their fine work on the broadcasts. People will also find something to complain about—that's why we're fans—but I think they are really spreading the love more and the live stuff has been another big step forward.
Speaking of big steps, Toronto itself has softly stepped up from being a hassle to being a very good race. It's the Northeast race we all wanted, only across the border, and it's drawing better and better each year. If the series in general holds suit—Atlanta, St. Louis, and Indianapolis were all record crowds—the Rogers Centre should have its best crowd yet for Monster Energy AMA Supercross.
So the big question is whether or not Joe Gibbs Racing Yamaha's James Stewart is going to race tomorrow night. James took a quick hit from Jimmy Albertson—and somehow his GoPro helmet cam survived—during a crash off the start. We kept an eye on James' tweets all week, thanks to his followers for their support, but it was still up in the air as to whether or not he would go to Canada. I have nothing new to add right now, but Jason Weigandt did get some info from Jeremy Albrecht of the JGR team: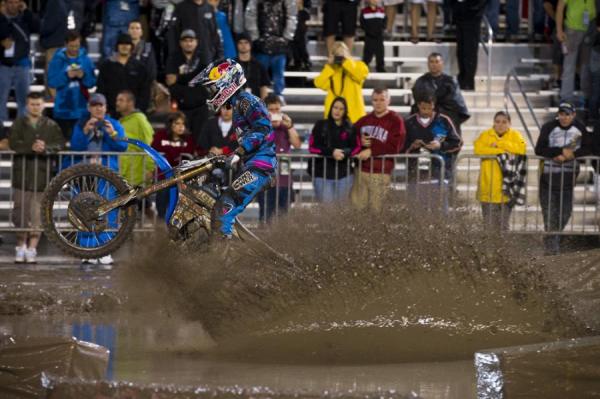 Is he or isn't he?
Garth Milan photo
"I talked to J-Bone and he explained that James did pass a concussion test at the track after his crash last week (not the one with the baseline and follow-up test, which is called the Impact test and will be mandatory for this summer's outdoor nationals; there is a different test that can be taken at the track and James passed that one) but he did not feel fit enough to race the LCQ. So this week became touch-and-go, and James was even considering riding on Wednesday but the team advised him to take another day off. As of now, no further updates. Hopefully J-Bone rings me back. As soon as we know anything we will let you know, but I warn you that J-Bone explained the decision may not be made until Saturday morning, depending on how James feels."
We will have more from Weege down below, but you will see Kevin Windham this weekend. The veteran will make another start after his crash at Indianapolis that occurred when he tangled with Mike Alessi through a rhythm section. Here's the full Racer X Injury Report.
Okay, no sooner did Weege turn this back over to me that we were able to break the news that #7 will not race this weekend after all.
"Unfortunately injury is a part of sports," said team owner Coy Gibbs in the press release.  "The safety of our riders is our highest priority and we want James to have time to recover and not risk further injury by coming back too soon."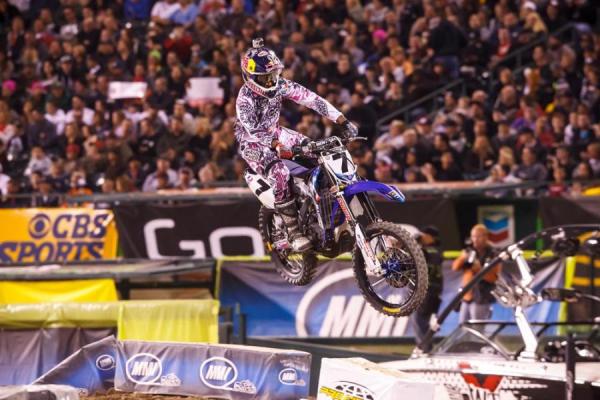 Turns out he isn't...
Cudby photo
Then Stewart issued a note through Red Bull that stated, "It really hurts me to say this, but after spending the last couple of days under the observation of doctors and my family, it looks like it would be best for me to sit out this weekend's race in Toronto. The fall at Indy was big but aside from the obvious, it aggravated a couple old injuries and I'll need time to fully recover from that.
"There's no real time line for my return. But we'll be working at it again next week to reevaluate my abilities for the race in Houston."
As a result, Monster Energy Kawasaki's Ryan Villopoto can go ahead and paint his plates red (if he hasn't already), because it's soon going to be mathematically impossible to beat him in this series—not that it wasn't a foregone conclusion since Red Bull KTM's Ryan Dungey pulled out before Daytona with an injury. Strangely, this will mark the third week in a row that Dungey's still ranked second but didn't actually race.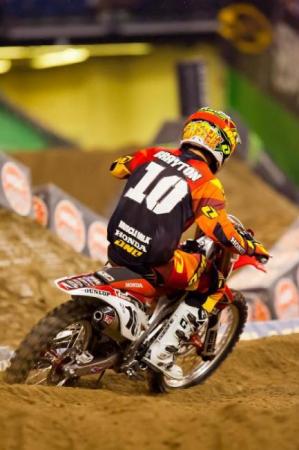 Justin Brayton is a good bet for another podium this weekend.
Fredrickson photo
So let's turn our attention to second place, at least for last weekend, anyway. I was stoked to see Justin Brayton get a career-high finish for himself, as well as a season-high finish for the Muscle Milk Honda team. As I wrote in 450 Words on Sunday.
Team manager Erik Kehoe missed much of the practice sessions in order to attend the memorial services for his old boss and good friend Phil Alderton over in Dayton, Ohio. With Brayton getting healed up and stronger and more confident, I wouldn't mind seeing the quiet man from Iowa make a run at a main-event win here before the series is over, though RV1 is relentless in his pursuit of race wins and titles. It would also be cool to see Brett Metcalfe get on the box, though Stewart's JGR teammate Davi Millsaps has been riding extremely well.
We can also turn out attention to the Lites class, where Ricky Carmichael can rest easily again—no one is going to match his unbeaten run from 1998 for at least another year! GEICO Honda's Justin Barcia finally had an off-night and got beat, but not by one of the three guys we most expected in Ken Roczen (who had it) and PC teammates Blake Baggett and Darryn Durham. Instead it was Rockstar Energy's Blake Wharton who rode a masterful race after the well-executed restart, earning the second-ever win for Bobby Hewitt's underdog team.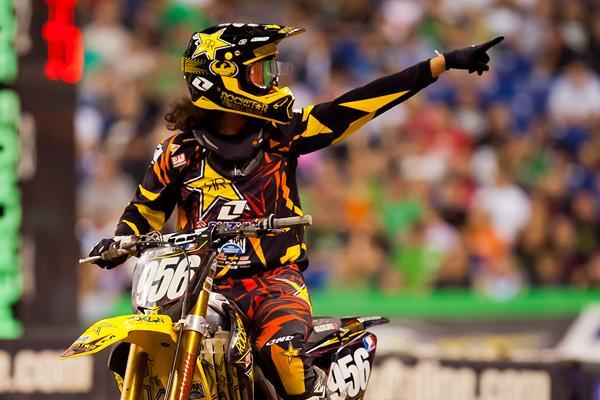 Ricky Carmichael owes Blake Wharton a big thanks for keeping one of his records from getting scratched.
Fredrickson photo
Now Barcia needs to rebound before Wharton or anyone else can build some momentum off that loss. Being from New York, Toronto will be like a home race—but it's also almost like a home race for Pennsylvania's Durham, and now that I think of it, since it's NOT in America, it's almost like a home race for Ken Roczen! Should be an interesting night.
I should add that I was just as happy for the Masterpool family to see Blake win as I was for the Whartons and the whole Rockstar Energy team. Blake wears #956 to remember his young friend, who passed away two years ago after a terrible crash at the old Lake Whitney track. It was fantastic to see that special number win a race like the Indianapolis Supercross.
Looking ahead to this summer, we've been counting down the days until the opening round of Lucas Oil Pro Motocross Championship, sanctioned by AMA Pro Racing, and today we are at 57 days until Hangtown. That gave us a chance to run a photo of one of the sport's all-time greats, #57 Jim Pomeroy, as well as the current #57 Jake Canada, a rising star in this sport.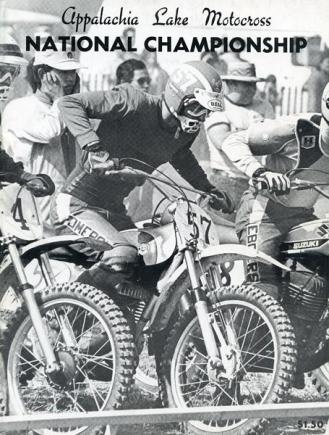 That's the "Yakima Flash," Jim Pomeroy, on the cover of an outdoor national back in 1974.
Yesterday, for #58, we had Wil Hahn, who will be riding as Trey Canard's replacement at this weekend's Toronto SX. But one that I really wanted to get in and missed on was #60. Back in 1994, my old friend Kevin Crine was #60, and Fran Kuhn shot this awesome photo at that year's Unadilla National. The very fast and kind kid from Mechanicsville, Maryland, placed a solid twelfth that day in the 125 class, his best effort to date at that point in his career.
Unfortunately, Crine was killed in an auto accident six years ago while driving to work near his home, which is very close to Budds Creek. The cruel irony here is that the aforementioned Pomeroy also died in a car crash in 2006, only on the other side of the country. To this day Crine's family and the Southern Maryland Dirt Riders Club present a privateer bonus each year at the Budds Creek National, Kevin's home race.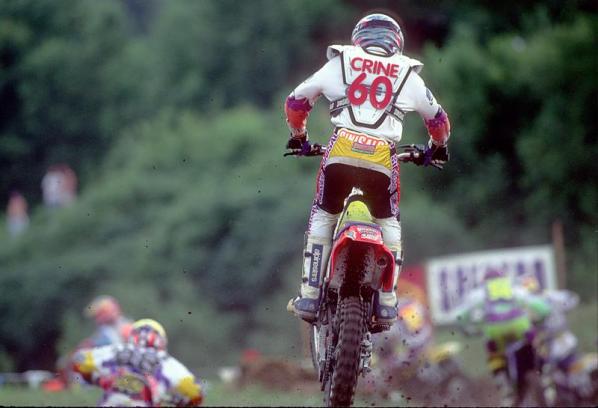 Kevin Crine finished a very impressive 12th as a full privateer at the '94 Unadilla 125cc National. 
Fran Kuhn photo
If you want to review Kevin Crine's career outdoor national finishes, or any other rider in the 40-year history of the Lucas Oil AMA Pro Motocross Championships, here's The Vault.
By the way, we are hard at work not only completing the beta-testing process of the outdoor results, but we now have all of the main events over the course of Monster Energy Supercross and are working on entering them in The Vault's search engine. Stay tuned.
Racer X contributor and MX2 world title contender Zach Osborne suffered a setback with a big crash yesterday while training with his Monster Energy Yamaha team in England. Reports from the team indicate a snapped collarbone, a concussion, and possibly a new crack in his wrist. The first Grand Prix is in the sand of Holland, on Monday, April 9, at Valkenswaard. Zach and his team hope he can make a go of it. Here's hoping he's ready and able to get some points in Jeffrey Herlings' backyard.
Osborne (@thereal338) tweeted, "Thanks to everyone for the support. I'm out of hospital and headed home. It's unlucky that this has happened. It's unfortunate for me and for the team. The limits are being pushed so far with the 250f and break downs will happen. I'll be back stronger and better but not sure exactly when that will be."
If you're a fan of the FIM World Motocross Championships, check out the offer to sign up now to watch the entire season on www.mx-life.tv. There you will find live streaming of all the races, plus timing and scoring, pre- and post-shows, and more. The full-season pass costs 69.99 Euros, which in my math-as-a-second-language translation, is $93.
Okay, since it's Canada Day in supercross, we should throw it to Steve Matthes first so he can get over to the Thirsty Moose or whatever it's called:
Welcome to Toronto! Well, maybe you're not here in Toronto with me, but I'm in Toronto and I just want to say that Toronto is awesome. Why, you ask? Because it's in Canada and I'm Canadian and it's not true when they say that you can never go home again. You can! I have! I'm in Toronto! Okay, but seriously, I'm not from Toronto; I'm from Winnipeg, which is the same as telling someone from California that they're "home" when they're in Seattle. My Canadian hometown is quite different than here, no doubt. It's still good to be in Canada, though.
The Toronto SX event has grown every year it's been here (December 2004) and this year, the entire lower bowl is sold out with the only tickets available being in the upper decks. In short, coming to Canada has taken some work, but it's now a success. On the front page of the Torontostar.com Sports Section yesterday was a picture of Marvin Musquin (who was here for press day) and a little write up about the race. They also posted a cool time-lapse video on how the track was built.
Unfortunately, they called the racers "Speed Demons," but hey—they are grabbing attention for the sport and filling the building up, so have at it! There's a pit party here tonight where the fans can get to walk the track and meet some riders, and overall, despite some more paperwork and customs problems, the Toronto stop can stand on its own as one of the better ones on the tour.
The race is so good that I just saw Pro Circuit's Dean Wilson in the lobby, and despite Wilson having to miss a race a few years ago after encountering some visa issues, he still came back! Dean Wilson still likes Canada!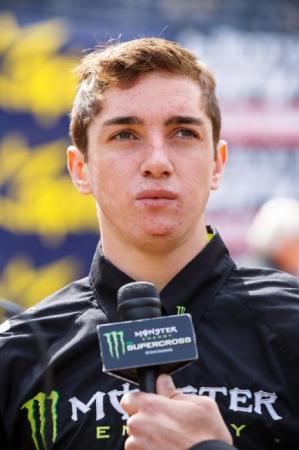 Dean Wilson is not racing, but he is back in Canada, and he's also on the cover of England's MOTO Magazine.
Big news for the Lucas Oil Motocross Championships this week when it was announced that Chad Reed had selected former world champ Ben Townley to fill in for him in the nationals. I've been getting some heat on Twitter (even by Two-Two team manager Dave Osterman) for what I wrote in Racer X's Rapid Reaction about Townley's odds to do some damage this summer. Even BT head cheerleader David Pingree got in on the action.
Let's clarify a few things. There's no doubt that to me, Reed and his team scored a slam-dunk in getting Townley over to the USA. There's no rider out there that could take that ride (at least someone not under contract or someone who could easily get out of their contract like BT did) and get the results that Ben is going to get. It's a great coup for Reed and his team. But what I'm telling everyone is to pump their brakes on dreams of winning the title or getting a bunch of podiums. We've got Villopoto and Dungey, plus James Stewart told us after Daytona he was still in for the nationals. Those are three riders that, in my opinion, can beat Ben. Add in Andrew Short and Mike Alessi, Brett Metcalfe and Davi Millsaps and Justin Brayton and.... But of course we can subtract Reed from his list of competitors. So while I'm excited for another great rider to line up this summer, I'm going to hold off chiseling the plaque that says he's going to win races.
But that's why they hold the races and keyboard warriors like me just sit here and type. At this point, with the supercross series a bit of a foregone conclusion (Villopoto and Barcia), let's start bench-racing the outdoors!
Hey once you've read everything you can on Racer X, check out a few things over on Pulpmx Tony Blazier's  Primm Museum Story on the 1986 Cagiva 125 here, Paul Quesnel's look at the supercross racers by the numbers here. Get well soon my little twinkle-toes Zachypoo! Listen to the Pulpmx Show on Monday and see ya!
Since Matthes mentioned Ping, let's throw it to David Pingree right here:
The news about Ben Townley coming back to the U.S. should have people excited.... At least us actual Americans. I scratch my head when I see people post nonsense about his odds here this summer. If you can't look back at his summer here in 2010, or even more recently his ride at the Monster Energy Cup, and see where he fits in, you aren't paying attention. He will be on better equipment than ever, with better support than ever, and I think he will have a summer that will put him back on the motocross map if he can stay healthy. Do you really think Chad Reed would have put him on his bike if he didn't believe in him? Trust me, the last thing any Aussie wants to do is be replaced by a Kiwi. I'll leave all the lambswool glove jokes to the folks Down Under.

Anyway, I emailed BT to congratulate him earlier this week and he sounds very ready to go. He replied: "Thanks mate, bloody excited! I'm in better physical and mental shape than 2010, far better bike form so I'm really looking forward to this opportunity. We just had Bubba no.2 last week, little Jaggar! I'll see you in a couple weeks!" BT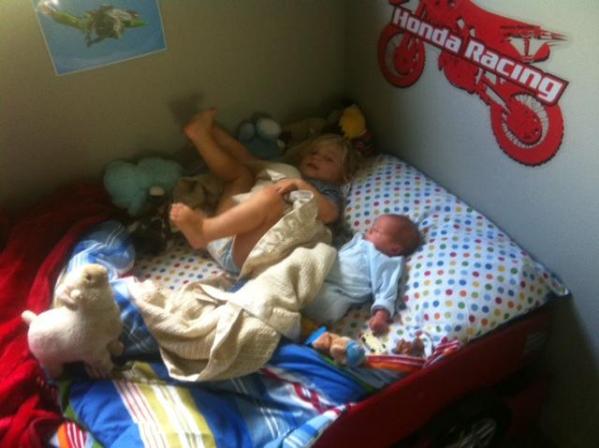 The Townleys got a new deal and a new baby!
Someone sent me this link and I hadn't watched any of it in so long I forgot how cool it was. It's funny how different motocross is now from its early years, and yet it's still very much the same. If you get a minute, watch this clip of the best motocross movie ever made:
http://www.youtube.com/watch?v=-k4yPL0BDg4&feature=related
The vintage stuff got me so pumped I decided to book a flight to Boise next weekend for the annual Racer X Inter-Am. I guess Danny LaPorte, Damon Bradshaw, Chuck Sun, and a bunch of yesterday's heroes will be there riding, so it should be a blast. Last time I rode an old Husky 125, a Maico that was about eight feet tall with six and half feet of travel, and a silver Yamaha. I'm not sure what I'll get to ride this time. If you are near Boise come check it out.
For the past couple years, motocross fanatic and alpine skiing legend Daron Rahlves has been promoting a great ski series in the Lake Tahoe area. The Rahlves Banzai is about as close as you can come to motocross racing in the mountains during the winter. If you've ever seen the movie Hot Dog, you are familiar with a Chinese Downhill. If you haven't seen the movie, you should. It's the Winners Take All of the winter sports world, and the Chinese guy in the movie asking what the "F" a Chinese Downhill is more than justifies the price of rental. Anyway, Daron's event is run in a similar fashion with some Red Bull flair added in. Check the link out. It will also air on NBC Sports on Tuesday, March 27, so check your local listings.
http://www.youtube.com/watch?v=K4DKyPfzQEU
Okay, here's Weege, who's been very, very busy this week...
Apologies out to anyone whose name was misspelled or any grammarians who visited our site this week only to be pounded with frustrations. We had a really, really tough week behind the scenes, and as editor of this site, it's up to me to keep the trains on the track. I did it, but just barely. First, condolences to our main man Chase Stallo, who lost his father over the weekend. Chase is our online content manager and usually handles story postings, but he certainly deserves to take all the time he needs to cope with such devastating news. Best of luck to Chase, his brother Brent (of Vurb Moto fame), and everyone else in the Stallo family.
We also had a birth on staff via our own Aaron Hansel—and congrats to our friend and Andrew Short superfan Cory Luttermoser on the birth of his new girl Ellie by the. Some other good and bad news was sprinkled in throughout the week. We're on magazine deadline and trying to run this site, but everyone here pulls together and makes it happen when one of our people needs it. This group has covered for me and vice versa—it gives you a lot of pride in your workplace to say that.
You know about Stewart from way up top. Well, other riders have been added to the injury list. Josh Hansen had been struggling with a small fracture in his ankle and is going to miss this weekend's race. H&H team manager Kenny Watson told me today that Hansen plans on going to Houston to try again. Also, Josh Hill is back on the bike and plans to race Houston as well. That's great news.
Kyle Cunningham took a big hit last weekend (it led to the red flag in the Lites main) and will skip this weekend's race. He told me he's just kind of beat up overall from the crash, but he's actually struggling more with a fracture in his wrist incurred as soon as the Lites East season began in Dallas. Nick Wey is out, he tweeted today that he tore his adductor muscle and will miss this weekend's race, but also hopes to try again in Houston. Kevin Windham and Kyle Chisholm also took some hits in last weekend's main, but they're racing this weekend...
Whew! That's a lot. This week both Andy Bowyer and myself penned columns on this rash of injuries—and how it's really nothing new. Check out my story (Redux) and Bowyer's (Rev Up).
Here are some miscellaneous notes to end the week:
My old friend Rob Kinsey, the renowned artist of motocross paintings, recently made a visit to the Citadelle at Namur, site of the most famous and legendary motocross track in the history of the sport. Namur's old fortress sits above the Belgian city like a centaur, and it's been the site of many battles over the centuries. For years it was also the centerpiece of the FIM Grand Prix schedule, but then turnover at the club that promoted the event, as well as a prolonged fight with local environmentalists, cost the city its big race. There have been rumors here and there of a revival, but nothing really concrete. So we're left with the memories of an amazing track that included trips down a cobblestone street, Hakan Carlqvist stopping while leading his last race to have a beer at The Monument Cafe, and of course the likes of Stefan Everts, David Thorpe, Roger DeCoster and Heikki Mikkola blazing around the sacred grounds. Here's Rob's visit.
"You can still see the track even six years after it was last used," reports Kinsey. I can only imagine the echos in Rob's mind as he walked through the Citadelle. I went there with Jeff Cernic one year on the way to the MXoN and we also walked the track, and I have to say it was just downright bitchin'. Steep drops, roads, trees, castle walls... It was extraordinary. If you ever get to Belgium, make the pilgrimage to Namur.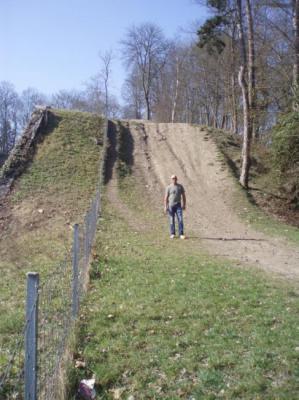 Namur today.
Kinsey was in Belgium to help present a painting that was commissioned for Georges Jobe, multi-time world champion and all-around ambassador for the sport, who is battling leukemia.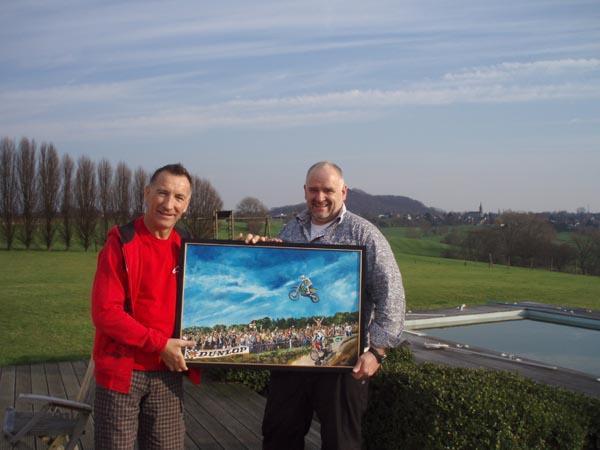 Georges Jobe (left) got a much-needed lift from Rob Kinsey's painting of him jumping over Andre Malherbe back in the eighties at Hawkstone Park.
"Georges went into hospital on Wednesday for two months of intensive chemo, blood transfusions and bone marrow transplants," explained Kinsey. "My good friend Alan Bott commissioned me to paint photographer Nick Haskell's iconic image of Georges jumping over Andre Malherbe at Hawkstone Park (in England). I delivered the painting to Alan, who rang me back two hours later to say he wanted Georges to have the original. We flew to Belgium, hired a car and met Georges at his house to present it. He was so pleased to receive it, lifted his spirits." Here's wishing the very best to one of Grand Prix motocross' all-time legends, Georges Jobe.
Our intern Haley Whisennand will be busy this weekend. Not only does she have her responsibilities as the official media sponsor for the Nebraska State Motocross Series, which begins on March 25, but she will be tweeting live Saturday with all your race coverage and anecdotes.
If you've spent the last week searching for the O'Neal van that was nicked from their lot, you can call off the posse. According to their Facebook page: "Our van that was stolen a week ago HAS BEEN FOUND!!! Police say it's in good condition. Won't know for sure till we lay our own eyes on it but it's better than hearing it's in pieces lol. Happy Friday to us!"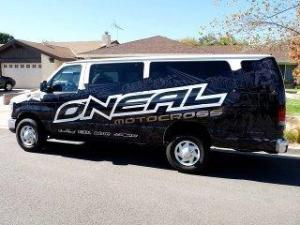 The O'Neal mystery machine was found by Chatsworth's finest!
Danny LaPorte sent us this photo of the bike that Experience Powersports has prepared for him to ride in the upcoming Racer X Inter-AM in Boise on March 31. Danny said, "With that tall seat and bars I need to stretch like Jaak Van Velthoven!"

Danny The Door will be racing this steed soon.
In closing, my condolences to my friends Chase and Brent Stallo, who lost their dad this week, as Weege mentioned above. I also send condolences to Big Lenny, a longtime moto poster on the message boards. His lost his father this week too. Godspeed to both men.
Okay, that's it for Racerhead. Thanks for stopping by. See you at the races.