Team J-Star JDR KTM's team manager Nathan Ramsey had high hopes for his team coming into the east coast. They had just gotten their first podium in team history with Matt Moss in San Diego and with riders Malcolm Stewart and PJ Larsen on the east, the sky was the limit [We spoke to Team Owner Jay Rhinenberg about this at the time] But it just hasn't gone to plan quite yet, with Stewart missing two main events and sitting ninth in points, and Larsen in tenth. Ramsey, one of the good guys in the sport and former Lites SX Champion, fills us all in on what's been going on.
Racer X: Thanks for doing this Nate. Talk about the east coast series so far. Not exactly the way you guys pictured it right?
Nathan Ramsey: It hasn't been, to be honest. We were coming off our first podium with Matt and we were hoping for big things. You know, it was such a great point to hand it off to the east coast guys and everyone was pretty uplifted by that. All the hard work and everything that goes into it is really cool. We seemed to have the momentum going and once we got to the east it went away. It didn't go our way. We started out pretty good, some things went down at the first round that knocked Malcolm back from where he had potential to finish. It still wasn't horrible, he got sixth and PJ got eighth. All in all, we went into the second round feeling that we had speed and looked forward to getting on the podium again. That was our attitude going into the second round.
As a former mechanic, I feel for your guys because you've had some mechanicals and as a former rider, you know what that's like. Your guys are all working hard to get back on track I assume?
Yeah, it's been hard on us. It's been some one-off things that have plagued us. We had a little bit of a tough time in Atlanta, the whole world saw that. It was hard for us to swallow and ultimately, Malcolm's crash in the heat race while leading led to some of the problems that we were having with the electrical system. It's taken us a long time to pinpoint it, a little over a week. We couldn't get him on the line for the LCQ and that was unfortunate.
These bikes are more complicated than ever and when a bike slams the ground that hard, there is potential for problem. Unfortunately for us, it happened and it's never a good thing. It's a little bit out of our control but it still, in my mind, it's still not acceptable, but you have to move forward from that point and try to diagnose what it is, fix it and make it so it never happens again. The chances of it happening again to us in the future are very slim.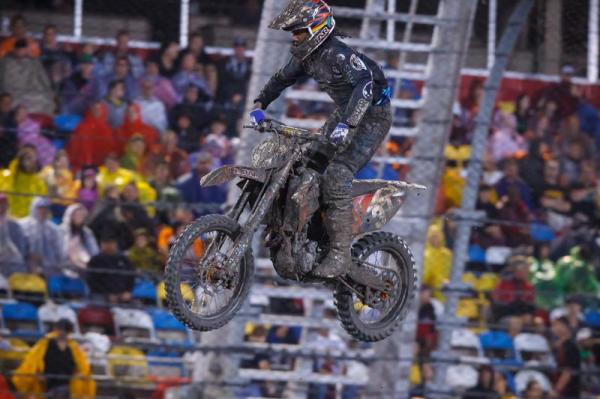 At a muddy Daytona, Stewart had to go through the LCQ to make the main. It's been a tough season for the JDR riders and crew.
Cudby photo
And then when he hasn't had problems, he's crashed or had bad starts. You guys, and Malcolm, just need to hit the reset button at this point right?
I think he has the potential to be on the podium and when there are problems, it disrupts his flow and gives him problems. He's still young and gets frustrated and antsy with stuff. If he misses something, he tries to make it up over here and on the starting line he's not as comfortable and relaxed. You said the right thing, we've hit the reset button this week. There have been lots of talks and discussions going on to clear the air and make sure that things are happening in a positive manner. We've just got to get it done. Up to this point, it's been a struggle that's held him back from showing what he can do. It's also held the team back from showing what we can do. We're a professional team that doesn't cut corners. We don't usually have problems and issues. It does make us look bad for sure but at the end of the day, we can say that our problems aren't because we're cutting corners. It's unfortunate circumstances and it's motorsports and anyone who has been involved with that knows that there are a lot of things that go into it.
Lots of moving parts going on…
Yeah, and then nineteen other guys with a lot of moving parts also!
Have you ever been there as a rider where you just have this stuff in the back of your mind? You can probably relate to Malcolm in the fact of what happens when you miss a practice or a main or whatever with issues.
Yeah, it's one of those things. Everyone handles it different and it is something I've been faced with and I get it. Malcolm has been a true pro at this thing and he's been really positive throughout this. He's never erupted or gotten to a point where he's lost faith on us. The last thing we want for him is to have that. He takes the positives away and works his butt off each week. It's just a matter of time before he shines and our hard work will come together with his hard work and it's going to be good when it all works.
What about PJ Larsen? Talk about his year and what's been going on with him?
With PJ, we've had in-depth conversations with him to try and help him find that missing confidence. He was going well but got injured, he got back from that really great and he's got a great program, we know that. He works with Eddie Casillas and it's a tight and solid thing. He's really improved from last year, he's more focused on what he has to do and he's got a purpose. Everything has been great, he took off the week of San Diego SX to go to the east coast to ride, just because the travel is easier and the dirt is a bit different. But honestly, I think he went over there and wasn't able to keep his routine up. He was working on his own bikes, and the weather wasn't good.
It just threw him off and the way the races are going, it doesn't help his confidence. He came back here [to California] after St Louis and we've been working with him since then. We've got to get him back on track and get him to do what he's been doing during the week on the weekend. He hasn't quite let it loose yet. Both of my guys are top five guys and when they both get there, it's going to be a great weekend.
Whatever is holding him back, he's got to let it loose and get some confidence going. I think he can do it. I know he can.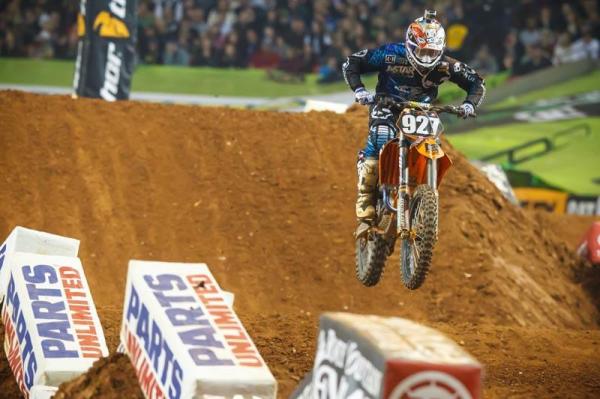 Larsen has yet to place inside the top five.
Cudby photo
A lot of your success was from hard work and as a rider, you can just work harder on your program and improve your results but as a manager, this has to be frustrating for you because you can't just work harder, it's a lot of things.
For sure, it's way different being on this side of things. When you're a rider, you just focus on yourself and that's it. With this, I have to focus on a thousand things. It's a little easier when you're a rider for sure, but once you think you're doing it right and things don't go right, you start to second-guess a bunch of stuff. For PJ, my encouragement to him is to stick to your program. It's a proven fact that it will work and he needs to stay solid and committed to it. It will come around. The same thing with Malcolm. If you start to reach and change everything, it will go south. If part of your program is off but you're committed and stick to it, you'll be solid. If you're always going to the track and your workout week is all on a whim and you never have a purpose, you won't go anywhere.
You make a plan, you stick to it and you rest knowing that you did what you intended to do. Whatever that was, you did what you set out to do. That's the same for the team, we have to just stick to what we're doing and it will come around. It's all right there for us and for them. We have to do a professional job and keep working and this whole thing will come around for us.