Lucas Oil Stadium
Indianapolis

,

IN
Indianapolis
Monster Energy AMA Supercross Championship
Maybe it's the sound. Maybe it's the sweet smell of the gas and oil mixture that gets your blood running. Whatever it is, the two-stroke has large and passionate fan-base. Ricky Renner stole the spotlight at Daytona with his run on an YZ144 in the Lites class. But another privateer made the night show on a two-stroke, Virginia native Ryan Smith. The West Region Lites rider showed up at Daytona on a friend's bike and came darn close to making the main in the Supercross class aboard a Yamaha YZ250. We caught up with Ryan for this edition of Privateer Profile to talk Daytona, pink beards and Mad Skills Motocross.
Racer X: Can you take us through exactly what happened at Daytona? It looked like you had a bunch of mud on the bike and you were having trouble getting it re-started in your heat race. Can you elaborate on that a little bit?
Ryan Smith: Yeah, obviously I got a bad start. I was just working my way up, I think I was twelfth, and I went through the roller section and hit one of those gigantic mud puddles and it went all over my goggles and stuff, so then I had to pull them off. Then in the next corner, my gloves and everything were so wet, my hands came off the bars and I went down. I actually took my gloves off and when I fell, I broke my clutch lever. So once I got it started, I just told myself I wasn't going to quit. I wanted to finish. So I just got back going, no gloves, no goggles, no clutch lever, no anything. It was fun.
But you made it back out for the LCQ?
Yeah, I came out for the LCQ and got another bad start and actually me and Jason Thomas came together in the first turn. I didn't even crash, but he hit me and when he did, it snapped my front brake lever off. So I was in the back. I think I ended up coming up to ninth.
What went into the decision to ride the two-stroke?
I wanted to do at least one 450 round. I came home and was riding my 450 that I have here and it was blowing up. It was about to let go. My buddy Ricky was riding with me and he had a two-stroke and I was like, 'Let me ride that thing.' So I rode it that day and I was like, 'Dude, what'd you think if I race this thing at Daytona. I mean, I don't have another bike.' And he was like, "Yeah, cool." A buddy up in Maryland, Rusty Bradford from R&B Racing called a couple people. Bret Hayes hooked it up, and UFO and Fist City. A bunch of people came together and made it look good. I also adjusted the suspension a little bit. But it just seemed like something cool to do.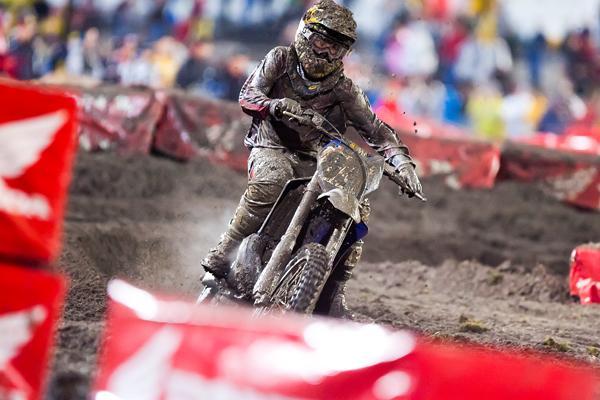 Privateer Ryan Smith fell short of the main event at Daytona.
Photo: Andrew Fredrickson
Have you been getting a lot of positive fan feedback from riding the two-stroke? There's a lot of, let's say, passionate fans of the two-stroke.
Yeah, I read stuff on the Internet and my buddy's real big on Vital and he was joking around and asked the ratio for a two-stroke for the mixture. He posted a picture and said we were going to Daytona. Instantly, all the two-stroke lovers on Vital loved it. Every lap when I came through the finish line straight right there by the fans, I could hear them cheering for the two-stroke. So it was pretty cool.
Obviously the conditions were nasty, do you think riding the two-stroke hindered you at all? Or do you think it was just gnarly out there and it was just going to be gnarly no matter what bike you were on?
Well I knew coming into it, Daytona would be my best bet on the two-stroke, just because it's kind of loamy and sandy. It wouldn't be like on the hard pack stuff, the two-stroke would get lit up a little. I liked the track after track walk and everything and then right when my first practice was going out, the sky opened up and just let loose. I think it obviously gave up a little bit on the start. It's kind of hard. But I think that a two-stroke is definitely able to compete with the four-strokes. The only problem is if the track were really hard-pack and slick, like some of the West coast rounds, it would be harder. But I mean yeah, it gave up a little bit, but it was easier to ride in corners and stuff. I mean I rode it for three days before and just went out. I'd never ridden supercross on it before. We just went out and had fun.
Let's look forward to the return of the West Region Lites in Seattle. What are your goals when the series returns?
Well, my first heat races this year were pretty rough. At A1, I crashed in practice and tore my ankle all up. Then was sick for a few weeks, but finally in San Diego, I started riding like myself again. We didn't make the main, but in the LCQ I came from fifteenth to fifth in the four laps or whatever it is. So, I mean, I know my speed is there and I'm looking forward to Seattle because it's all rutted and I like that stuff. The tracks haven't been that technical, so it seems like everybody's within a second. So, I mean, the more technical the track, the better for me.
I wanted to touch on what you did for A2. I'm not exactly sure what the program was called, but you grew a big, giant pink beard. Can you go into that a little bit and tell us what that meant to you and what went into the decision?
Well, we did no-shave November and then after it, my buddy kind of made a bet with me that I couldn't let the beard grow until after A1. So, me being as stubborn as I am, said I'll do it and didn't shave until I got to A1. And then I said, you know what, we're gonna' grow this thing out, bleach it, and dye it pink for the breast cancer awareness race. Even though A2 wasn't a breast cancer race this year, a lot of teams still participated in it and stuff like that. So I raised $2,113 and donated it to the Susan G. Koman Foundation.
That's awesome. I saw a picture of the pink beard and it was definitely gnarly. That was a really cool thing to do, and I think a lot of people respected you for it.
Yeah, it was pretty gnarly. I looked like a caveman.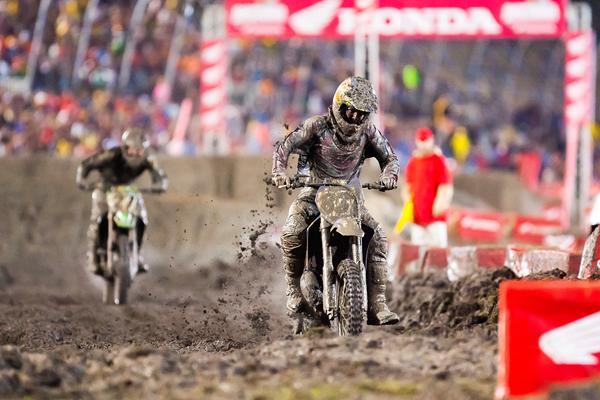 No gloves, no goggles, no worries.
Photo: Andrew Fredrickson
I heard you're quite the Mad Skills Motocross player. You're one of the top ten players in the world, right?
Yeah, every night before I go to bed, Mad Skills. I haven't played it in a couple days, but I think I'm like 30th right now. When I look at it and see 30th, even though there's what 18,000 people playing, 30th is not good. I had people come up to me in Daytona and be like, "There he is! The Mad Skills champ!" I don't know. I can't play Reflex or any of those games. I will not play a dirt bike game on the X-Box, but on the phone? Mad Skills.
Yeah, we looked and you were in the top 10 for the first four or five rounds of the tournament.
I think my biggest competition that I know is Matt Lemoine. He's always up there. It just aggravates me. He's super-fast.
So you and Lemoine are duking it out for Mad Skills supremacy?
Yeah, I think he's top 10 right now, so when I'm not in the top 10, it just makes me look bad.
Who would you like to thank for helping you get to the races this year and also getting you to Daytona?
I'd definitely like to thank you guys for giving me a call. I'd like to thank the whole Forbes family for helping me out and letting me use their bike and racing it at Daytona. R&R Collision, R&B Racing put everything together. Brett Hayes at MGX hooked it up. Fist City and also UFO plastics hooked the bike up. Then just my regular sponsors for the West coast deal. Those are Decal Works, Arai Helmets, Liquid Performance, Liquid Lightning, Leach & Hicks Insurance, Scruggs Transmission, Total Control Suspension, Yoshimura, Gary Bailey's MX School, O'Neal, Scott Goggles, EVS, Roosterfish MX, Honda Suzuki Lynchburg, For the Win, Leatt Brace, and Medder Mods. And the biggest one of all is my grandfather. If it wasn't for him, I wouldn't be on the road. He gets me to the races and stuff. And definitely also my buddy Pops and James and my mom for helping me out at Daytona. They were the crew with a pick up truck, so thanks to them a lot.