Besides Arenacross riders who figured out a way to race indoors in the frigid winter, Monster Energy Supercross pretty much dominates the motorcycle racing landscape until early spring. By March, the ground begins to thaw, the weather begins to tame, and other enthusiasts, from local motocross heroes, to road racers to off-road riders finally get their mojo back. March brings top-level amateur motocross down in Texas and Alabama, and a bunch of other racing tours kick off in Daytona for Bike Week, including America's largest off-road racing series, the Can-Am Grand National Cross Country Series.
The off-road bike guys actually start their season next Tuesday, as the GNCC opener at River Ranch Resort in Lake Wales, Florida, fits into the Daytona Bike Week jigsaw puzzle. The GNCC opener is always a unique animal, because the rough, sandy trails favor speed and fitness over traditional technical trail riding skills. The muddy, rocky, mountainous terrain comes later in the year—in Florida, it's all about being physically tough.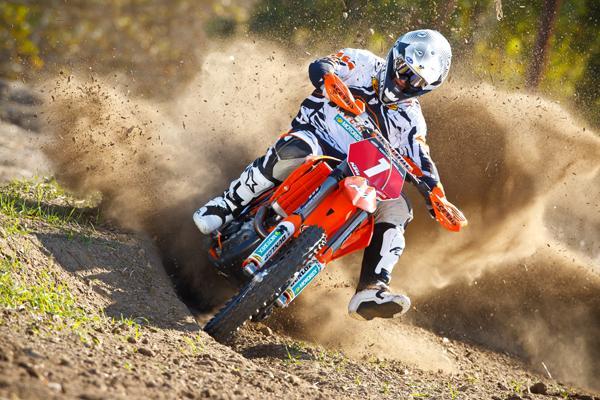 Charlie Mullins is known as Hot Rod to the off-road set. His GNCC title defense starts next Tuesday as part of Daytona Bike Week.
Cudby photo
Last year, FMF KTM's factory ace Charlie Mullins showed how tough he is by coming from behind to win the Florida race. Veteran teammate Mike Brown (yup, same old Mike Brown) was flying through the sand early, but Mullins put in a push during the final hour of the three-hour race to track him down. The Ohio-born Mullins makes his racing home in North Carolina, but spends his winters training in Florida. But his pre-season prep was focused on not just winning the Florida opener, but the whole darned GNCC title, which had eluded him year after year. After a super-tough season-long fight with 2010 GNCC Champion Josh Strang and 2009 GNCC Champion Paul Whibley, Mullins hung on to win the title for the first time. Now he has to defend it.
He'll do it from the seat of his trusty 450 SX-F, the regular model that he raced to last year's title. Mullins had been testing the new Factory (Dungey) Edition 450 at the opening National Enduro Rounds this winter, but they've had some clutch issues with the new bike and have decided to go back to what they know works for the three-hour GNCCs. Reliability trumps anything else off-road. With a proven machine and now championship-proven toughness, Mullins will be tough to beat this year.
Of course, Whibley will be there on his Am-Pro Yamaha to challenge him. They don't get any tougher than the New Zealander, who is nicknamed Axe Man because he used to work for the Forestry Service before turning pro as a racer. Whibely is ultra-fit and very consistent, if Mullins falters Whibs will be there to keep the heat on.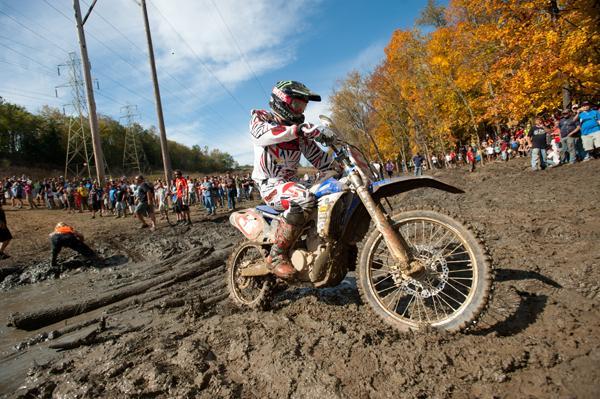 New Zealand's Whibley won the 2009 GNCC title and can never be counted out.
Shan Moore photo
Mullins has a pair of teammates who can go, too, in young stars Kailub Russell and Cory Buttrick. Russell won the GNCC XC2 (250F) Championship in 2009 and 2010, and he surged through the second half of his rookie big-bike season last year, winning a race and showing the speed to run with anyone. Russell's only downfall was figuring out the chess game strategy of winning three-hour races against such experienced hands. With a year under his belt in the big class, he won't have that problem any longer—so look out.
Buttrick had a great rookie season in 2010 but took a step back last year. He and Russell raced the 350 KTM, and the bike worked great for Russell but not so well for Cory B. Buttrick hopped back on a 450 at the end of last season and got his old speed back. He also got a National Enduro win last weekend, but he did that on a two-stroke, which works well for the Enduros. In GNCC, he'll be 450-mounted like Mullins.
Unfortunately, you won't see 2010 Champ Strang battling for the title this year. He signed with the RPM KTM team to race the WORCS and EnduroCross Series' this season, but the whole year is on hold since he's still recovering from a broken leg suffered at last November's GNCC finale. Strang was scheduled to come to Florida and mix it up, but his leg has not healed properly, and the Australian is going to have to endure more time on the couch. Bummer.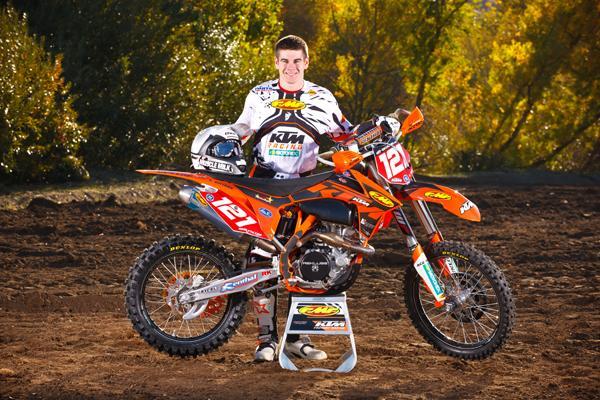 While Kailub Russell has had great success on the 350, Cory Buttrick is happy to be back on the 450 for 2012.
Cudby photo
Question marks abound for others. Thad DuVall is arguably the most talented rider in the whole field, but after winning the XC2 title in 2008, he's had bad luck, crashes and injuries—and no wins—as an XC1 rider. After a career on Yamahas he is switching to Hondas with backing from the Shenandoah Honda shop in Virginia. If he figures it out, he'll be up there. The JG Off-Road Honda team brings veterans Nate Kanney and Jimmy Jarrett to the game. When they're on, Jarrett and Kanney can run with anyone.
In about 20 seconds, motocross folks will be asking, "What's a Beta?" Here we go! Another contender in the series is factory Beta-mounted Chris Bach, an Indiana kid who just flies in the Florida sand for some reason. Bach has proven the Beta is for real, with solid finishes on it last season including a podium at the Florida race. Now, to answer the Beta question: Beta is a top trials bike brand now branching into enduro/off-road bikes. You see different brands in GNCC--Husqvarna, for example, has a strong team in the XC2 (250F) class with "The Other" Jason Thomas (this one from Wales, not Florida) and Andrew DeLong on board. DeLong recently broke his collarbone, though, so Australian veteran Glenn Kearney will return to the series as a fill-in for a few races. GK was a popular guy during his GNCC years so it will be good to have him back.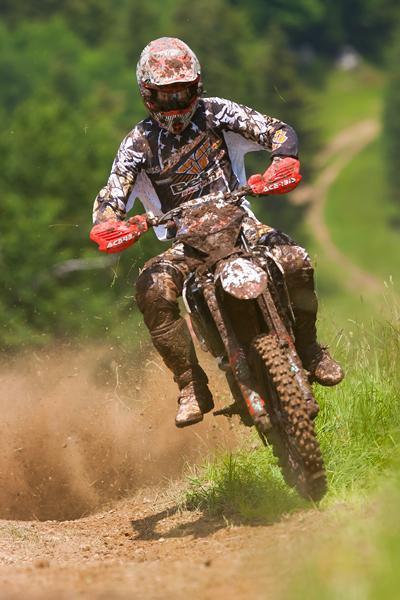 Bach going beast on the Beta.
Fredrickson photo
Whibley has a young Yamaha teammate in Jordan Ashburn, who battled to a bunch of wins in XC2 last year on a 250F, and will now bump to the 450. Ashburn is a tall kid so the 450 could work for him. He has talent, but again, experience and strategy are key in GNCC, too.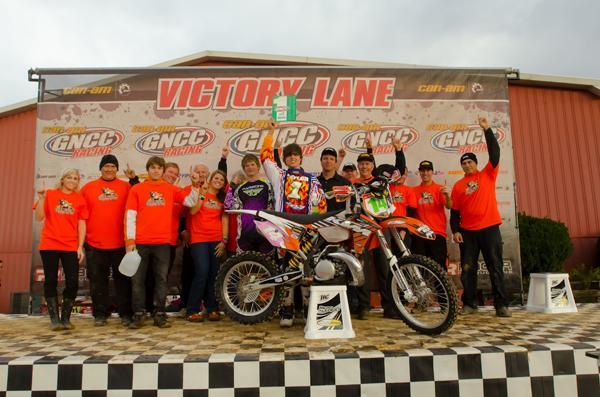 Steward Baylor is the 17-year-old Champ of the XC2 class, and hauls on his 250 two-stroke. Can he beat the 450s on adjusted time and get an overall GNCC win this year?
Shan Moore photo
But perhaps the biggest pre-season buzz this year centers on an XC2 rider. After winning last year's XC2 Championship in GNCC, 17-year-old Stewart Baylor shocked the world by winning the first two rounds of the National Enduro Series. He'll be riding a 250 two-stroke KTM in the GNCCs, and many think he'll be the first rider from the XC2 Class to win a GNCC race overall. He's certainly proven he has the speed to get it done. But like we said, these races are often about toughness, strategy and experience as much as they are outright pace. May the best man win!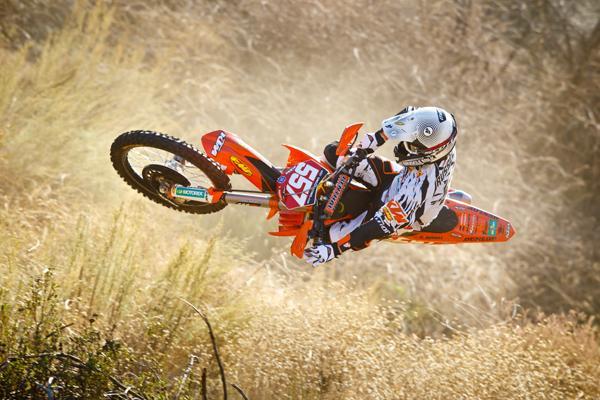 Two-time XC2 Champ Kailub Russell scored a win and fourth in points during his rookie XC1 season last year. How high can he climb in year two?
Cudby photo