Edward Jones Dome
St. Louis

,

MO
St. Louis
Monster Energy AMA Supercross Championship
Welcome to Racerhead, a busy week for everyone. Supercross is headed to St. Louis for another live showing on SPEED tomorrow night (and congrats to the network and Feld Motorsports for a best-ever rating on last Saturday night's jam-packed Georgia Dome race). The amateurs are gathered in
Freestone
, Texas, at a race being co-produced by
James Stewart
, who is obviously also racing St. Louis this weekend. Stewart's longtime rival
Chad Reed
had himself some knee surgery,
Ricky Carmichael
and friends have broken ground on the Daytona Supercross track, and the whole
Racer X
staff went overtime this week to get the magazine to the printer on time (well done, everyone!). I also took a drive to
Budds Creek
(in a driving rainstorm) to check out what needs to be done for the big Red Bull
Budds Creek
National in June, which will air on NBC. Like I said, been a busy week....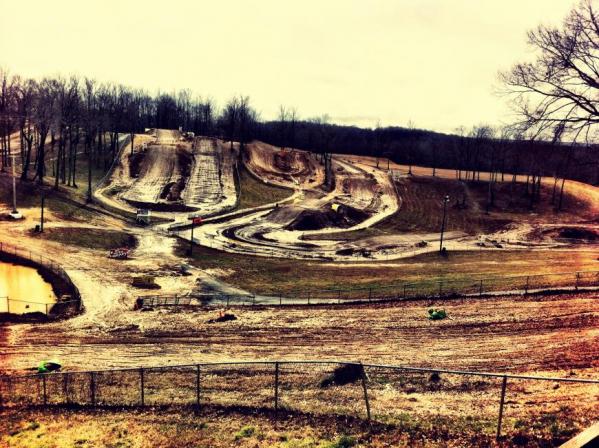 That's what Budds Creek looks like on a Wednesday in late February.
Photo: DC
Let's start with Reed, who is recovering from knee surgery. We get a lot of rumors that come running through the mill here, but this one was so bizarre that it sounded almost possible. Chad, who will turn 30 on March 15, is likely done for the year, which means the bike he apparently had dialed—and the well-dialed team he has formed in TwoTwo Motorsports/Bel-Ray Honda—are on the sidelines as well. Chad told me the day before he crashed, "I look up to
Kevin Windham
. I look up to what he's done for so long, and how he treats the fans, and just how different he is than everyone else. And I think I am different too. But I always said when I was growing up that I would retire at 30, and now that I'm there, the thought of retirement scares the shit out of me!"
At the same time, there have been strong rumors and signs of tension with Stewart and the JGR team, including a post-race discussion between his dad and his boss Coy Gibbs at a recent round that did not go so well. I spoke to James on Monday on a totally unrelated topic and we talked about a wide range of things. There was a tone in his voice that sounded like he was ready to make some things happen here in this series, and I believe the wins are coming again for him. But has the damage already been done to his title hopes against the ever-steady Ryans, Villopoto and Dungey?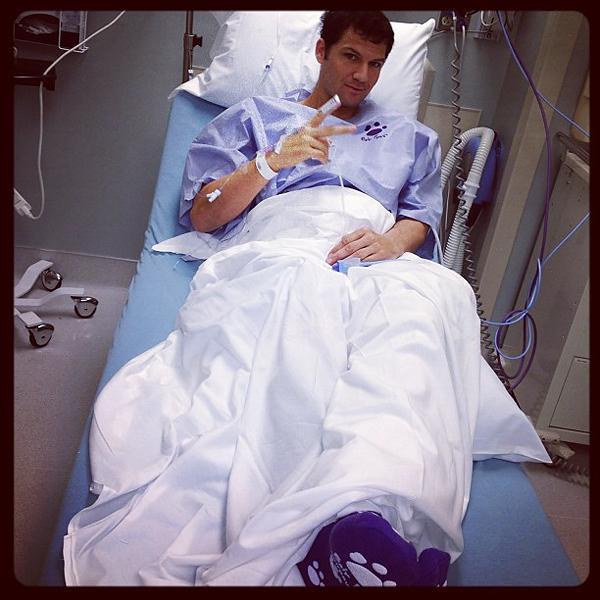 Tweet your get-well-soons to @CRTwoTwo
The strangest rumor I have heard in some time was Stewart possibly moving over to Reed's team—not during the current Monster Energy AMA Supercross tour, but rather for the upcoming outdoor series. Obviously, there's not a lot of love between Chad and James, but there is respect for each other between them, as well as a will to win. It's not happening enough for James right now, and it's not going to happen at all for Chad for some time to come.
Again, it's just a rumor, and I really don't think it will happen—the determined JGR folks are working hard to find the right setup for Stewart's style, and there's frankly not a lot of people out there that have the same setup or style, which makes it even harder—but if it did, we're going to need a new internet, because this one will explode.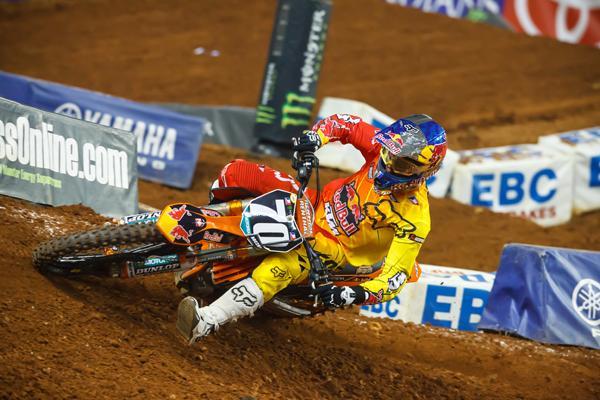 Ken Roczen needs a start and 15 good laps this weekend... But then again, who doesn't?
Photo: Simon Cudby
After Atlanta, in my 250 Words post-race analysis, I was writing about how supercross is a game of inches in the Lites class, and how Red Bull KTM's Ken Roczen started too early and got caught in the gate, and so on and so forth. Roczen did get caught in the gate, but he explained later via Twitter that his bike crept on him, and after watching the replays a few times, he was right. Here's hoping Ken gets a start with the so-far-undefeated Justin Barcia, who looks fantastic right now on the GEICO Honda.
And here's hoping Phil Nicoletti, Alex Martin, and Malcolm Stewart all have better luck in St. Louis than they had in Atlanta. More on that below.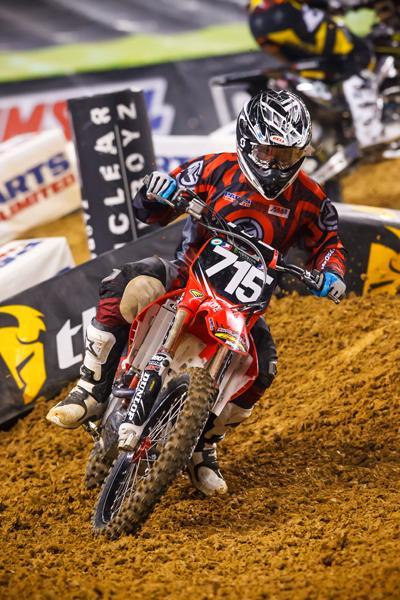 After finishing fifth at Dallas, Phil Nicoletti had a terrible afternoon in Atlanta that prevented him from even racing that night.
Photo: Simon Cudby
And before I turn this all over, congratulations to Kevin Windham on that 200th start in AMA Supercross. That's a big, round number and it shows not only his talent and stamina, but his staying power and professionalism. I don't think we're going to see 300 out of him (or anyone else, for that matter), but it would be nice to see him stay out there long enough to make a run at Iron Mike LaRocco's 228 career starts!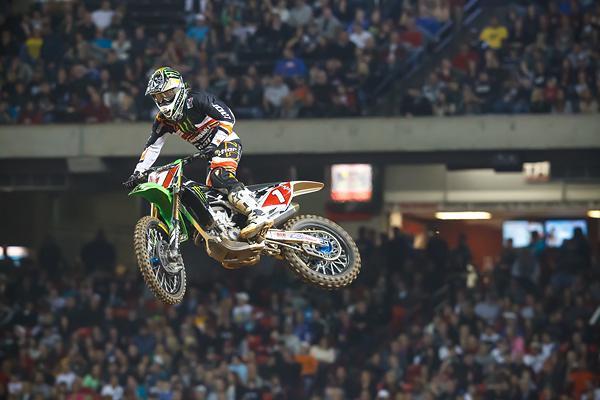 Ryan Villopoto is 10 points ahead in the race to hold on to that red plate and his big #1.
Photo: Simon Cudby
Here's Jason Weigandt, who is at St. Louis with the rest of the gang for the big race and will be sending in online reports, Tweets, and all-around good vibes from Edward Jones Dome:
Ask anyone who works for these teams and you'll find out that the STL is the quiet champion of "best dirt in supercross." How good is it? In 2007, Ricky Carmichael decided to only race half the season in his farewell tour, so he picked a bunch of big races: Anaheim and Phoenix (always packed), San Francisco (Fox Racing HQ nearby), Atlanta (like a home race), Daytona (he won there more than anyone), and his farewell SX at Orlando. And then he added St. Louis—RC wanted to go out with one more shot on St. Louis' awesome dirt. In the main event, Chad Reed collided with (or took out, depending on your view) James Stewart early, and then Stewart later came back to put a payback move on Reed. With all that going on, Carmichael was free to check out and grab one last victory, the final SX win of his career. Like Matthes says down below, crazy things happen in St. Louis!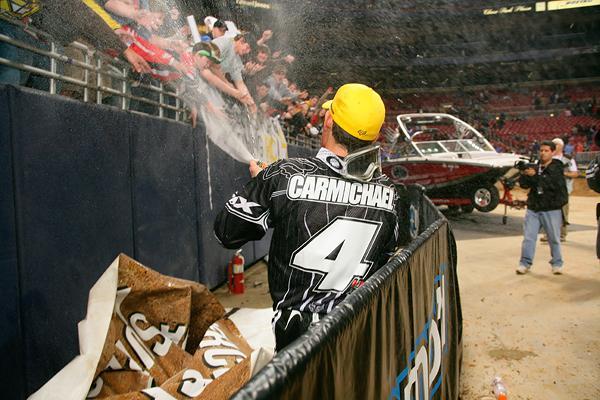 The 48th and final AMA Supercross win of Ricky Carmichael's career came at St. Louis in 2007.
Photo: Paul Buckley
Be sure to check out This Week in Yamaha History for a review of the 2006 STL SX, which was probably the craziest ever. I remember Reed struggling to jump a triple that some others were doing, and halfway through the main event he sacked up, jumped it, took the lead from Ivan Tedesco, and took off for the win. Then after the race, Reed circled back around to the jump and did a massive burnout at the top, digging a huge rut in the face and basically helping the track crew dismantle it. It was cool.
And yes, Ryan Villopoto crashed out of the nailbiting 2010 SX title chase here (after putting a huge block-pass on Dungey to take the lead—one that would have melted down the internet had it been Reed and Stewart instead). That allowed Dungey to cruise through the final rounds and take the title. Now that Reed is out hurt, Dungey can take the official Mr. Consistency crown in this series. In fact, this week we uncovered that Dungey has never missed a supercross race with an injury, ever.
A few detectives went back through the results and saw Dungey didn't score points in Daytona 2007. However, he didn't miss the event with an injury; he crashed in the first turn of the LCQ and had some sort of mechanical problem—he kicked and kicked but couldn't restart his bike. So he didn't qualify, but he definitely showed up ready to race. Also, I've had a few people point out that we've just jinxed Dungey. All I can say is, I sure hope not!
Also, folks are wondering if Stewart is on the verge of a turnaround now that the races have moved east. We all know about Stewart's struggles with his new stuff (like tires) out on the hard-packed West Coast tracks, and since he did a lot of testing in Florida, some theorize he'll be better now. In the Atlanta main event, he looked about as fast and aggressive as we've seen him in a main event this year, at least until he got slowed by the flashing lights, and I think that even includes his win in Oakland, where he even admitted he just "rode around." So Stewie might get some wins soon—but he'll need another one of those St. Louis miracles if he wants to make up some points.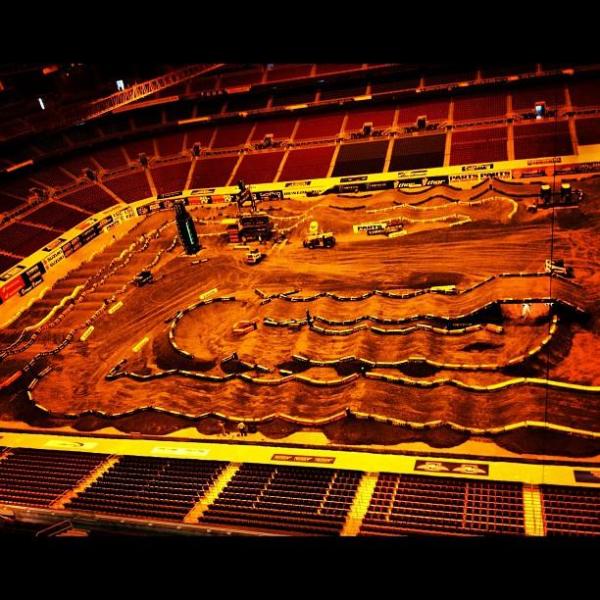 A preview of St. Louis thanks to Dave Prater.
Photo: Dave Prater
But you know who people aren't talking about? Ryan Villopoto. For some reason the stories always seem to revolve around the other guys—Dungey's new bike, or Dungey being so consistent but not aggressive, or the constant drama surrounding Stewart and Reed. RV just does his thing. Look back carefully at last week's race. There's a bowl turn leading the riders into the sand section. While Dungey is going after Seely in that turn, Villopoto is not too far back. But by the time Dungey finally makes the pass three turns later, RV is nowhere to be seen. Every person in the Georgia Dome (including myself and all of the TV people) were focused on Seely battling Dungey, and we all missed Villopoto tipping over in that corner. Despite that and a bad start, he still got within striking distance of the lead. Look out for that Villopoto guy—we don't talk about him much, but he can really ride a dirt bike.
Now over to Matthes:
St. Louis is a sneaky-good stop on the Monster Energy AMA Supercross tour. There's always the vibe with industry people about not going to this one, about how by the time St. Louis hits, no one will care about whatever it is that is the hot topic. The thing is, if you stop and look around, St. Louis always provides some sort of drama or hook. For example:
—St. Louis is where Jeff Emig ended Jeremy McGrath's bid for a perfect season in 1996. It was also Fro's first "real" supercross win and a great race.
—St. Louis always has some of the best dirt of the series. Just the right amount of traction. And for some reason, the track builders seem to always put in some cool stuff. For example, this weekend the over/under bridge returns!
—St. Louis isn't Atlanta by any stretch when it comes to the fans, but it's a solid top-five stop in terms of fan appreciation and packed pits. The Midwest fans always bring it.
—St. Louis saw a Travis Pastrana-designed track that was unlike anything we've seen before or since. Four-foot half-walls, big quads, and Pastrana himself racing all happened in St. Louis.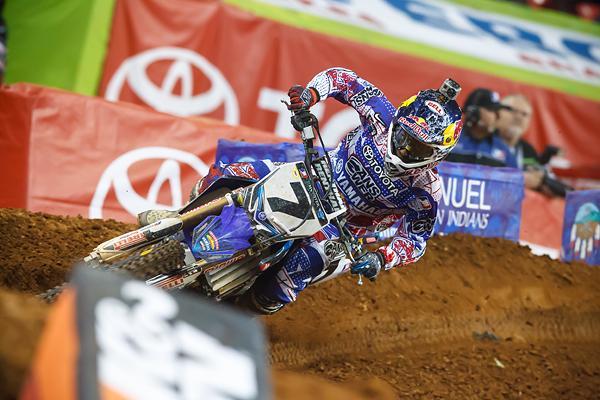 Can Stewart find the magic again in St. Louis?
Photo: Simon Cudby
—In 2006 we saw a massive swing in the points when Ricky Carmichael broke a shock and was forced to DNF. James Stewart crashed and was unable to start his bike for a long time. Chad Reed won and went from being in third to having a 10-point lead just like that.
—In 2010 we saw Ryan Villopoto and Ivan Tedesco both suffer season-ending injuries on a big triple that prompted a backlash over the track prep. (RV's crash was particularly ugly.)
—In 1997 I was pitted next to James Eickel, who got into it with MHR Honda's Damon Bradshaw, which carried over into the pits and resulted in Bradshaw throwing his Alpinestars Tech-8 at Eickel as he was getting undressed. Good times.
—St. Louis is where I was building my bike for Tim Ferry to come race when I got the word that something or another was hurt on him and he wasn't going to make it. Me being in a bad mood, I mouthed off to my team manager at the time, Jimmy Perry, about how the weekend was ruined for me and he sent me home on Saturday morning, thereby denying me the right to see the race. Good job, Matthes. You really showed him.
Anyways, we'll see what happens this weekend, but don't sleep on St. Louis. We're almost guaranteed to see something nuts happen.
Over on PulpMX, I wrote something about when I first realized that yep, I wasn't going to make it as a pro motocrosser. There's also a feature on The Two Ryans by Paul Quesnel, plus a look at the two guys who came closest to making the main in Atlanta but actually did not by Moser. There's also a column recapping Atlanta from former factory rider David Vuillemin called Snake Eyes. DV came up with the name and I have to say, golf claps for that.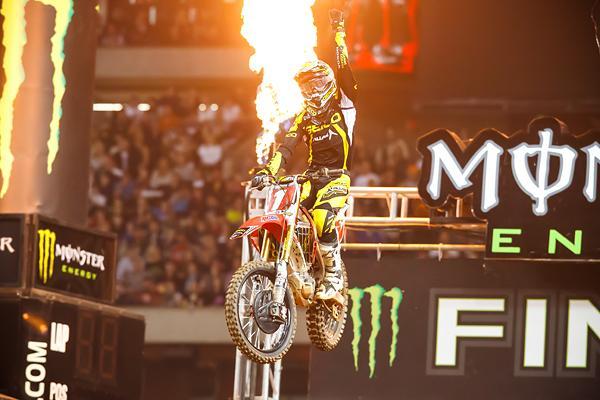 Barcia is going for three straight this weekend in St. Louis.
Photo: Simon Cudby
We had our PulpMX Show on Monday night with Chad Reed, Cole Seely, and we almost had Ken Roczen on but he developed a leak in his house and canceled at the last minute. Reed talked about his upcoming surgery, which was yesterday, how he's hoping to make it back for the last few nationals so he can get picked for the Aussie MXoN team. Seely was very entertaining as well recounting his awesome Atlanta ride.
Make sure you tune in every Monday night for the straight goods about the sport from myself and H&H manager Kenny Watson.
Speaking of H&H, it looks like Josh Hill will be out a little while longer than thought as he heals up from his Anaheim 1 injuries. Watson also told us that Ivan Tedesco might have to go and get another surgery on his finger and this will set him back even longer.
Now here's Aaron Hansel with some things to think about:
Initially, not everyone thought that Ryan Dungey's move to KTM, a team that had yet to secure a premier-class podium in supercross, was a smart one. Well, here we are, just shy of the halfway point of supercross, and he's just 10 points out of the lead. Sure, Villopoto has twice the wins Dungey does, but if there's one thing that can be said about Dungey, it's that he's consistent; you just know he's going to be scoring solid points at each and every round. Of course, Villopoto isn't going to stop tearing up the dirt anytime soon, but it sure seems like no matter what happens, Dungey always finds a way to manage the points—kind of like that Carmichael guy!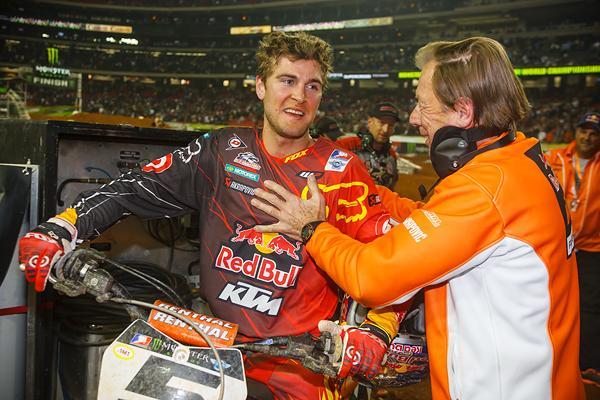 Down 10 points heading into St. Louis, Dungey and KTM are looking for another win to cut into RVs lead.
Photo: Simon Cudby
Last year, Dungey only won a single race but still managed to finish just 10 points behind Villopoto—and he DNF'd Anaheim 2 and lost 21 points that night alone to RV. This year we've got nine rounds left and Dungey has already won twice as many races as he did last year. And you can only bet as he becomes more comfortable with the bike, and the factory continues to learn to compete at this level of stadium motocross, he's going to get faster.
If I were going to offer my predictions for the weekend, this would be a great place to do it, but I'm definitely not going to call anyone for the win. However, one prediction I feel pretty confident in making: Star Valli Motorsports' Bobby Kiniry is going to transfer to the main via the LCQ. Stamp it!


Construction has begun at Daytona.
As awesome as the 450 action can be, I'm more excited about Lites racing this weekend. Last week in Atlanta, quite a few guys had rough nights. Malcolm Stewart crashed in his heat race and missed the LCQ when his bike wouldn't fire, Ken Roczen got hung up in the gate after his clutch slipped a little, Phil Nicoletti had to sit the night out after a crash in practice broke his subframe in half and left his knee so swollen it started locking up, and his teammate Alex Martin had a mechanical problem that prevented him from making it to the gate in the LCQ. There's no doubt that these guys are looking for redemption, and what better way to get it than to do well in St. Louis?
I also think we can expect to see more out of Kyle Cunningham, who was nursing a sore wrist in Atlanta from a hard crash in Dallas. We'll also get to see the debut of rookie Kyle Peters, who missed the first two rounds with a separated collarbone. I don't expect Peters to exhibit mind-blowing speed, but it's going to be fun to see how he stacks up against his competitors. Add it all up, and we've got the ingredients for a great night of Lites racing. If you can't attend the race in person, make sure you tune in and watch it on Speed—it's got the makings of a great one.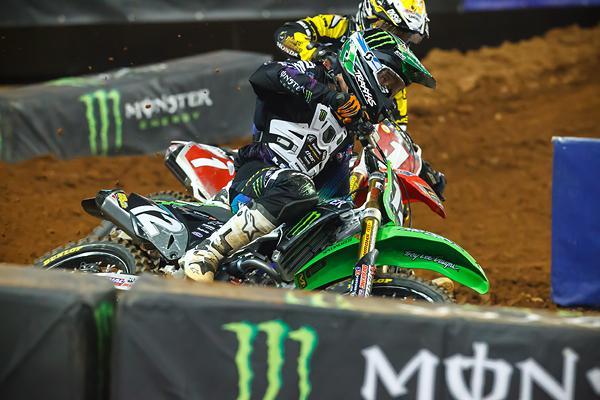 Can Baggett put a halt to Barcia's winning streak?
Photo: Simon Cudby
Okay, here are some notes to close out the weekend:
The first big amateur race of 2012 is up and running at Freestone MX in Texas. All of the big amateur moto media outlets are on the scene in some capacity. Vurb Moto, Playground Magazine, InsideMX.com—check them all out for videos and photo reports of the future stars. For live timing and scoring, go here.
Former 250cc MX World Champion Danny LaPorte called us to confirm he will be attending the 5th Annual Racer X Inter-AM to be held at the famed OMC track in Boise Idaho on March 31st weekend. Check out that dirt!  Joining Danny will be his MXoN teammate and 500cc MX champ Chuck Sun, plus The Beast from the East Damon Bradshaw. Festivities include 2 days of Vintage MX racing and a Vintage MX video party featuring never before seen footage from MX Files producer Todd Huffman and live music from local Boise band the Blues Addicts. Thanks to a great list of sponsors there are no gate fees or camping fees. C'mon up and join the fun!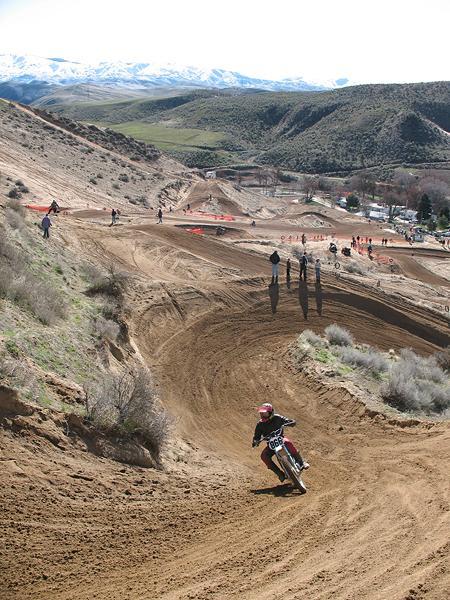 The April '12 issue of Racer X Illustrated includes a feature about the history, evolution, and current state of the whoops, the single most valuable piece of real estate in the entire sport. If a supercross pro can get the whoops well, he can win at this game—the rest is relatively easy! We were kicking around big moments in the whoops over the last ten years and came up with The List.
I found some pretty interesting stuff about the whoops, including the first manmade set, which apparently was built by the Bailey brothers at their 1969 Ascot Park infield race, predating supercross itself by a few years. I can still remember the first time I saw the whoops as something incredibly formidable, not just a series of small jumps. It was way back in 1975 at the Superbowl of Motocross, and Marty Smith forget off the start that there was a first turn before the whoops they hit every other lap. He launched his factory Honda into the whoops, cartwheeling out of the race and into history as maybe the first whoop casualty. I wasn't there to see it in person, but it was caught on film for a documentary by Can-Am, which won the race via Jimmy Ellis. Just watch this at about 00:08 right off the start of the clip: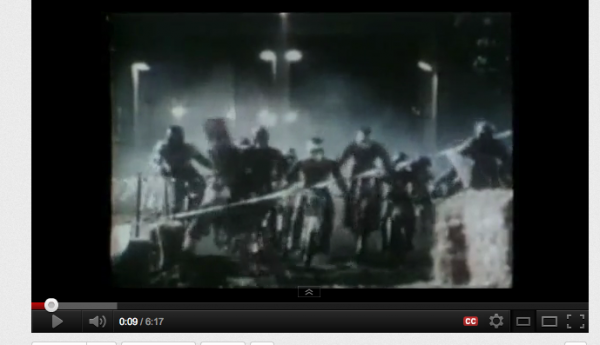 Here's a screen grab of possibly the first big crash in the whoops, Marty Smith at the 1975 Superbowl of Motocross.
Matty Fran stopped by Husqvarna in Corona for a look at their new Baja concept bike. He made this Racer X Film with a cameo appearance by Gary Jones, the first AMA 250cc Motocross Champion who still holds a record: Jones is the only man to have ever won three straight titles on three different brands. Do you remember which there they were?
Brian Robinette spotted this interesting branding idea perusing the Georgia Dome pits. It's a good idea—and the cast on the girl in the media gives her some street cred (unless she hurt it pulling on those tight pants). Having been to Durhamtown and been very impressed by it as a weekend riding destination, I thought we would help them justify the cost associated with this promotion and hook them up in Racerhead!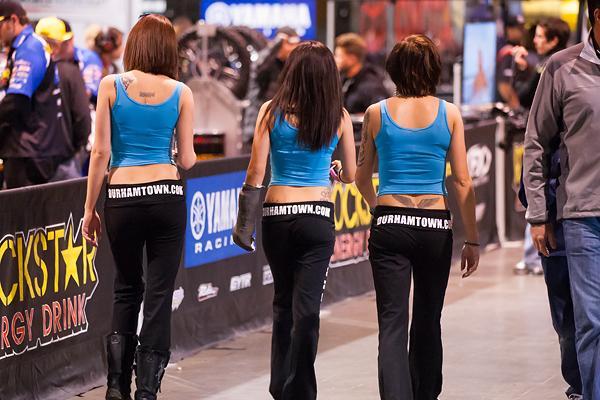 Durhamtown went with a personal touch on branding at the Atlanta SX.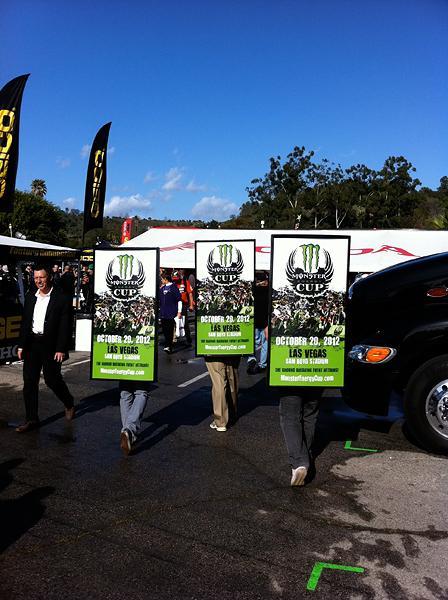 We do think that we'd rather see the Durhamtown girls than the Monster Cup sandwich boards.
Want to see something that's, well, kind of odd, but also kind of supercross-related? Looks like it was filmed at the Toronto SX, and we've never heard of the artist....
Gary Jones won his three titles from '72 to '74 on Yamaha, Honda, and Can-Am, respectively. He also won the de facto '71 title (pre-nationals) by being the top American in the Inter-Am Series. And the team trophy that goes to the winner of the Lucas Oil Motocross Championship's 250 Class is dubbed the Gary Jones Cup.
Here are three photos of Gary Jones, the first (Yamaha) shot by Wally Wallenberg, the second (Honda) by Dick Miller Archives, the third by Steve French (Can-Am)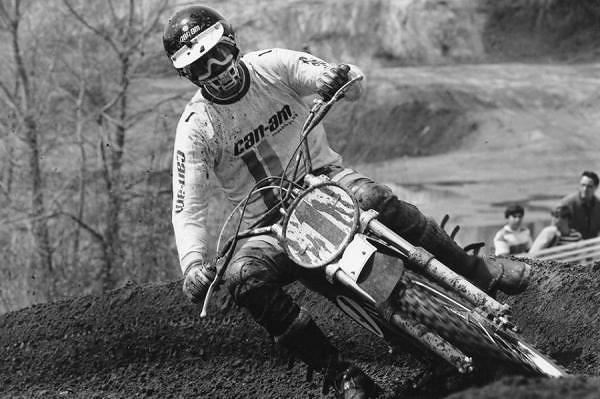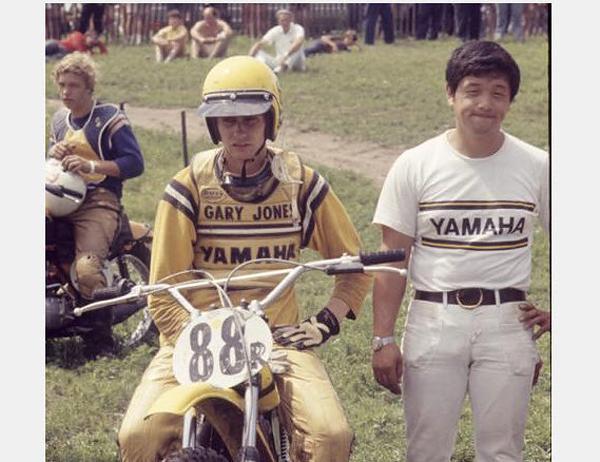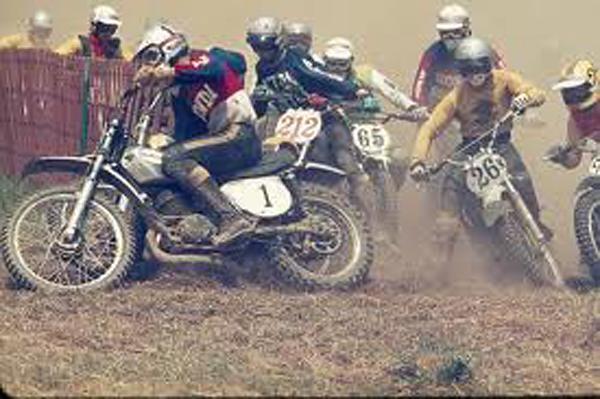 The new DC Shoes commercial for their Chinos has a glimpse of Nate Adams, check it out:
Here's
another look at the Vallence International
race from last week through Moto Verte:
That's it for Racerhead! Enjoy the weekend, thanks for stopping by, and see you at the races.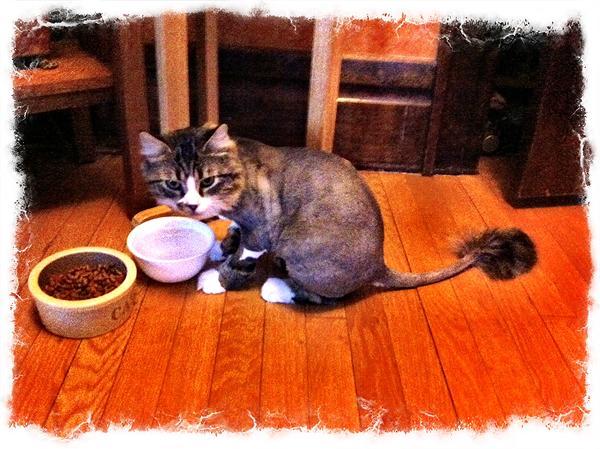 Apparently confused, Shannon shaved the cat. Sorry, Zsa Zsa.