Georgia Dome
Atlanta

,

GA
Atlanta
Monster Energy AMA Supercross Championship
By Chase Stallo and Jordan Roberts
A week after making a stunning SX debut, in more ways than one, GEICO Honda rookie Justin Bogle showed poise and maturity in a bounce back ride in Atlanta. Bogle ran down Rockstar Energy Suzuki, and former GEICO Honda, rider Blake Wharton in the main to secure his first career SX Lites podium.
Justin Brayton is still fighting through the pain of a leg injury incurred in his San Diego crash, and hasn't been able to ride at for a few weeks. He's hoping to get back on the bike this week, even just to do starts or turns. "Landing the triples hurts," says Brayton.
Bad luck for Broc Tickle. His rear brake just didn't work in the main event, and he knew it as soon as he reached the first turn of the main event. He finished 16th.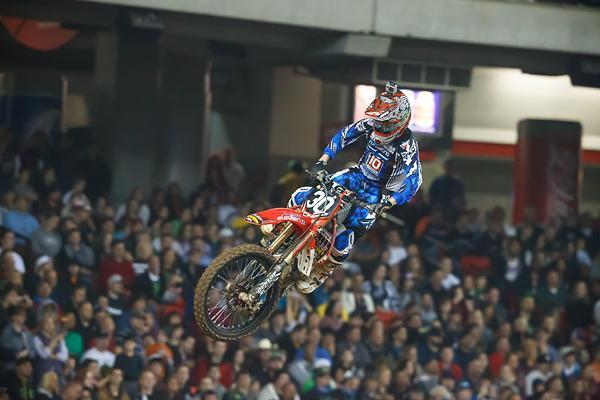 Alex Martin and Eleven-10 Mods had a rough night in Dallas.
Photo: Simon Cudby
There were a host of riders that began the season on a high note in Dallas that failed to make the main in Atlanta. Eleven-10 Mods had a rough night with both Phil Nicoletti and Alex Martin falling short of the main (more on them below).  Privateer Cole Thompson also suffered a set back after a ninth in Dallas, while Munn KTM's Sean Hackley suffered a crash in practice that had him watching from the stands. But the heartbreak of the night belonged to JDR/KTM's Malcolm Stewart. A hard crash while leading his heat race relegated Stewart to the LCQ, where a mechanical issue would leave him without a bike as the gate dropped. Stewart also missed the second practice with bike issues.
And it was Shane Sewell, Shawn Rife, Levi Kilbarger, Daniel Herrlein, and Brad Ripple who saw opportunities in others' misfortunes. These riders failed to make an appearance in the opening round of the Lites East in Dallas, but were able to pick up where others left off in Atlanta. Each of these riders secured their spot in the main event with a transfer spot in their heat race. Sewell even managed to break into the top ten in his first main this year.
The hot start for the Eleven-10 Mods duo of Phil Nicoletti (5th in Dallas) and Alex Martin (11th in Dallas) simmered in the ATL. Nicoletti crashed hard in free practice and failed to make it back for the timed sessions, while Martin's chances at qualifying were thwarted when Blake Wharton made a mistake in a corner causing Martin to stall his bike and miss a transfer spot. According to team owner Chad Sanner, Nicoletti is not expect to miss any time and should be on the gate for St. Louis.
After beginning the season with a 12th in Dallas, Rockstar Energy Suzuki's Hunter Hewitt found himself in a similar situation in Atlanta rounding the first lap in 15th. But the Pilot Point, Texas native was able to carve his way through the pack en route to an eighth place finish.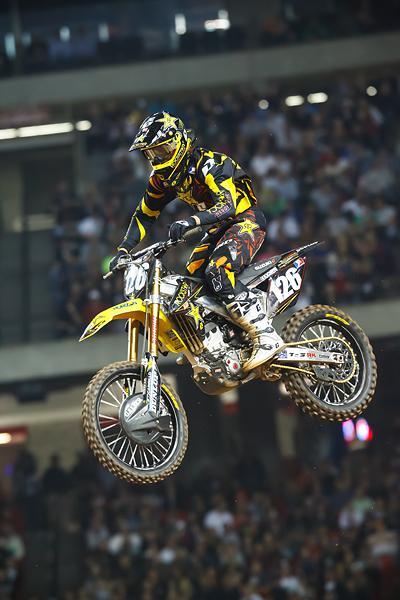 Hunter Hewitt charged to an 8th place finish at Atlanta.
Photo: Simon Cudby
MotoConcepts Jake Canada continued his sizzling start to the 2012 season with a ninth in Atlanta. After back-to-back top ten finishes in Dallas and Atlanta, Canada has already doubled his top ten finishes in 2011 after just two rounds.
The moto-media were left scratching their heads after the relatively unknown Jean Carlo Ramos consistently made the night show and even a few main events in the West Lites series. Nobody knew much of anything about the enigmatic rider before he showed up in the U.S. this year. The start of the East Lites series has brought in a similar scenario. Italian native Angelo Pellegrini has made both mains thus far backed by little more than his own efforts. Once again, we are left asking ourselves the same question. Who is this guy?
Several talented riders logged unexpectedly less-than-stellar performances at the Lites East series opener in Dallas. Blake Baggett, Kyle Cunningham, and Matt Lemoine went down after the first turn in a very crowded rhythm section. See the carnage from PJ Larsen's perspective HERE. The three rode into Atlanta with redemption in mind. Baggett and Bogle put in impressive rides for the last two spots on the podium. Cunningham placed inside of the top ten with a seventh place finish while Lemoine placed just outside of the top ten with a thirteenth.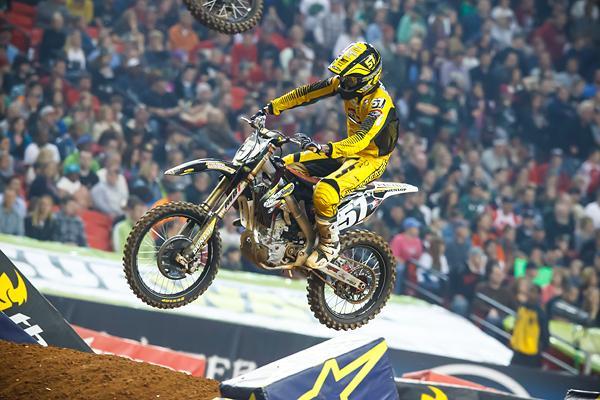 Jake Canada has been impressive thus far in 2012.
Photo: Simon Cudby
You can arguably find the most exciting racing of any given night towards the front of the pack in the LCQ races. Last week it was Gavin Faith and Weston Peick battling tooth and nail for the last main event transfer spot. It appeared to be the same scenario this weekend in the Lites class when fans witnessed Jake Canada and Lance Vincent go at it, but this time no one was in front of them. It just goes to show how the do-or-die mentality overrides all else for the riders that have to line up behind this gate.
Justin Sipes was given the opportunity to take a vacant spot under the Motosport.com/TiLube Kawasaki awning after the Los Angeles round left Chris Blose injured. Sipes has been showing the potential to run in the stacked big bike class but seems to come up just short in most heats and LCQ's. He was able to turn it around this past weekend by pulling a transfer spot in his heat and qualifying for his second main event of the year.