Georgia Dome
Atlanta

,

GA
Atlanta
Monster Energy AMA Supercross Championship
A season-ending crash last weekend by
Chad Reed
seemed to suck some of the air out of the 2012 Monster Energy Supercross Championship—but a win by Red Bull KTM's
Ryan Dungey
this weekend in Atlanta may have breathed new life into it.
Around the challengers sits the specter of defending SX Champion Ryan Villopoto. The Monster Energy Kawasaki rider saw his three-race win streak snapped in Atlanta's Georgia Dome, but not without a fight, as he overcame a bad start to close in on Dungey and apply a press to him in the final laps. The two young stars pushed each other hard, exchanging mistakes and keeping the absolutely massive crowd of 71,000 cheering to the finish. Villopoto closed to near striking distance on the final lap, but one mistake on the final go around in the sand section allowed Dungey to open it back up and take his second win of the season. He also closes to 10 points behind Villopoto in the 2012 SX standings.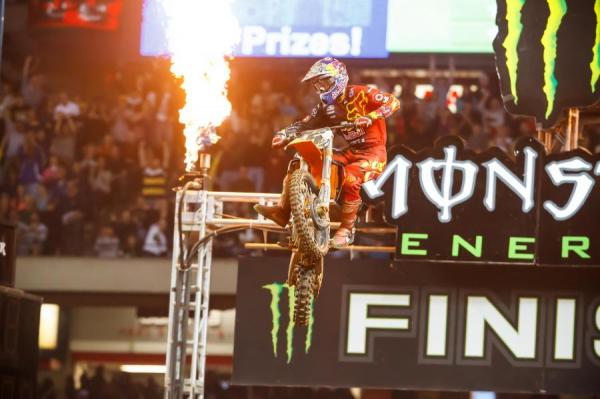 A crowd of 71,009 witnessed Ryan Dungey take a hard-fought win in the Georgia Dome.
Cudby photo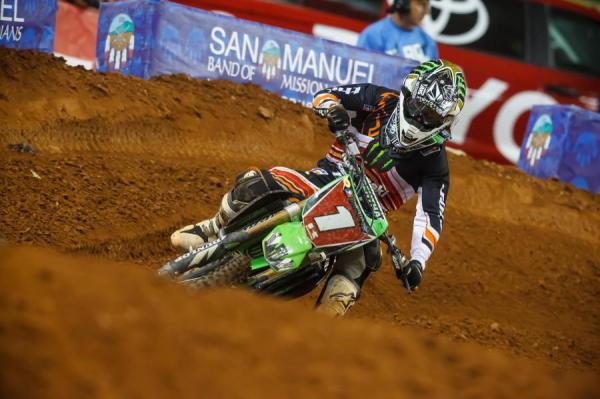 Ryan Villopto didn't get the start he wanted but he was able to get close enough to Dungey to apply some pressure.
Cudby photo
James Stewart took third on his JGR/Toyota Yamaha with his teammate Davi Millsaps fourth and Justin Brayton fifth on his Honda Muscle Milk machine. But Brayton's temporary teammate Cole Seely made some noise, as well, pulling the holeshot in his first race this season on the factory 450. The Lites West title contender then looked calm and in control as he held Dungey at bay for seven long laps, an impressive showing. Seely than appeared to tighten up, and Dungey put an aggressive move on him to go to the lead. Seely said that pass ruined his rhythm, and soon Villopoto, who started about seventh but had charged up to third, made the pass to take over second.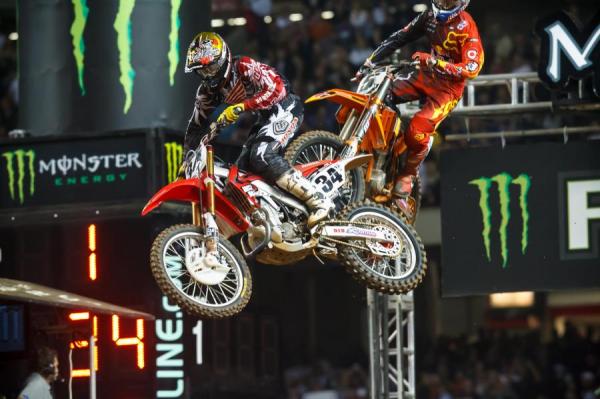 Cole Seely rode incredibly well as he grabbed the holeshot and then led Dungey for the first seven laps.
Cudby photo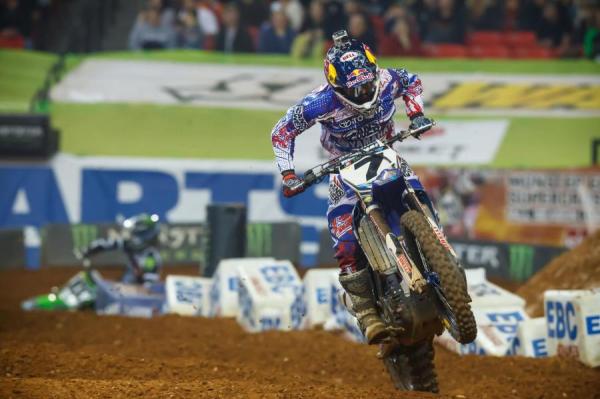 James Stewart came from way back to finish third,
Cudby photo
Stewart was charging from even further back. He started well outside the top ten but passed a slew of riders on the first lap to get to ninth. He kept creeping forward along with Villopoto, using an inside line through the first sweeper turn to make moves and get to third on lap 12. By then, only about four seconds separated Dungey, Villopoto and Stewart—the sold-out crowd had a race on its hands.
Then a rider went down near a triple jump, and the track officials turned the red caution lights on. Dungey and Villopoto jumped the jump, then Stewart rolled it as per the rules. He lost a ton of time there and essentially lost whatever chance he might have had of winning the race. Officials then ruled that Dungey and Villopoto had already committed to the triple by the time the lights came on, and they were not penalized for jumping.
With five laps left, Dungey held about a three-second lead on Villopoto, but Villopoto put on one last hard push, digging deep to close on the KTM rider. And Dungey began to make mistakes, allowing Villopoto to close further. Villopoto made a few mistakes as well, but finally closed right in and tried a quick attack in a corner, but he lost traction with his rear tire lost a ton of time. He picked the pace back up and closed on Dungey again, setting up a final-lap showdown akin to their battle outdoors at Steel City last summer (where Villopoto stole the lead from Dungey within sight of the finish). But Dungey rode smart, steady and solid, while Villopoto made one more mistake in the sand section, allowing Dungey all the breathing room he needed to take the win.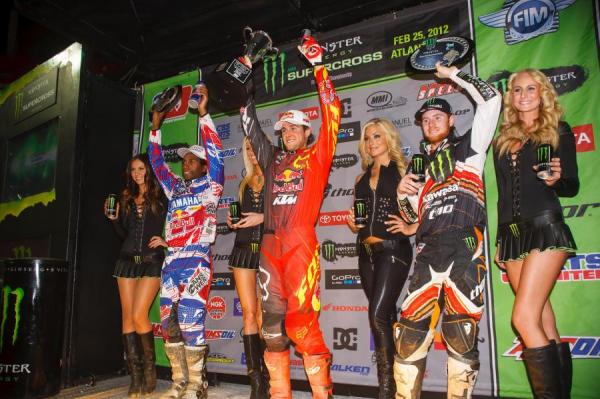 The SX class podium.
Cudby photo
Behind Stewart, Millsaps and Brayton in the top five came Seely, Monster Energy Kawasaki's Jake Weimer, and GEICO Honda's Kevin Windham. Yoshimura Suzuki's Brett Metcalfe and Rockstar Star-Valli Yamahas Nick Wey rounded out the top ten. Dodge Motorsports Hart & Huntington Kawasaki's Josh Hansen was battling around the top five before nearly crashing and then stalling his bike. It took him a full lap to get it started and he finished 15th.
In SX Lites East, GEICO Honda's Justin Barcia made it two straight wins to begin his title defense. The Atlanta track was deceptively slippery, and Barcia found out when he crashed while leading his heat race. Red Bull KTM's Ken Roczen suffered the same fate while leading his, which allowed GEICO Honda's Justin Bogle and Monster Energy Pro Circuit Kawasaki's Blake Baggett to win the heats. Malcolm Stewart also led a heat race before he crashed, and then his J-Star JDR team couldn't get his bike running for the LCQ, forcing him out for the night. All the qualifying action seemed to set up a wild battle in the main, but instead Barcia pulled the holeshot and rode steady up front, making a few mistakes along the way but never really getting a huge threat.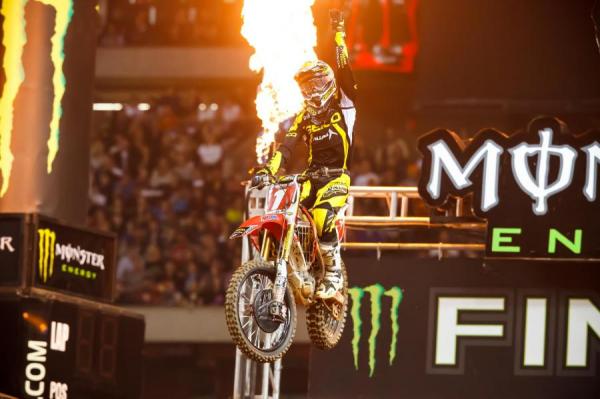 Justin Barcia led from gate to flag in Atlanta.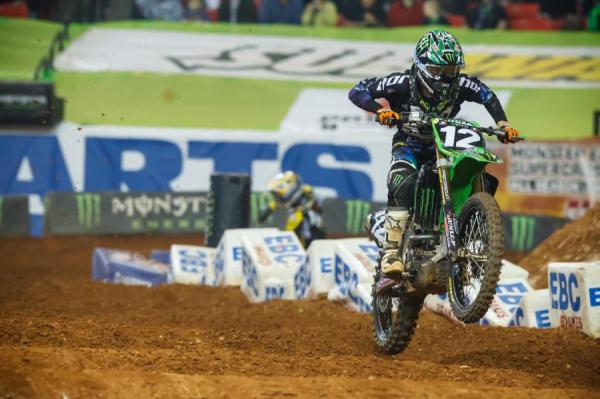 Blake Baggett wasn't quite able to match Barcia, but he was much better than last weekend.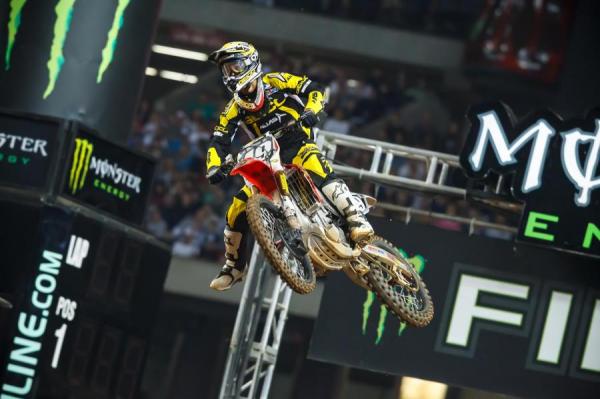 Yeah Justn Bogle, get yourself some of that sweet one-footed action.
Cudby photos
Baggett ran in second the whole way and made a few runs at Barcia but was never able to show him a wheel. He finished second, a huge improvement from last week's Dallas opener were he crashed early and didn't even finish in the top ten. Rockstar Suzuki's Blake Wharton and GEICO Honda's Bogle battled for third with Bogle getting the spot for his first career podium in just his second pro supercross. Monster Energy Pro Circuit Kawasaki's Darryn Durham started up front but didn't maintain the pace of the leaders, and he was nearly gobbled up by Roczen at the finish. Roczen suffered a terrible start when his clutch started to engage on the line, sending his bike creeping toward the gate. He started last and never gave up, taking a close sixth behind Durham.
The series now heads to St. Louis next weekend.
Results: Atlanta SX
SX Class
1. Ryan Dungey (KTM)
2. Ryan Villopoto (Kaw)
3. James Stewart (Yam)
4. Davi Millsaps (Yam)
5. Justin Brayton (Hon)
6. Cole Seely (Hon)
7. Jake Weimer (Kaw)
8. Kevin Windham (Hon)
9. Brett Metcalfe (Suz)
10. Nick Wey (Kaw)
11. Kyle Chisholm (Kaw)
12. Mike Alessi (Suz)
13. Matt Georke (Suz)
14. Robert Kiniry (Yam)
15. Josh Hansen (Kaw)
16. Broc Tickle (Kaw)
17. Kyle Partridge (Kaw)
18. Jeff Alessi (Suz)
19. Justin Sipes (Kaw)
20. Weston Peick (Kaw)
Supercross Class Season Standings
1. Ryan Villopoto, Poulsbo, Wash., Kawasaki – 180
2. Ryan Dungey, Belle Plaine, Minn., KTM – 170
3. James Stewart, Haines City, Fla., Yamaha – 136
4. Chad Reed, Dade City, Fla., Honda – 128
5. Jake Weimer, Rupert, Idaho, Kawasaki – 106
6. Kevin Windham, Centreville, Miss., Honda – 105
7. Brett Metcalfe, Lake Elsinore, Calif., Suzuki – 100
8. Justin Brayton, Murrieta, Calif., Honda – 96
9. Davi Millsaps, Murrieta, Calif., Yamaha - 94
10. Mike Alessi, Hilliard, Calif., Suzuki – 90
SX Lites
1. Justin Barcia (Hon)
2. Blake Baggett (Kaw)
3. Justin Bogle (Hon)
4. Blake Wharton (Suz)
5. Darryn Durham (Kaw)
6. Ken Roczen (KTM)
7.  Kyle Cunningham (Yam)
8. Hunter Hewitt (Suz)
9. Jake Canada (Suz)
10. Shane Sewell (KTM)
11. Lance Vincent (KTM)
12. PJ Larsen (KTM)
13. Matt Lemoine (Kaw)
14. Les Smith (KTM)
15. Shawn Rife (Hon)
16. Levi Kilbarger (Hon)
17. Daniel Herrlein (Hon)
18. Angelo Pellegrini (Suz)
19. Austin Politelli (Hon)
20. Bradley Ripple (Hon)
Eastern Regional Supercross Lites Class Season Standings
1. Justin Barcia, Ochlocknee, Ga., Honda – 50
2. Darryn Durham, Butler, Pa., Kawasaki – 38
3. Blake Wharton, Beaumont, Texas, Suzuki – 36
4. Ken Roczen, Murrieta, Calif., KTM – 35
5. Blake Baggett, Butler, Pa, Kawasaki - 28
6. Justin Bogle, Cushing, Okla., Honda - 27
7. Jake Canada, Sun City, Calif., Honda – 26
8. Hunter Hewitt, Pilot Point, Texas, Suzuki - 22
9. PJ Larsen, Murrieta, Calif., KTM – 21
10. Lance Vincent, Youngsville, La, KTM - 16