Qualcomm Stadium
San Diego

,

CA
San Diego
Monster Energy AMA Supercross Championship
It's said that
Eli Tomac
learned the rules of athletic success from his world famous Mountain Bike Champion father John. It's apparent that John can teach quite a bit, but he does not teach mind games. Eli is as straight-forward and brutally honest about his expectations as any rider in the pits, and it's refreshing to hear such honesty. Eli wants to win, he says he wants to win, and he tells you he is disappointed if he doesn't win.
For example, last year, as a rookie, you never heard Tomac mention trademark motocross phrases like "learning year" or "just getting my feet wet." Nope, Tomac wanted the championship, and when he got close in the points late in the season, he actually said he wanted the championship. He didn't deflect the pressure and go with "just ride my own race" or "take it one race at a time" or even "just trying to have fun out there." Nope. Eli said he wanted to win the championship.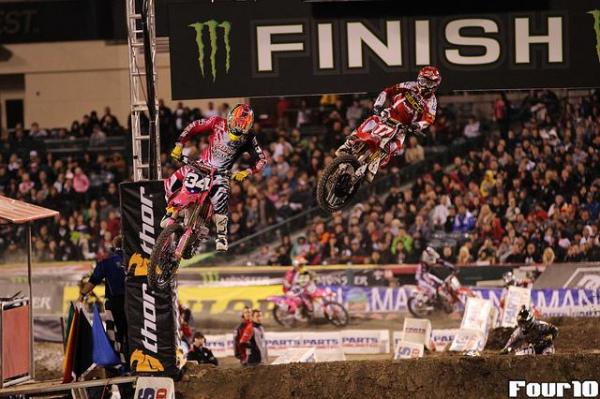 An early crash would halt Seely's (front) attempt at stopping Tomac's (back) winning streak at A2.
Photo: Devin Davis
This year he's making his intentions just as clear. Tomac rode hard in Anaheim 2 practice, but he only ended up fifth fastest. Now, at that point he could have tried to diffuse the situation by saying he doesn't care about practice times. Nope.
"Practice, I was fifth, and that got me fired up for the heat race," he said. "I was like, c'mon man, I thought I was fast, and I'm at the bottom of the board! I was doing this triple in the rhythm section in the back lane there, and I was still fifth. I was like, "What is going on?" That lit the fires."
Early in the Anaheim 2 main event, Cole Seely led Tomac and started reeling off fast laps. From behind me in the press box, I heard someone say, "Oh, Tomac is just going to ride smart for points."
No! Eli was not going to ride for points. He wanted to win the darned race, and he admitted as much. "I got the holeshot in the main, but Cole passed me on the second straight. Both of us were going really fast, we were kind of yo-yo-ing, I'd catch up a little, he would pull away a little. Then he ended up sliding out."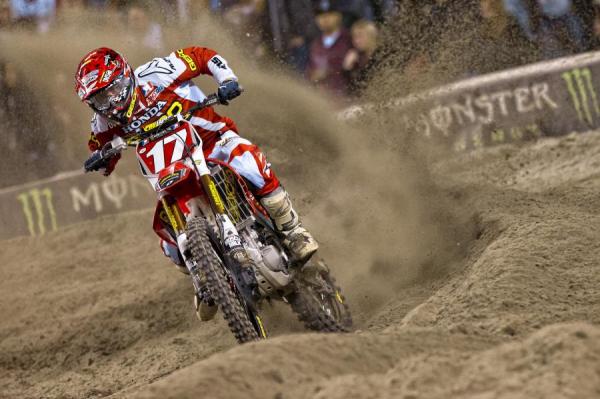 Tomac is looking to make it four in a row at San Diego.
Photo: Garth Milan
Was Tomac sitting there waiting for his chance? Was he riding smart hoping Seely would make a mistake. As always, he was honest.  "No, I wasn't trying to be smart!" he said after the race. "We were doing 55s! We were cranking out there!"
There are no games with Tomac. He wants to be fastest in practice, win races, and win titles, and he's not afraid to say it. You'd be surprised how many riders are.