Qualcomm Stadium
San Diego

,

CA
San Diego
Monster Energy AMA Supercross Championship
How do you categorize Kevin Windham? We know the four pack up front is fast and can win races, and we know the chase pack with riders like Jake Weimer, Justin Brayton, Andrew Short, Brett Metcalfe, Davi Millsaps and others is looking for a breakthrough. Somewhere between those groups, though, lies Windham. At times, he's battling in the top seven or so, but we all know there are some nights where K-Dub finds the speed to get into the fight for the number-one position.
So far, the 33-year-old fan favorite hasn't hit the podium yet (he just missed in Phoenix), but Windham always seems to get stronger as the series goes on. And he already feels like he's riding well. Matthes caught up to Kevin for a quick interview in this week's Going for the W.
Racer X: I made this comment during the race. You were killing it tonight. You probably weren't where you wanted to be, but it looked like you were riding well.
Kevin Windham: Well thanks for noticing. It's tough in this game right now. Man, I'm so frustrated. I miss the podium years. When you ride good, you're supposed to get on the podium. I feel like I have decent rides it's just, man, I can't catch those guys. I might be able to hang on to them if I threw a lasso, maybe. I gotta' get there first. I can't do it from fifth or sixth or seventh or whatever. I was in a really heated battle with [Davi] Millsaps the entire time which was fun racing. But then, at the end of the day, you pass him and you're like yippe. I feel like I'm riding close, but I keep getting sixth, so obviously I need to start working on my starts. I'm happy with my strength. I'm not fading, so I'm happy with that. I feel like I'm in a good place. Just hopefully we'll get to the east coast and things will mature a little bit and we'll get to taste a little champagne.
Sometimes you can see guys kind of stopping in corners and cruising or whatever, but watching your battle with Millsaps, you're aggressively roosting the corners and attacking the track. So maybe, like what you said, it's the depth of the field.
It's definitely the depth of the field and I think I've got to start better. I've got to get there in the top two or three. I have to avoid getting boxed out in all those corners. Those first couple of corners are kind of brutal. You get stacked in. I was talking to [Chad] Reed before the race. We were both kind of trying to pick our gate based off of turn two, not turn one. You just want to get yourself set up entering whoops so you get a drive out of all the chaos. But, like I said, I can't do it from where I was. I'm trying not to hang my head because I'm riding well. I think the whole team's happy with the way I'm riding. It's just not working out for me right now.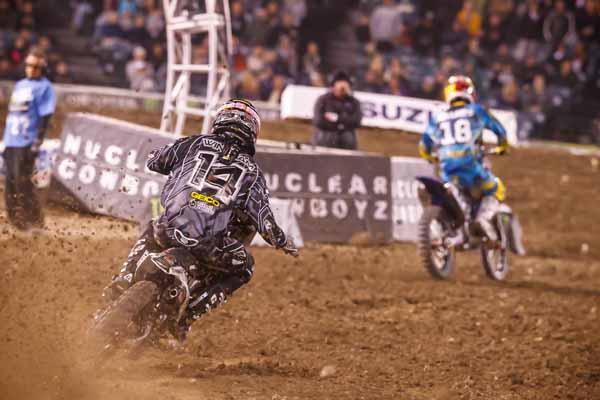 Can Windham land his first podium of the year in San Diego?
Photo: Simon Cudby
The track. I walked it, thought it was going to be awesome, super cool. But both main events, we didn't really see much battling. Really, you might've had the coolest race of the night with Davi. Why was that?
A lot of insides. There were two bowl turns that we could pass that was coming out of six and into seven, eight before the triple – the second triple, a non-bank turn bowl turn that was turn two before the whoops, a lot of flat corners, we were able to do the rhythm sections from the inside. It really only allowed two turns for any kind of box-out, but even how we were doing that on-tabletop deal wasn't really good to make a drive on somebody in turn six. So, it was a good track, better than A1. But I have to be honest with you, I'm ready to get to a football stadium. I think these baseball fields, while they can be good, they haven't done a good job with them this year. I guess Oakland was good.