Chase Field
Phoenix

,

AZ
Phoenix
Monster Energy AMA Supercross Championship
James Stewart, Joe Gibbs Racing Toyota Yamaha, eighth in SX Class
How was the night? How was the day?
Outside of being sick, it was actually alright. I actually rode a lot better this week. We worked on the bike, got that a little bit better. The heat race was good. It was just two bad starts that killed me. It killed me in the heat race, but I was able to get up. Then in the main event, it killed me pretty bad. I got tangled with Josh [Hansen] on like the second lap really bad. We like got stuck together and I went way back again. I ended up coming back up through the pack, I don't even know where I was, and that wall thing was weird. People would go up and roost and I couldn't see. Andrew stopped and checked up like everyone else was doing and I just barely tapped him on the back and went down in there. It was rough. It was a rough night. But I felt like I should have won that race again. So it was definitely good for the team and good for us and we'll just have to make it happen next week.
So the riding and the bike and all that, you're not worried about that? No problems there?
No. I feel way better. I think I'm only going to get better as the season goes on. So, the riding, being who I am, is back for sure. Like I said, if I get the starts, I'll be fine.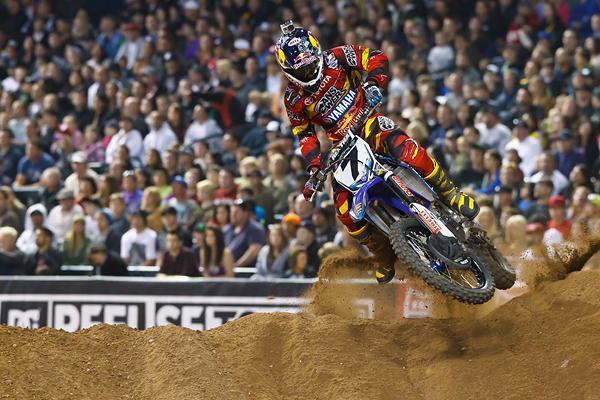 "Outside of being sick, it was actually alright. I actually rode a lot better this week." - James Stewart.
Photo: Simon Cudby
Justin Brayton, Team Honda Muscle Milk, 14th in SX Class
Well, I put myself in the position to have bad things happen. I just spun off the gate, then me and Stewart locked bars and just got a really bad start. Then somehow, I don't know what happened, but me and [Mike] Alessi tangled and that didn't go over so well. I crashed there off the track and then I crashed with [Ivan] Tedesco a few laps later. So it was a rough one. Not the way I wanted this night to go, but I'll come to fight another day. Come out swinging in L.A.
Marvin Musquin, Red Bull KTM, second in SX Lites Class
Yeah really happy. I mean, I crashed on the last practice. I hurt my neck a little bit. I got a bad start in the heat race. I got mad a little bit. I couldn't get around [Max] Anstie. I finished fifth on the heat race, but it was my start. And then I was really focused for the main event. I got a really good start and I got second. I tried to pass [Tyla] Rattray on the second turn. It was so exciting, I was like "Okay! Go get him!" I was really happy. I tried again after the triple. I was a little bit shy and then I touched his bike a little bit, so we almost crashed. And then [Dean] Wilson passed Rattray and me at the same time. Then I tried to follow Wilson, but he rode really well. He was pushing really hard and I was pushing really hard, too. I had a really good race. I'm so proud. The Red Bull KTM team did a really good job. I feel good. I'm finally on the podium. I keep pushing all the way to the finish and I saw behind me Rattray, [Cole] Seely and [Eli} Tomac and I was like "Okay keep going. Keep going."
Do you think you can get better? It's really only your second race, really, full time in supercross.
My goal was to be on the podium and to get a good start and I got a really good start tonight. So that's good. I am happy about that. For sure I learn every time. It's my second supercross race. And then I am also back racing outdoors. Last year was a crazy year for me. I am feeling good. I have a really good bike and I'm in good shape. I did a good 15 laps.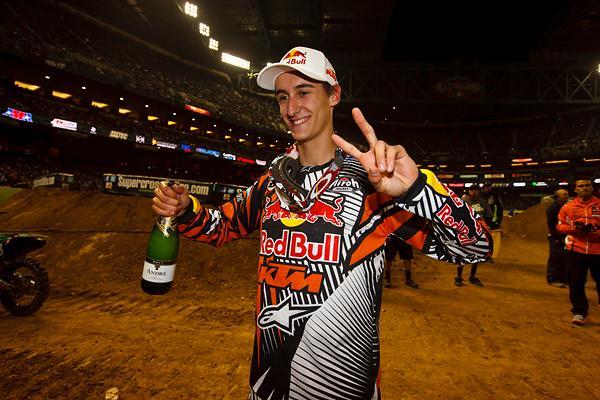 "My goal was to be on the podium and to get a good start and I got a really good start tonight." - Marvin Musquin
Photo: Simon Cudby
Tyla Rattray Monster Energy Pro Circuit Kawasaki, third in SX Lites Class
I think you're in the points lead.
Oh yeah. I'm a supercross rider now, dude.
No one was talking about you before supercross. They're like, yeah, Rattray, just wait until outdoors. How did you feel coming into supercross? Did you know that you could do this?
Yeah, definitely. You know, obviously with me having a year under my belt after last year, it made it a lot easier for me coming into supercross this year. I knew what to expect. I know the stadiums. It just makes it a lot easier. And, obviously, putting so many laps in and training with Aldon [Baker] and Ryan [Villopoto] and Jake [Weimer], it really helps me lift my level and my speed and that's the stuff we'll work on and try and work on weak points and make them my strong points. My bike's been working great. I've been getting great starts at the first round and now. So I'm happy with how my bike's working and obviously getting holeshots is going to make life a whole lot easier.
So did you come into this year a lot more confident than you did coming into last year?
Oh yeah, definitely. I mean, last year, I'd come to the track and, I mean, it was my first year. Like, I'd walk the track and I'd be like "Oh, I wonder what they'll do here." Whereas now, when I walk the track, I know kind of what they're gonna do. So I think that helps a lot to know. With this being my second year in supercross, it's definitely helping me a lot.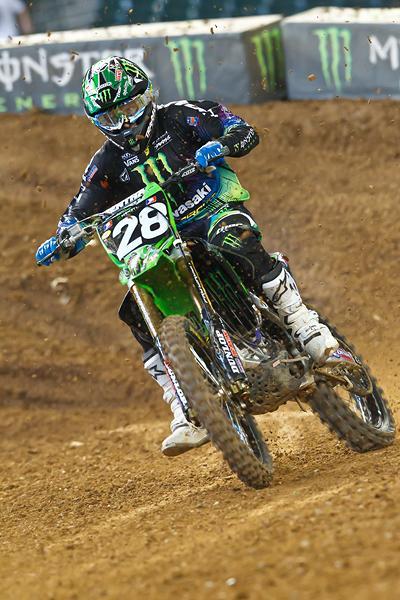 "Oh yeah. I'm a supercross rider now, dude." - Tyla Rattray
Photo: Simon Cudby
Now, how'd you feel compared to Anaheim 1? Anaheim 1, you were pretty darn close to Seely. Here you got third. So compare the two races.
I think here, we stayed pretty close to Dean. We caught him a bit at the end. But I've been sick this week and my physical condition may not be that great. I think I've just got to keep working hard and just get good starts again. I think that'll be a lot more confidence for me. Just keep getting good starts and just keep putting myself in good positions and try and get a win sometimes soon.
Are you at the point where you're gonna start coming to the races thinking "I can win one of these"?
Yeah, I definitely knew I could win one. Anaheim, I was really close. Coming out, Dean got out front and me and Marvin were battling and Dean managed to get a little gap. So, he got away a little bit, but this is just one round. We've still got a couple more to go. I'm not really worried about the championship now. I've just got to go to the race, just focus on the start, get good starts, put myself in good positions and try to be on the podium as much as I can. If I can get a win, that'd be great. The main thing for me as well is just to be safe. Not take any risk, don't do anything stupid, and just keep the rudder on the ground.