Sam Boyd Stadium
Las Vegas

,

NV
Monster Energy Cup
Monster Energy Cup
Ben Townley is back racing in the U.S. At least he is temporarily. The 2007 Supercross Lites East Region Champion has endured years of injuries, but did finish fourth in the 2010 Lucas Oil AMA Pro Motocross Championship, before heading back to the GPs to endure what turned out to be another injury-riddled campaign for 2011. He'll race the October 15th Monster Energy Cup on a Monster Energy Pro Circuit Kawasaki in hopes of finding a longer-term deal for the 2012 American Motocross tour.
Racer X Online: Whoa, Ben Townley is racing the Monster Energy Cup? I saw you at Pala and you were hanging out chatting about rides here for 2012. But when I saw you were going to race the Cup, I was surprised. Did you plan this?
Ben Townley: Pala was even a bit of a surprise. Lucy, my wife, said to me that I should go to Pala. I had cut my season short, or, it hadn't really gotten off the ground, actually. I had been working at home to try to put the puzzle back together. So Lucy said I should try to go to Pala to have a look. I was talking to Mitch [Payton], the Monster Energy Cup was brought up, and it came up that Tyla Rattray was going home to South Africa for a vacation, so they had a seat ready to race.
So they were planning on having Tyla race the event on a 450 anyway?
I'm not sure. But as soon as I heard Tyla was on vacation, I said, "Why don't you let me ride it?" Mitch said, "Are you serious?" and I said, "Yeah!" And Mitch Covington from Monster was there, and they thought it would be cool. So I said, "Let me ask my wife!" It was a great opportunity for me. It will give me a great gauge of where I'm at.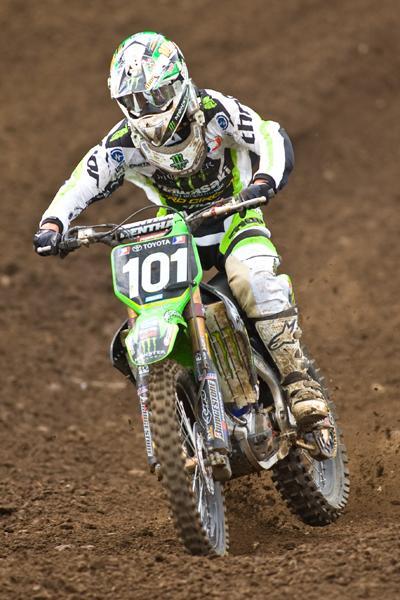 Townley will make his return to America on a Pro Circuit backed Kawasaki at the Monster Energy Cup.
Photo: Simon Cudby
Well, where are you at right now? Explain your 2011 season in the GPs. You cut your season short, so how much riding have you been doing?
I've been riding a lot. I came back to New Zealand about 12 weeks ago, and I've just been getting some seat time. After I finished the nationals last year at Pala, I dislocated my hip, then I had a crash, broke my jaw and had a concussion. I had never had a concussion before, so I followed all the orders and had a lot of sit down time. I'm not going to lie, when I came back for my first GP, I wasn't ready. Mentally, it was just something I had to admit and go do some work on. Literally, I needed to work on getting fit. Lately things are starting to come around, I feel like my whole package is coming together. Down here in New Zealand, it's winter time, so there's not much to do but get on with my riding and training.
So how ready will you be for this race? We finally got to see the track map yesterday, and even though it's a hybrid supercross and motocross style track, certainly it will have some supercross elements. You haven't ridden supercross since 2007.
Well, actually, I should say I am just praying for rain! [Laughs]. This is the closest I've ever been to winning a million dollars, and I look at it like the odds here are better than buying a lotto ticket. If we get some precipitation, it could be on for the Monster Million!
[Laughs] Well, Mr. New Zealand, I don't know how much you know about American geography, but it doesn't rain much in Las Vegas!
Oh, I'm pretty up with the geography. But you never know. You never know!
They say it's not a typical supercross track.
And to be honest that's a big reason why I wanted to give it a go. It's not going to be a full-on Vegas Supercross track. I'm relying on RC having a hand in the design and having a lot of motocross influence! Also, they're going to have the minicycle class and the amateur all-star class, so that means the track isn't going to be completely wild, off the wall stuff. With the motocross influence combined with that, then you throw in that rain, and there's your million! [Laughs]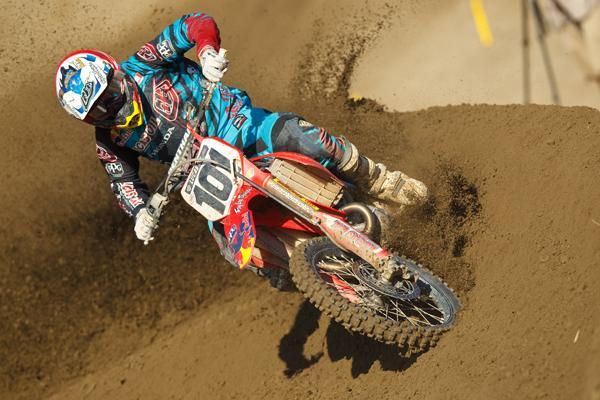 In 2010 Townley finished fourth overall in the Lucas Oil AMA Pro Motocross Championship with the Troy Lee Designs Honda team.
Photo: Simon Cudby
[Laughs] Now you do have hopes to race motocross full time in the U.S. again in 2012?
Yeah. I want to do it right, and as most people would know, I always try to do things the best I can. I won't just take any ride, it has to be a good overall package. I have been talking to a few people, and maybe things will come together. If not, I'll race in Australia.
And what about the GPs? That's not an option?
Just the way things have come about in the last few months, my intentions are to be in either Australia or America.
You had a good run in American Motocross in 2010. How do you think you would fare here in 2012?
If I can keep building off of where I am right now, and I believe I can—which is just a matter of dodging the black could—I know I would be better than I was in 2010. There's no doubt about that in my mind. In my career, an American outdoor championship has eluded me, and that's something I still have dreams to concur. I'm not saying it's going to happen in 2012, because that's a long way to come back. I'm not going to set the world on fire right off the bat in Vegas, but if I keep building over that time, between now and Hangtown, there's no doubt I can be at the pointy end of the field, for sure.
Although you did go to the GPs in 2011, I know you did want to stay in the U.S.
Absolutely. I had no intentions on going back to the GPs that early. My thoughts were that maybe at some stage, when my career was winding down, maybe I'd try to get a 450 title in Europe. But it all came together earlier than I expected it to. I had such a great offer last year for the GPs, not only financially, but also structurally. Mitch [Payton] has a big hand in the operation of that team. The whole package was really ideal. It wasn't ideal what happened in the winter time, with me getting hurt. But that's my bed and now I have to lie in it. I've worked really hard on putting everything back together right now.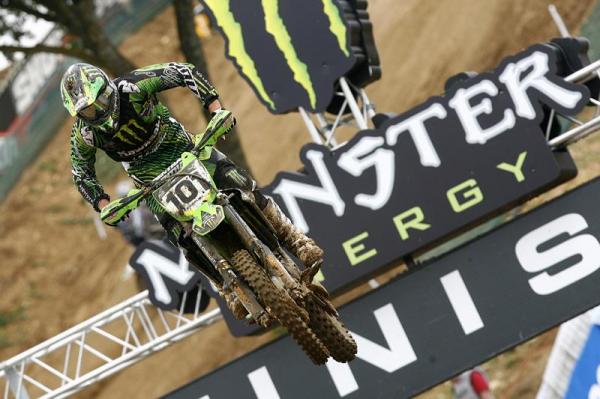 Townley did not have the season he expected in 2011 when he made his return to the GPs.
Photo: Ben Townley Media
Last question: We've heard rumors of a Pro Circuit 450 Kawasaki team for a long time, with your name as part of that. Now the team is forced into that class with Broc Tickle. Any chance you get a similar deal with them?
[Laughs] We'd all like to think that was in play, but no. Tyla is taking a week off, that's all, so I have a week to show my cards. With the support I've had from Mitch through the years, this is another time I've been greatful for his support. The last time I was at a major event, I wasn't prepared. Now, I've had a lot of time on the bike. And this type of event, there's not much pressure—unless it rains and I win the first two races and have a shot at a million dollars heading into the last one! So it's just an opportunity for me to make the best of. I'm thankful for it.