Five-time World Motocross Champion Georges Jobe is one of the giants of Grand Prix motocross. Racing professionally from 1979 until 1992, Jobe won five World Championships during his career, an accomplishment that equals the same number of championships won by Roger DeCoster. Jobe comes from the old school, and the tall, gruff Belgian is known as a fierce competitor and a respectful gentleman. Three of his five championships were won aboard the fire-breathing 500cc two-strokes—and during the time when the 500cc class was considered the most prestigious in the sport.
Jobe retired to Belgium at the end of the 1992 500cc World Championship series to raise his family—but he never ventured far from the sport. He started to make a second career for himself as both a coach and trainer. However, in 2007, Jobe suffered a serious back and neck injury while training riders in Dubai, and the rumor at the time was that he might not walk again. We got in touch with him to check in on his recovery, only to learn that he is now fighting yet another life threatening battle.
Racer X: Georges, thanks for speaking with us. We wanted to see how your recovery is coming along.
Georges Jobe: Well, thank you. Yes, it has been four years ago since my big accident in Dubai. I was working with some young riders and had a crash. I found myself on the ground looking at the sun but could not move. I could not breathe, either, and my body was completely shut down. I thought for one minute I was going to die and was completely paralyzed. It was terrifying.
What was the extent of your injury, and how was it treated?
I broke the C3, C4, C5, and D4 vertebrae and my sternum was broken in two pieces. Between my C3 and C4, my spinal cord was completely compressed. I was immediately taken to the hospital and then flown to a hospital in Belgium shortly thereafter, and I had several surgeries in the days after the crash. The doctors told me that the compression was the biggest issue. No one was sure what the outcome would be, but for sure I was told that I would not walk again.
But I am friends with Heinz Kinigadner, who was involved with the Red Bull Wings For Life program. Right away, we got a hold of him, as I knew there was a special pill you can take which helps reduce the swelling in the area of the compression. Heinz sent me the pill via DHL and that changed a lot of things, and I think was a big reason why I was able to regain some of my mobility.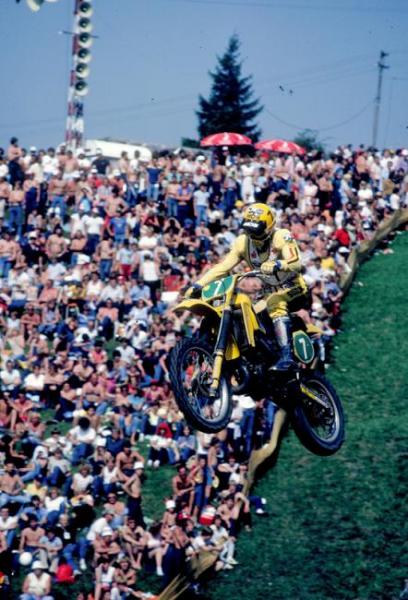 Jobe won five World Motocross Championships during his career.

What are the long-term effects of the crash?
At first I was completely paralyzed. But things started coming back, but very slow. I couldn't feed myself for nine months—meaning I couldn't reach my mouth with my hands. Beginning around nine months, I could walk, but it was much more like limping. Still my right side is much weaker than my left side, which I think was damage from when I could not breathe for a few minutes immediately following the crash. But I can move around and walk now, as well as ride a bicycle. But I am also still working on my injury rehab every day—it is constant. There are plenty of long-term effects. Now I am living normally, but the first year was horrible. You need to restart everything: eating, going to the toilet, taking a shower. It is like you are a baby, but I was 46 years old. You know what to do, but you just can't do it. It stinks. After four years, I am used to things. I will never be like before, but I have adapted. But also, the story is not finished. In April, I just recently found out from the doctors that I have leukemia.
Oh wow, I'm really sorry to hear that.
I had a small skin cancer, which normally is not a big problem. The doctor removed it, but in the course of doing that work they found leukemia in my body. Leukemia is cancer of the blood, so now I have another battle to fight. Now we are just about to begin chemo treatment this week, and my sister is the donor for a bone-marrow transplant. In some ways, my fight now is just like racing for a championship: you have to prepare, learn, and work, but instead it is for my life. So I have to fight and stay positive. I fought hard for my titles, I fought hard for my walking, and now I have to fight hard for this. But I have all my family, and my motocross family, all around me to help.
Tell me about your family and where you are currently living.
I live in my hometown of Retinne, which is in Belgium. I am married to my wife, Sabrina. We have two children—a daughter, Maite, 25, and a son, Vic, who is 20. Vic is attending an American school in Dubai. One cool thing to note: here in my town of Retinne, and literally in my garden, we had two world championship races. It was actually the race where Jim Pomeroy got his first GP win in 1973. Then again, we had another race in 1977, which was won by Gaston Rahier. And it is right in my back yard.
How involved are you still in the sport? I understand you are training two young riders still.
I am still very involved, and yes, I am training two young riders. They are living with me here in Belgium. I have MX1 rider Anthony Boissiere, who is riding for the Yamaha Monster team, and I have Arnaud Tonus, who is riding in the MX2 class. Anthony is French and Arnaud is from Switzerland.
I still go to as many races as possible, but with my health now, the risk for getting sick is high. I was actually planning to come to America and attend Brad Lackey's event at the Sandhill Ranch last March, but one week before, I received the bad news on my health. I had tickets and everything booked, but it was not good for me to travel, so I had to cancel. But I went to Germany last week and got to see Cairoli and Roczen win their titles, so that was fun.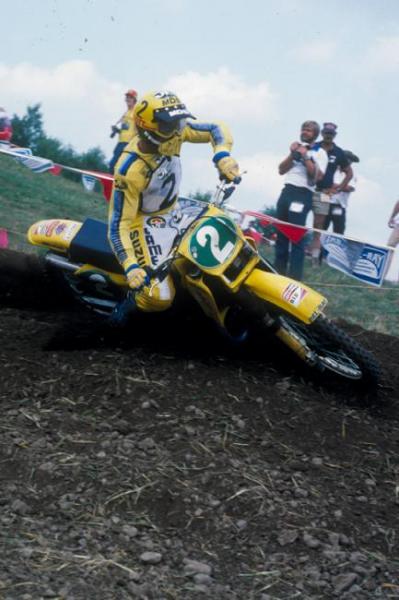 Jobe now helps train MX1 rider Anthony Boissiere and MX2 rider Arnaud Tonus.
What are your thoughts on the current GP racing circuit?
This year was really nice. Many guys could win—maybe close to ten guys at once in the MX1 class—so the competition was very good. The MX2 class was good but there are less competitive riders going for the win. Also, from my thinking, which comes from the old school of the 1980s, I don't always agree with how things are organized. Today in the GPs, you pay to race. You buy your spot at the starting gate. That's not a way to be in the GP. In my day, you had to qualify—there might be 100 riders that show up, but only twenty or thirty got to race the motos. Today, with the system the way it is, you have to have much deeper pockets. Also, for example in the USA, you pay, but you still have to qualify. But in Europe the riders are not getting anything back, and that I do not agree with. So the purse money is an issue. This is not fair, I think, even if it is just a small amount. But it is not my series to decide these things. But overall, the racing is amazing and things are well in the GPs.
How was the money back in your time?
Well, it depended. I had some really good years and some not-as-good years. But overall, we did well and I cannot complain. The money was much better in the mid-1980s compared to the early 1990s. I was able to retire from the sport and did okay, though.
What is one of your favorite memories from your career?
I would have to say my 1987 500cc title on a private Honda. In 1986, I was riding for Kawasaki. I would have won the 500cc championship that year, but my bike kept breaking and I suffered a number of mechanical DNFs. In December 1986 I signed a contract with Kawasaki for the '87 season, and they were going to pay me $350,000 U.S. This was a good contract for the time. But then I wanted to choose all my settings so that we did not have DNFs again, and right away we had disagreements. I told Alex Wright [the team manager] that I wanted to change the suspension, but he said it was not possible. So I canceled my agreement with Kawasaki and called Steve Whitelock, who was team manager of HRC. Whitelock already had Geboers and Dave Thorpe riding for him, and they were both very good. We had a meeting in Brussels in a pizza shop and I told him I was going to ride a Honda. But I had no money from sponsors, and all I wanted to do was to win. He agreed to give me some extra parts and a $100,000 bonus if I won the championship. So I bought the Hondas at my local dealership and I went out and won the championship. I found a sponsor with Johnson Cigarettes, but it was for not a lot of money. But Whitelock held up his deal and it all worked out. But doing my own program, completely private, was a great experience.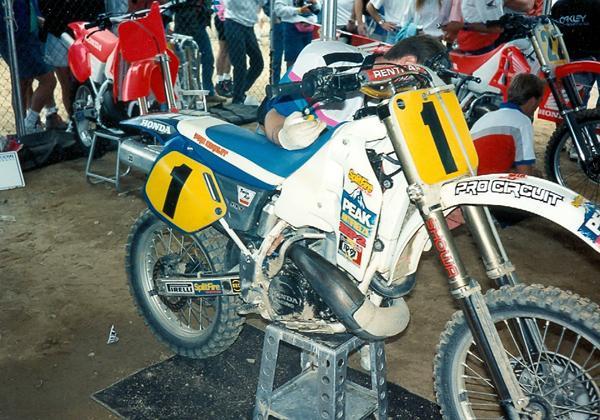 The bike Mitch Payton built for Jobe when he came to race Glen Helen in 1992.
Photo: Robert W. Price
You came over to the USA a few times, didn't you?
Yes. A few times actually. In both 1991 and 1992, I came across to Glen Helen to race the U.S. 500cc GP. Those were also the years I won my last two titles, so that was a good time for me. In 1991 I got third overall, but it was the last race of the year and I was already the champion. In 1992, the race was the first event of the season. Jean-Michel Bayle won and I was second, which was cool. Also, one other thing: in 1987 I won the first moto of des Nations at Unadilla in the mud. I beat Wardy, and passed him last lap in the mud. I think maybe I was the only European rider in recent times to beat the Americans on their home turf! But I loved racing the States. The fans are crazy—I just loved it. I always feel like I am at home when I go there.
Many people don't know this, but in 1992 you rode a blue Mitch Payton tuned Peak/Pro Circuit CR500, which was pretty cool. That was the second year of Mitch Payton's Team Peak Antifreeze program, and you were part of it for one race!
Yes. In 1992, Glen Helen was the opening round of the 500cc GP series. I did not have a ride for the year, and Mitch invited me over for that first race and offered to build a bike for me – but just for a one-off race. After I got second to JMB, I got an offer to ride the rest of the season on the Cinti Honda team, which was based in Italy. This was a good thing, as I ended up winning my final championship that year. I made the year because of Mitch. If he had not invited me, I would not have finished and won the championship, so I really owe him for that.
Thank you for your time today, Georges. Good luck with the treatment and with your health.
The next big fight is ahead of me—the next challenges, championship, whatever. This one is just another one. But I want to go back to the States. I have many friends to come back and see—David Bailey, Brad Lackey, and many more. I look forward to getting back over there soon and getting healthy.
Have a rider in mind you'd like us to catch up with? Email nick@mxsports.com.