St. Jean d'Angely, France
Motocross of Nations
Motocross of Nations
Team USA has won the Motocross of Nations more times than anyone else, with too many great riders and fantastic efforts to count. But here's DC's list of the 10 Greatest American Moments in the history of the big race.
10. Ron Lechien in 1988: The Dogger was not in a good place, career-wise or life-wise, but he pulled it together for a brilliant effort in the 500cc division at the Motocross des Nations (that's what it was still called back then) to help Team USA partners Ricky Johnson and Jeff Ward keep the thirteen-year winning streak alive.
9. Ricky Carmichael in '00: After two false starts on his KX125—mud in England ('98) and early crashes in Brazil ('99)—the newly crowned AMA Motocross Champion led Ryan Hughes and Travis Pastrana to the win at St. Jean d'Angely in France, site of this year's race. It was RC's first success in Europe.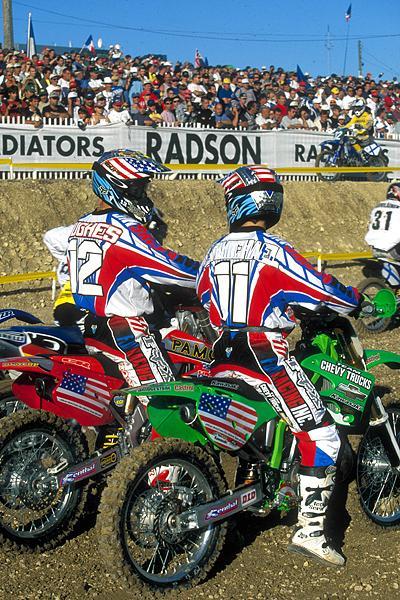 Ryan Hughes and RC captured victory in France in '00.
8. Team USA 1996: Possibly the most emphatic win of all. After two years of losing when the streak was over, Jeremy McGrath, Jeff Emig, and Steve Lamson teamed up to destroy the field on a track that was basically made for them in Jerez, Spain. It marked the last of McGrath's two MXoN appearances, both of them winning ones.
7. 1992's "B" Squad: After the top premier-class riders of the day—Jeff Stanton, Damon Bradshaw, Mike Kiedrowski, and even 250cc World Champ Donny Schmit—all passed on the event (even Roger DeCoster passed on managing the team, leaving it to then-AMA official Roy Janson), a group of volunteers stepped up. Mike LaRocco and Jeff Emig were still young up-and-comers, and Billy Liles was a veteran of the GP wars. They went to Australia to a fairly sandy track and managed to beat not only the sand masters from Belgium, but the rest of the world too.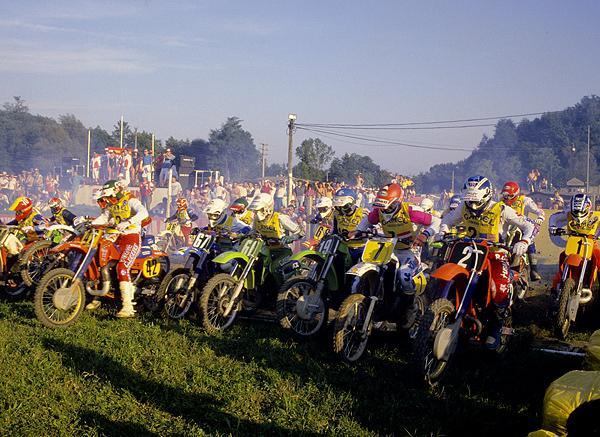 Johnny O'Mara lead USA to victory in 1986.
6. Jeff Stanton in 1990: After his teammate Damon Bradshaw crashed so hard he had to be transported from the track, Team USA could not afford a letdown in the final moto, but after a bad start, it appeared Jeff Stanton didn't have enough to get America to the winner's circle. But he put his head down and charged around the track in Vimmerby, Sweden, catching and then punting Belgium's Dirk Geukens off the track and out of the winner's circle.
5. Ryan Villopoto at Budds Creek: In a race that was set to mark a career bow for Ricky Carmichael, it was sophomore MX2 rider Ryan Villopoto who stole the show, absolutely crushing everyone—in every class—in both of his motos in Maryland. It was every bit as astonishing as #3 on this list!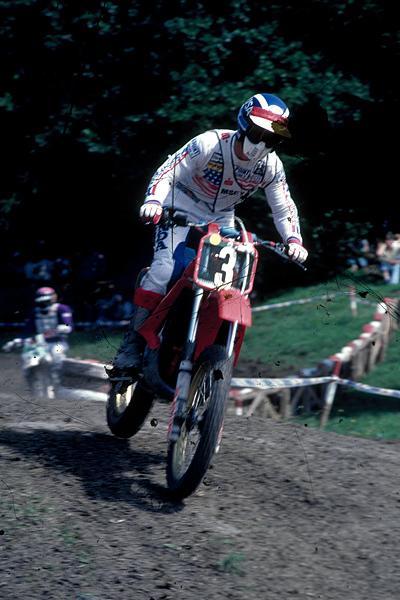 Danny "Magoo" Chandler in 1982.
4. Team USA's '87 Homecoming at Unadilla: After decades abroad, the 1987 schedule finally landed the MXdN on U.S. soil, as Unadilla played host to the biggest race of the year. Long before the race there was controversy, as Bob "Hurricane" Hannah, by then almost at the end of his career, was picked as the 125cc pilot over two-time AMA National Champion Micky Dymond. But Bob delivered in the middle of what seemed like an actual hurricane, assisting the always-dependable Johnson and Ward in leading Team USA to an amazing success.
3. Johnny O'Mara in 1986: It's hard not to put Johnny O'Mara's crowning achievement at #1 on this list. Riding a Honda CR125 in his last ride with red, the O'Show was hungry to prove Honda wrong for letting him go. So he took it out on the rest of the world, absolutely scorching the Maggiora, Italy, circuit on his screamer. It was a ride for the ages, as the only men who could stay ahead of him were his Team USA teammates Johnson (250) and Bailey (500). And as O'Mara watched the last moto, Ricky and David crossed the finish line arm-in-arm, well ahead of everyone else.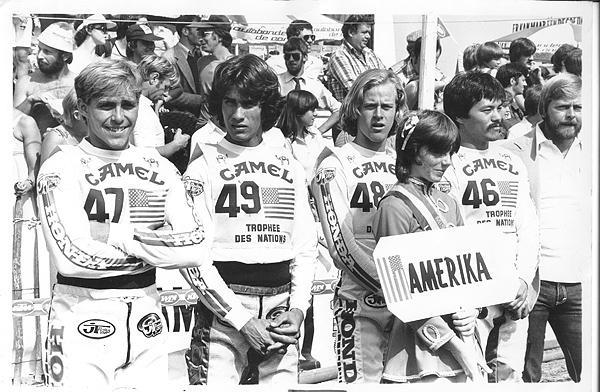 The 1981 USA Team that shocked the world.
2. Team USA 1981: Still the most shocking upset in Motocross of Nations history. Team USA's O'Mara, Donnie Hansen, Danny LaPorte, and Chuck Sun showed up in Belgium and West Germany (there was a Trophee des Nations back then too) and were immediately discounted as pretenders. After all, Team USA had never won this event, and these guys weren't even the top Americans—Broc Glover, Brad Lackey, Bob Hannah, Kent Howerton, Mike Bell, Darrell Schultz, and Mark Barnett were considered better—but they were the ones Roger DeCoster had to offer. Their dominance in both races changed the balance of power in the motocross world. It remains the most important date in Team USA history...
1. The Greatest Moment: … but 1981's upset is still not as great as the extraordinary fortnight of the late Danny "Magoo" Chandler one year later. Chandler was the wild child of American Motocross, and few expected him to do much but crash—and crash spectacularly—like he usually did on the AMA circuit. But something wonderful happened instead: Chandler dominated both motos at both races in West Germany and Switzerland, something no rider had ever done before (or since, for that matter, as the events were trimmed down to one in 1985). Chandler's career would be cut short by a devastating back injury a few years later, and he passed away last May after struggling for many years with health problems. He will forever be remembered not only as a wild man on a motorcycle, but also for those two Sundays in 1982 when he was far and away the best motocross racer on the planet.

Sign up to watch this weekend's Motocross of Nations at www.mx-life.tv.