We're down to one more race. The 2011 American Motocross tour will come to a conclusion tomorrow afternoon at the 2nd Annual Pala National, just above San Diego in Southern California—the newest stop on the Lucas Oil AMA Pro Motocross Championship schedule. One champion will be crowned in the 450 Class between the Ryans, and the 250 Class could mark history for Monster Energy/Pro Circuit Kawasaki if any one of their four riders—already-crowned Dean Wilson, Team USA's Blake Baggett, former world champ Tyla Rattray, and 250 West SX champ Broc Tickle—wins the race. That will give them the first sweep by a team in the history of the class (Ricky Carmichael has won three by himself in the 450 Class, and James Stewart has one as well).
You can watch it all live on TV tomorrow, with the first motos airing on FUEL TV beginning at 4 p.m. Eastern and then second motos airing live on SPEED beginning at 7 p.m. Eastern. And the drama will play out in real time as the 250s go first, leaving the 450 title up for grabs until the last moto of 2011, again live on SPEED.
And let me apologize to everyone back east for Racerhead being late, as it's been incredibly busy here at the track all day, and there have been some internet issues after last night's giant power outage in San Diego. And sorry to Chase and Jeff and Andrew and everyone back at Racer X HQ for bringing this in late—the Stellas are on me at Mundy's when I get back from France!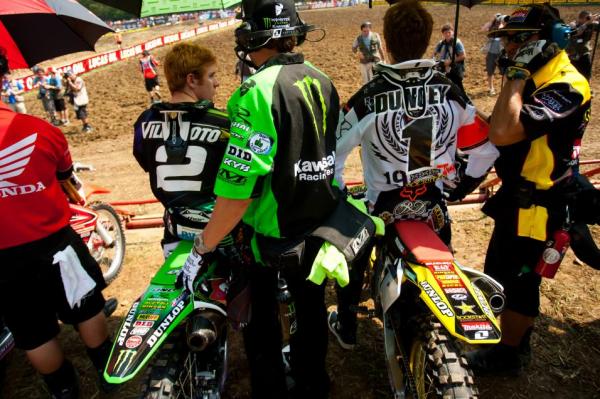 The 450 title has come down to the Ryans.
Photo: Andrew Fredrickson
I've been out at here at Pala since just a couple days after the Steel City National, which I thought was an exceptional event in some very difficult weather conditions. It rained buckets on Thursday and turned the track into a mud bog, and then after we pushed the mud, the temperature skyrocketed into the nineties. The track dried out somewhat, but when it came time to water the track, the trucks couldn't get through the piles of mud on the sides so easily....
And then there was the poorly placed Rockstar can on the side of the track that Baggett clipped with his bars before crashing. The corner had pushed out, the yellow markers were too close to the structure, and there should have been more hay bales keeping the bikes away from the big foam can. As I said on Vital MX, I take full responsibility for missing the fact that it was even a problem, and I have apologized to Blake for the oversight. Those cans have been lining the track for years—and there are also Lucas Oil bottles—as it's part of what makes the sport of professional racing work—for the teams, the athletes, the TV, and the fans.
A day after Steel City, I headed out to San Diego to help get things sorted out for Pala Raceway along with John Ayers and the rest of the MX Sports crew. The track looks great, and a great deal of attention has been spent on the problems that beset the event last year in its debut, which was basically the fact that many more people showed up than the facility expected. I imagine even more will be here this time around, so we've been working on traffic flow, parking issues (it's now free, and there's no buying tickets from your car—everyone parks in the massive new lots and then walks right up to the ticket gates), and the stoplights at Interstate 15 and Route 76. The weather looks like it will be comparatively cool, and here's hoping the 2nd Annual Traxxas Pala National is an even bigger hit than last year's debut.
Having clinched their world championships, Ken Roczen and Tony Cairoli will be racing two-strokes at the Grand Prix series finale in Fermo, Italy. In his farewell to the GP tour, Roczen will ride a KTM SX 125, I think, though it may be a 144 or even a 150 that he could pull from KTM's two-stroke arsenal. As for Cairoli, he will be armed with a KTM 250 SX. How will they do? My gut feeling is very well. My personal opinion is that a factory-level 250 two-stroke, in the hands of a capable rider like Tony Cairoli, is still competitive again 450s on the right track—let alone against 250 four-strokes. And according to DV12, Fermo might just be that track.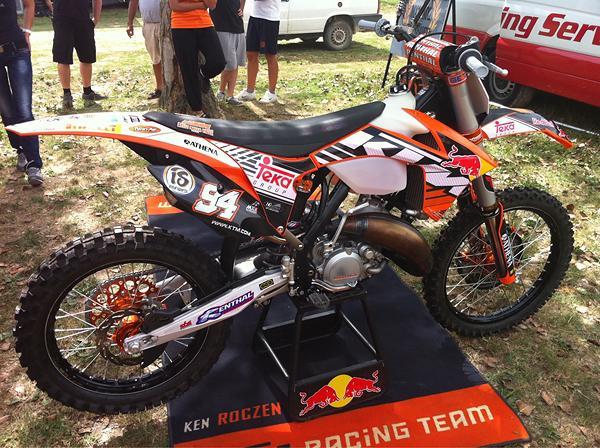 Ken Roczen
is going to be screaming around Italy on this KTM this weekend.
Either way, it will be a great opportunity to see a couple of extraordinary athletes on the bikes we grew up on, and you can watch the race on www.mx-life.tv on Sunday morning. And while you're there, make sure you purchase the package to watch next weekend's 2011 FIM Motocross of Nations, where Team USA will go for its seventh straight victory at the world championship of nations.
Racer X Online will be at the MXoN next weekend, as myself and Steve "PulpMX" Matthes, as well as Jeff Emig—yes, the Jeff Emig—are making our way over next week. And Racer X Films is teaming up with Wes Williams' merry band of videographers from VurbMoto.com to come up with some cool videos from the races at St. Jean D'Angely. It should be an incredible weekend of racing.
Some of Team USA's gear, as well as other nations', is making its way through the pits here at Pala, as Chris "Beeker" Onstott from Fox Racing brought some boxes over for Team Australia's Chad Reed as well as Team Belgium—or at least that's what the box said.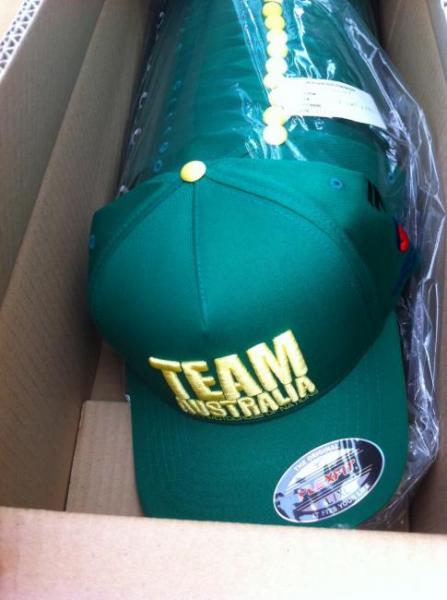 Team Australia's gear to France made a detour through Pala.
I did have time while out here for one very cool evening of bench racing with some old friends, as Kawasaki Team Green celebrated its 30th anniversary by debuting Rich Van Every's exceptional film Grassroots, which traces the roots and the meaning of the most prolific program in amateur motocross. Steve Matthes and I were lucky enough to be a part of the roundtable conversation that followed the film, along with some of the most important people in the founding and success of the program: Dave and Sandra Jordan, Bruce Stjernstrom, Ron Heben, and Reid Nordeen (only Mark Johnson was missing from the lineup of past Team Green directors, as he was in Japan on racing business).
Among the folks who came out to celebrate the evening were Team Green standouts like Jeff "Chicken" Matiasevich, Ty Davis, Larry Roeseler, Destry Abbott, Ricky Dietrich, Mercedes Gonzalez and her husband Derek Natvig, Jerry and Todd Campbell, and just many, many more. It was a really cool event and the film is worth downloading for sure. You can find it right now in the iTunes Store.
While today's top pros were all at Steel City, many of yesterday's top pros were at Marc Peters' The Ranch last weekend, riding on his extremely cool Carlsbad replica track. Our man Simon Cudby is finally back off the bench after shoulder surgery (he got in the Super Bowl last year and suffered a torn labrum.... Or was that Ben Roethlisberger?) and he made this very cool film.
Simon also went out to Milestone for Wednesday practice. It was 106 degrees, which is about 25 hotter than they're expecting here tomorrow. Ben Townley and Matt Moss were riding there, plus Brett Metcalfe, Nick Wey, Nick Paluzzi, Tarah Gieger, Cole Seely, and many other top pros.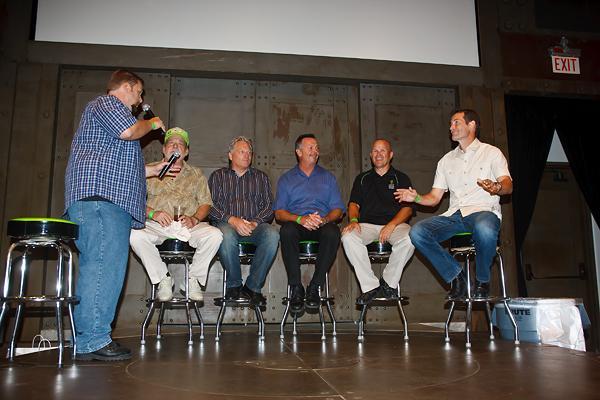 Matthes (far left) and DC (far right) at the Team Green celebration. And yes that is Matthes in pants.
I spoke to Townley this week, and he's coming out to the races at Pala to hang out with his friends the Tomacs and maybe speak to some people about his future plans. Ivan Tedesco also stopped in today, as did former AX champ Buddy Antunez. And even Larry Brooks called and said he's coming out with family and friends tomorrow to enjoy the last round of the 2011 Lucas Oil AMA Pro Motocross Championship.
I need to get back out on the track, so let me turn it over to Jason Weigandt first:
Had a long chat last week at Steel City with Rockstar Makita Suzuki team about what happened to Ryan Dungey's bike before the second moto at Southwick. Seriously, I talked to the whole team. Team manager Mike Webb and mechanics Mike Gosselaar, Lee McCollum and Mark Valcore all weighed in on what went down. On the whole, their bikes were actually very reliable all day long. The team checked the coolant in Dungey and Brett Metcalfe's bikes after the first moto and neither bike had lost a drop. That indicated that there were no major engine problems, and Suzuki was one of the few factory teams that didn't need to change engines (Kawasaki and Honda did). Everything was fine until a few minutes before the race, when Dungey's bike died while they were warming it up. Clearly, it was an electrical problem. They basically swapped out every electrical part they could find to get it to work, and work it did, with just seconds to spare.
And it's worth noting that the engine itself survived the moto without a problem, and so did Metcalfe's. No blown motors, clutches, transmissions or anything like that, and that's what's so frustrating to the team. Both the Southwick and Freestone troubles fall into the freak incident variety. To try to replicate the Southwick conditions back at the shop, the team even took the wiring apart, dumped water on it, reconnected everything, and the bike still fired! So they're not really sure why it didn't work at the race.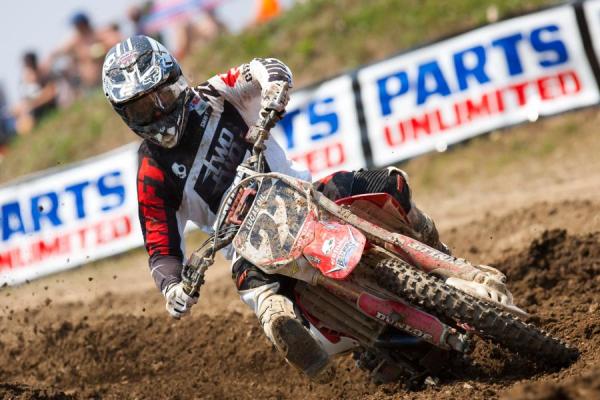 Can Reed play spoiler tomorrow?
Photo: Andrew Fredrickson
Hopefully the passing of Labor Day Weekend means the summer is over and you will now experience terrible weather at home. There is so much good moto stuff on TV this weekend that you really need to just pack it up and stay inside. Saturday, without question, presents the greatest block of motocross television ever. Ever. Be prepared for five hours of programming starting at 1 p.m. Pacific. FUEL TV will air the first two motos from Pala live, followed by the season premiere of The Moto: Inside the Outdoors at 3 p.m. Hopefully most of you have watched this show over the last two seasons. It's a reality show based around the AMA Motocross Championship, with riders, mechanics, parents and team people wearing microphones and baring their deepest thoughts. Camera crews follow the riders to their homes during the week, into the gym, and onto the practice tracks. Troy Adamatis and his The Great Outdoors crew has been very busy putting this show together, as the season normally begins well into the next calendar year. They've put in overtime to get the 2011 shows together by September.
After The Moto premiere, switch over to SPEED for the final two motos of the year, airing live, back to back. Yes, that's five straight hours of motocross on TV this Saturday. What a way to end the season!
On Sunday, ignore the second set of NFL games and check out an hour of coverage from the Red Bull AMA Amateur National at Loretta Lynn Ranch on Versus at 4 p.m. Two half-hour shows will air back-to-back, and each will provide a feel unlike anything we've ever aired from the Ranch before. Forget moto by moto coverage. This is real stuff.
First up, Wes Williams and his Vurbmoto crew present the series finale of The Road to Loretta's, which tracks riders around the country through the qualifying process and into their motos at the Ranch. Next comes The Heart of Motocross, which is Adamitis and company's take on the event—just like The Moto: Inside the Outdoors only from Loretta's, which means even more family drama. These should be ground breaking shows, and if we had Emmy's in this sport, they'd probably be battling it out for the award. Again, it starts at 4:00 p.m. EST Sunday on Versus. And check out this trailer for The Heart of Motocross to get pumped up: If you've never gone to Loretta's and don't understand what all the fuss is about, these two shows will give you an idea.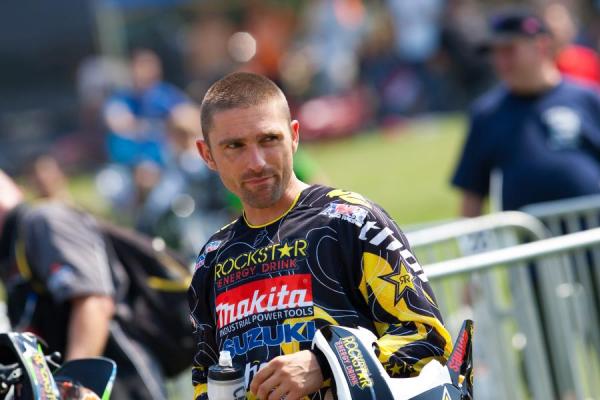 Can Metcalfe take home his third consecutive podium at Pala?
Photo: Andrew Fredrickson
Finally, a shout-out to the Can-Am Grand National Cross Country Series, which returns to action at Unadilla this weekend following the annual summer break (and why does the series take a break? Because the GNCC crew is busy working at Loretta's in July and August). Quite a three-way battle going in that series with Josh Strang, Charlie Mullins, and Paul Whibley all within a race in points with five rounds to go. And Unadilla, well, it usually presents the same highs and lows on the motocross side as it does to the cross country boys. Should be a good one this weekend, go to www.gnccracing.com to follow live timing and scoring.
Seriously, that's more than enough racing to keep you satisfied for the weekend, and hopefully many more. We're not going to know what to do with our time before long!
Thanks, Weege, and speaking of all that motocross on TV, we've got more opportunities for great moto video online coming up: A week from today we'll be officially launching the 2nd Annual GoPro/Racer X Amateur Film Festival. It's an awesome opportunity for aspiring action sports videographers to earn recognition and some killer prizes, including stuff from Racer X, GoPro, Answer, MSR, and Pro Taper. It's also a cool way for our readers to watch a collection of great videos by undiscovered talent. If you're interested in entering, or you know somebody who might be, be sure to check back to Racer X Online next Friday for complete details.
Okay, here's Steve Matthes:
This is it. The curtain falls on the Lucas Oil AMA Pro Motocross Championship Saturday night and we'll see who takes the 450 Class Championship. The two riders, Ryan Villopoto and Ryan Dungey, are so equal in so many ways that I suppose having a DNF (Dungey's fuel problem in Texas) basically separate them is fitting. Because other than that, the two guys are so close in speed it's ridiculous.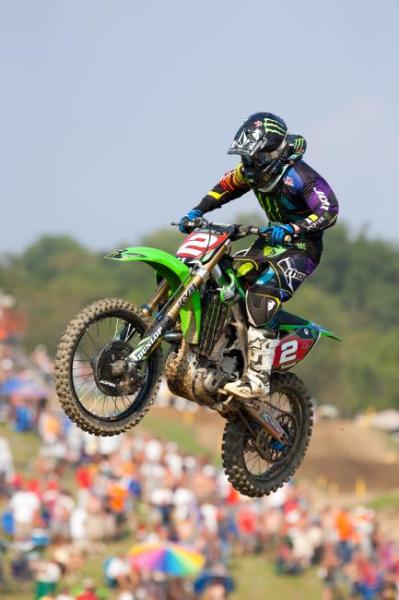 It's Villopoto's title to lose tomorrow at Pala.
Photo: Andrew Fredrickson
Dungey ran RV down at Washougal and Millville, which was damn impressive, but RV smoked them all at Unadilla and at times in different motos (first at High Point, second at Steel City), but most of the time the better start determined who was going to win the moto.
And let's not forget, at different times, Chad Reed was better than both of them. As a matter of fact, Reed has still won the most overalls in the series.
Dungey has to go 1-1, and with a 14-point deficit to make up, he needs some help. If you're RV, you can let Reed go as well—Ryan needs to go 3-4 or 4-3 to clinch the title. Anything worse than that and Dungey goes 1-1, well, we all know what will happen. It seems bleak if you're a Dungey fan, but remember last year at Pala with Christophe Pourcel, as well as Steel City 2001 with Grant Langston. You just never know.
We know who the 250 champion is: it's Dean Wilson of the Pro Circuit team. I say good for him. Dean's a good kid with a bright future, and to win your first national championship in only your second season on the circuit shows that you're one of the special ones. Many riders take a while to get up to speed and figure things out. If you look at the list of racers who won national titles in their first or second years, it's pretty small and usually indicates the first of many.
One thing Dean doesn't have is an indoor title, and I know he's going for that with guns blazing next year. Should be a great race if he and defending champion Justin Barcia are both on the East Coast.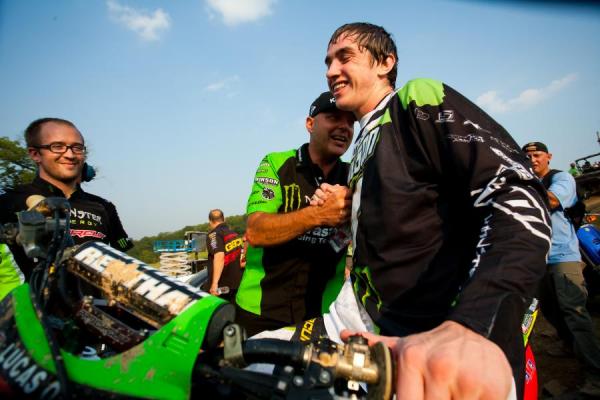 Wilson celebrates his first career title.
Photo: Andrew Fredrickson
Win, lose, or tie (wait, there are no ties!), Dungey and Villopoto (along with Baggett) are on a plane Monday morning heading over to France for the Motocross of Nations. Yep, it's no rest for these guys. They have the season-ending banquet at Pechanga Casino on Sunday night and then boom, off they go to represent their country. As DC mentioned, I'll be heading over there as well for the Olympics of Motocross, as it's always a good time. And I'll be cheering for Team USA as well because my country, Canada, did not enter a team this year because, well, because motocross in Canada has a ton of problems when it comes to this stuff. I will now punch myself in the nuts.
Last week on the PulpMX Show we had Ivan Tedesco and Tommy Hahn in studio as well as Dean Wilson on the phone. Tedesco and Hahn are recovering from surgeries and looking to get on the bike ASAP, and Wilson, well, he was there to talk about his new national title. Tune in this Monday as my co-host host Kenny Watson is responsible for lining up the guests, so I'm not sure if this is going to be awesome or terrible. Either way, tune in!
Thanks, Steve. Here are a few closing notes:
Here's a sneak peek at the Fox Team USA jersey and helmet that will be worn by Ryan Dungey at this year's Motocross of Nations. As a sign of team unity, all three USA members (Dungey, Villopoto, and Baggett) will race the second moto at this weekend's Pala National in their Team USA racewear.
Additionally, limited quantities of the Fox Team USA pant and jersey will be available for purchase at select stocking Fox dealers starting Monday (9/19). Look for more details next week.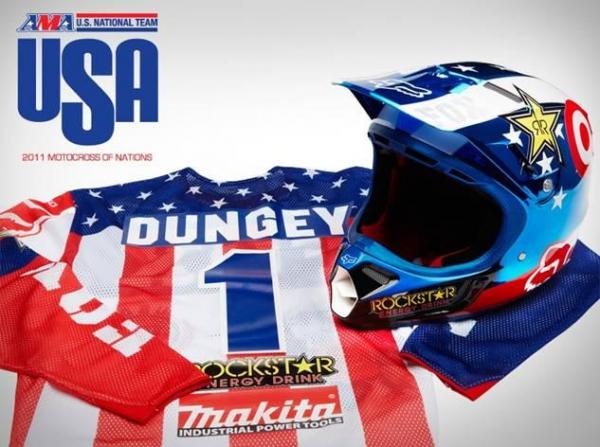 Bubba's back! Well, kind of. Traxxas TORC Series will welcome James Stewart to Chicago next weekend. Stewart's going to suit up and race the PRO Light class at Chicagoland Speedway/Route 66 Raceway's dirt oval, Sept. 14-15
"I'm looking forward to racing this week," said Stewart in a press release. "Since I was a kid I've always wanted to race trucks and now I can finally do that. I'm just out here to spin a few laps and have some fun. I haven't driven this particular truck yet – and have only driven a stick shift once before this Wednesday night's race, but I'm sure we'll figure it out. I'm looking forward to driving with the other drivers and having a blast with them and the fans." For more information, please visit:
www.torcseries.com
.
Stop by the Racer X booth on Vendor Row at Pala to pick up your free event sticker featuring Ricky Carmichael and subscribe or renew with one of these special offers!
For only $25, you'll get 13 issues of Racer X and an all-day pit pass, good from 9-5 on Saturday. Supplies are limited so don't miss your chance to have all-day access to the pits! Want a comfortable seat alongside the race track? We're also offering 13 issues of Racer X and a Motosport camping chair for only $20! While you're there, check out the clothing line from Racer X Brand and a get free Racer X cup with a clothing purchase of $20 or more.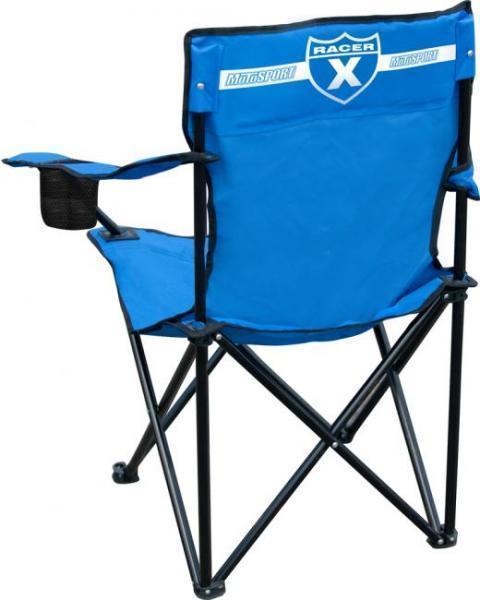 Freegun is the official sponsor underwear for the US Team at the 2011 Motocross des Nations. Each member of the team will receive a "good luck" pack including two pairs of the FLAG model. The FLAG model is available on www.freegun-underwear.com for women ($12.95), men ($14.95), and kids ($12.95).
And finally, our thoughts and prayers go out to Iowa expert rider Matt Johnson, who crashed hard last week at Eagle Creek MX Park.
Thank you for reading Racerhead, and thank you for following American Motocross. See you at the races.