The Wick 338
Southwick

,

MA
Moto-X 338
Lucas Oil AMA Pro Motocross Championship
Las Vegas native Kyle Partridge has been hitting the Lucas Oil AMA Pro Motocross Championship this summer as a member of the DNA Shred Stix Star Racing Yamaha crew. Partridge hasn't been racing the 250F like the rest of the team however; he's been on the 450 as Star brought him along in a special side deal. Partridge has been just outside the points most of the year in the tough 450 class. I caught up to KP to get his take on his season and next year as well.
Racer X: Kyle, thanks for doing this. Talk about your season so far this summer. Seems like you're right inside or outside the points every moto.
Kyle Partridge: I think a lot of that is due to my starts; they've been terrible for the most part. I had a good start in Washougal; I was running ninth or tenth for the first ten minutes or so before dropping a few spots back. It seemed that every good guy got a bad start that moto or something. Reed came by me and I tried my hardest to run his pace for a few laps and I even came up on him at one point. I rode with him for a few laps but his pace was so gnarly, I backed it down a bit. It might have been too much though, guys were getting back by me. Then, I started throwing up for some reason. I don't know if it's what I ate or what, but I went from thirteenth to sixteenth. That was the best I've done so far.
I kind of came into the outdoors with no preparation really. I wasn't planning on riding them. I was just going to take a job in Vegas but then the deal came along with the casino and I had a couple of days on the bike before Hangtown and away we went. I am struggling with set-up on the bike really badly, I think the new Yamaha 450 isn't the easiest bike to get going right away and having the right set-up is important. I have no base set-up. I've tested maybe 30 minutes and that's about it.

Partridge currently sits 37th in the points standings.
Photo: Andrew Fredrickson
It's got to be tough for your team to get you up and going as well because they're a 250F team and don't have any real experience with the 450.
Yeah exactly, it's tough for them, as well. It's frustrating for everyone but I kind of knew this was going to happen because they are a Lites team. There literally is no R&D, no development on the 450 from them, and why would there be? So both of us didn't know much about the machine going in. At the same time, Enzo Racing does our suspension and I think they could set up one day for me to test and that's yet to happen. That sucks also with Alan Brown getting let go, he did a good job and would really would sit down and talk with me.
It's like my mechanic and I are outcasts. I ride for Star Racing but I don't feel like I'm part of the team. I think that between Alan and Bobby (Regan, the owner) it was, like you said in your write-up, a lack of communication between Alan and Bobby. When Alan wanted to do something, he had to go to Bobby to ask and it usually wouldn't happen. It's super-frustrating riding for a team that is a Lites program only. Cunningham is killing it for them and Brad (Hoffman) is busting his ass on the motors and you can see the work is paying off, Kyle is one of the only guys to run with the Pro Circuit guys.
So I take it you're not a fan of Alan getting let go from the team?
That's something that really bothered me a lot. He's the only guy on the team that would talk with me. Cunningham is like a little brother to me, I've known him forever but his dad and him are about it. The other riders are cool as well but being part of the team is communicating with everyone on the team. Bobby Regan is a very old school, southern guy. He's straight to the point whenever he says what he has to say. He's said some things that are pretty ruthless to me.
I've ridden for some teams in the past like Motoworld and BooKoo with (David) Vuillemin, and I had more fun with them than anyone. It was fun going to the races. There was no pressure, but at the same time, there was internal pressure from myself to do well. I've told the Star guys that riding for them hasn't been fun.
So maybe I know the answer to this next question but this is the first time in a number of years you've ridden outdoors, how do you like racing motocross now?
This is the first time in four years I've ridden the nationals and if I weren't having fun out on the track, I would've stopped racing. I'm having fun riding my dirt bike but it's not fun riding a bike that isn't set-up for me and making me 100 percent comfortable. That's a huge deal on that bike. You can ask anyone that rides it. It's definitely fun for me having some help. After San Diego SX, I had zero help, I couldn't even get a free t-shirt. I was driving to the races. I was staying with Davi (Millsaps) and he was helping me out by paying for some flights. Which I think there aren't too many guys who can say they are starting next to a guy they're racing against who is paying for their flights to the race. Then the casino stepped up for me big-time and helped me out the last seven rounds, it's been huge for me.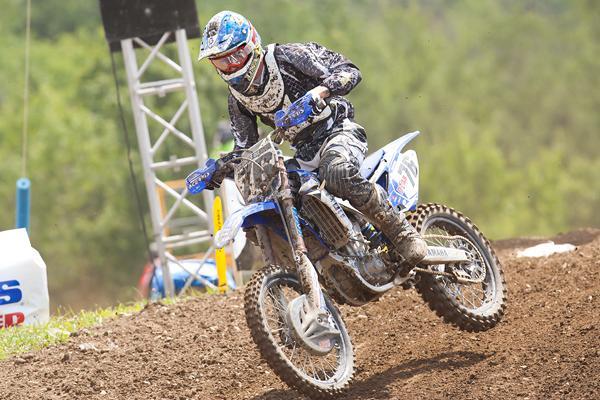 Partridge finished 34th overall at Unadilla.
Photo: Andrew Fredrickson
Sounds like there are some big plans in the works for you next year though and if it all works out, you should be happier.
Yeah definitely, I'm excited for what I'm working on for next year. It should be great. I'm super pumped about what's in the works. It should be known pretty soon here and I think it will make it fun to go to the races with people that I've grown up with since I've been five years old. It's more of my atmosphere and I'll be home, I won't have to travel to SoCal to test, everything will be right here. And I think the guys I'll be riding with, I'll have guys to help me and push me.
Some people might like to know what's going on with your older brother Jason who once was a top amateur racer.
My brother is doing well. He's here in Vegas running my dad's business. My dad passed away a few years ago and he's now running it. He was working for FMF and then White Brothers and then when that company fell apart they let my brother go. So he had an opportunity to work in the industry but he decided to come home and take our family business over. I remember watching my brother beat Ricky (Carmichael) and (Charlie) Bogard and all those guys but then he got hurt really bad and that set him back.
Who do you want to thank?
First and foremost Sycuan Casino, DNA Shred Stix Star Racing Yamaha, FMF, Cosworth, Scott USA, Boots at 2Up Minis, and my mechanic Sean.