Washougal MX Park
Washougal

,

WA
Washougal Motocross
Lucas Oil AMA Pro Motocross Championship
Time to officially, completely and totally throw out what we used to know about motocross. Reset the rules, the exceptions and the expectations. Things that used to happen, and then stopped happening, are happening again, so we need to adjust to this and start expecting the unexpected (which means, eventually, the unexpected will just be what we expect).
Last week on this site we made a bunch of predictions for the second half of the season—even brought in some experts like Ronnie Lechien and Larry Brooks. We did the same in supercross, interviewing the likes of Jeff Stanton and Josh Hill to get their take on the indoor battle. All season long, we've tried to write about what we know, what we've seen, and then, using that knowledge, we try to guess what's going to happen in the future.
And we end up being wrong.
Not with the predictions, actually. I picked Ryan Villopoto and Blake Baggett to win the championships last week, and that could very well end up happening. But we were wrong about how they might happen.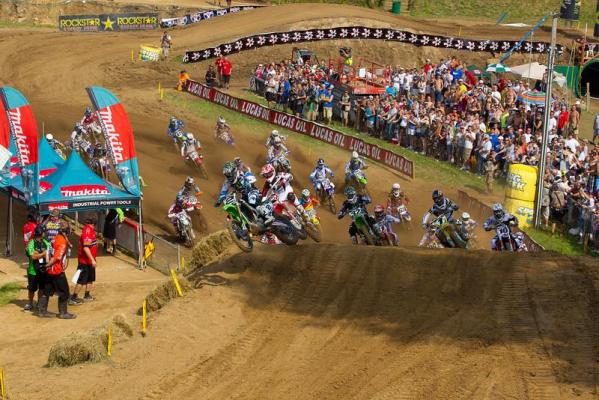 On any given Saturday all of these riders are a threat to win.
Photo: Brian Robinette
See, we've endured so many years of what we should call the "McGrath/Carmichael/Stewart effect." With these three, the idea of motocross dominance completely changed. In a sport with thousands of variables, it somehow became normal for the same thing to happen every weekend. For a good 15 years, the accepted standards of win streaks went through the roof. Before MC came along, winning five supercross races in a season was pretty impressive. But by the time Jeff Emig won the 1997 Supercross Championship by winning five, it looked like a crazy year, because we had become used to MC winning at least 10 races en route to the title.
Carmichael invented the perfect season outdoors, and then he did it a few more times. The impossible became normal. The only way for James Stewart to really "win" his first 450 outdoor title, then, was to go 24-0 as well. Which he did. A few months later, when Stewart crashed out of Anaheim 1 in 2009, the general consensus was, "Well now James will have to just win six in a row and he will catch up in points." And he did. But do you realize that, before McGrath came along in 1993, no one had ever won more than six Supercrosses in a row, ever? An astonishing accomplishment had been reduced to a foregone conclusion.
I think that trend had changed, but you go 15 years with things like that and it takes awhile to realize we're into a different era now. It's like the housing bubble. Making huge money off of every housing sale year after year was probably not realistic, but it kept happening, and eventually you could just start counting on it. We now hear the housing market officially peaked all the way back in 2006, but I don't even remember hearing rumblings about a downturn until late 2007, and things didn't collapse until 2008. Took two years before we officially knew that change had come.
So in this crazy season, we keep making predictions based on the old expectations. Here are some examples:
Ryan Dungey won't be able to make up those points from Freestone: Yeah, based on the old standards, if you spot the competition a moto, you're in big trouble. Remember, Carmichael only DNFed one moto in this class from 2000 through 2007. ONE. SINGLE. DNF. I did some quick math and I believe that's an absolutely ridiculous 175 out of 176 career 250 (now 450) motos without a DNF. So it's easy to start thinking The Dunge will never be able to make up that ground. Especially since Reed and Villopoto are fast and strong enough to always finish in the top three no matter what. Right?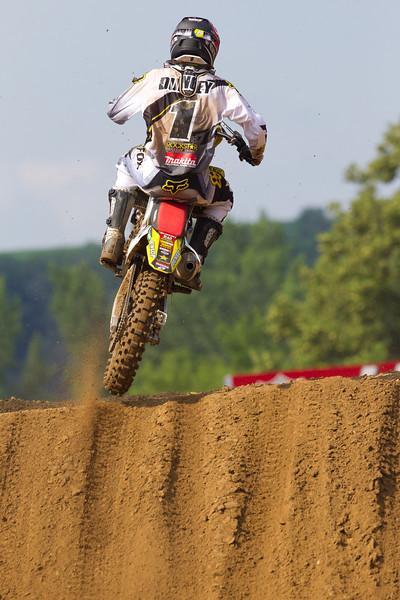 Dungey gained valuable championship points with his victory at Millville.
Photo: Brian Robinette
Ryan Villopoto is a win streak waiting to happen: When RV was in the Lites class, he started winning a lot of races. He won his first 450 outdoor race ever in '09 before getting hurt, and then won this year's SX title. Based on his previous success in the Lites class, and the standards of the McGrath/Carmichael/Stewart era, the odds seemed favorable that RV was just going to blitz 'em this year outdoors. When he won the first moto at Budds Creek, I thought it was on. He won similarly at High Point (then just rode smart in the muddy second moto). But in moto two at Budds, it just didn't happen. When he took off with the first moto at Colorado I thought it was on, but it just didn't happen. Second-moto dominance at RedBud should have led to dominance at Millville, right?
The standards are too high. The competition is just too close to expect anyone, even the formidable Villopoto, to reel off a big string of 1-1s. Instead, little things will change each time out. Maybe one weekend RV has enough to get away from Dungey (RedBud moto two) but the next time Dungey has enough to get him (Millville moto two). The difference between these two is so small that it could change in an instant.
Blake Baggett has it figured out: BB had this on-again off-again thing going until he swept all four motos at Colorado and RedBud. And he did it in a variety of ways, some from good starts, some from bad, some on a baked, hard packed Colorado track and some in the wet sand at RedBud. It was now realistic to expect him to just keep on winning, right?
Standards are too high again. A 1-1 on one weekend no longer means a 1-1 the next. It's motocross, anything can happen. Remember when that was the case?
Tyla Rattray isn't fast enough: Then he goes out and goes plenty fast at Millville. Enough said.
A few more numbers to back this up. McGrath won his first AMA 250 Supercross championship in 1993. He won ten races. The previous year's champion was Jeff Stanton, who grabbed the 1992 title while only winning three races (yes, Damon Bradshaw won nine races that year but didn't win the title, which illustrates the point of how unpredictable things were back then, and also really, really makes me sad). Carmichael won the 2000 250 MX Title with nine wins. The previous year's champion was Greg Albertyn, who won only three races on his way to the title. Stewart won 23 out of 24 motos on his way to the 2004 125 MX Title. When he vacated the class in 2005, Ivan Tedesco won the title with just two overall wins. Stewart also won the 2002 125 title with ten wins. The 2001 Champion was Mike Brown, who won three races. This year, Dean Wilson hasn't won an overall yet, but it doesn't matter. He's been solid and consistent and fast, and he won't need to win a pile of overalls to win this title. Go Dean!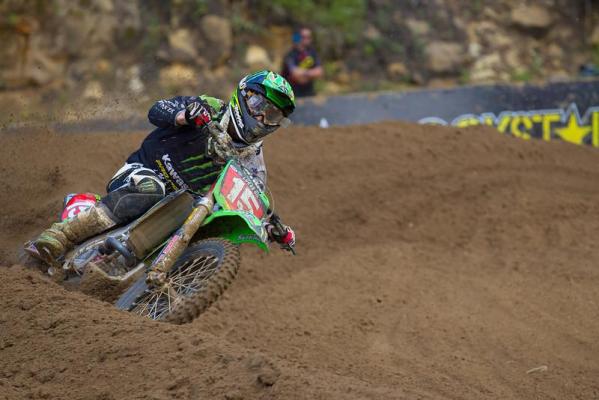 Wilson still holds the red plate as the series moves to Washougal.
Photo: Brian Robinette
Take Carmichael, McGrath and Stewart out of the system and you'll find much more uncertainty each week. That's where we are now. Tyla Rattray is just a good start away from struggling one week to winning the next. Dungey is one moto away from not getting it done to getting it done. And even Chad Reed is not immune to the forces of the sport—the fact that he got up from that crash is shocking, but that fact that it happened to him at all is pretty surprising, too. Reedy doesn't crash like that!
Well, in this sport nothing is certain. Not anymore. Not win streaks or consistency, starts or finishes. Just like this year in supercross, you'll have to watch the races every weekend to know what's going to happen, and I should mention that this weekend at Washougal, we'll air all four 450 and 250 motos live for the first time ever. FUEL TV will handle the first two races, and then SPEED will cover the second motos.
A few years ago, Andy "Rev Up" Bowyer was crashing at my house, and we were talking about how the generation behind Carmichael and Stewart was going to produce some of the greatest parity and greatest racing we had seen in a long time. And a big audience would be ready for it, because the star power of McGrath, Carmichael and Stewart will have brought the sport to a little bigger chunk of the masses. Back then, I think we were theorizing about 450 battles between guys like Villopoto, Alessi, Millsaps and Hepler—seemed like they would be the logical candidates. So maybe it's still Chad Reed in there, and maybe this Dungey kid ended up being really, really good. Regardless, the racing is awesome, the series is exciting, and Reed's freaking crash has been watched over 1 million times on You Tube.

Reed en route to his moto one win at Millville.
Photo: Brian Robinette
Just glad I didn't screw up the race call too badly. I was seriously worried on Saturday night, knowing we were going to upload that clip, knowing it would probably go all viral as the kids like to say. In the heat of the moment, I didn't even remember how I called that crash. Luckily, it turned out okay, and well done to our TV crew for making it all look and sound good. We shoot those shows live, so when a moment like that happens, we only have one chance to get it right.
As for Reed, he has another chance this weekend. So does Villopoto, Dungey, Baggett, Dean Wilson, Tyla Rattray heck, a ton of guys. What an awesome time to be watching the races.