Yesterday the Racer X Online crew weighed in with predictions for the 450 class of Lucas Oil AMA Pro Motocross, but seriously, what do we know? Most of our crew only knows how to watch races and type, which doesn't give them much experience (Ping has actually been-there-done-that but let's keep that secret. He'll want another jet and more tubs of ice cream).
To help make sense of this season, we're talking to Ron Lechien, one of the few men walking the earth with wins in every major division of this sport—AMA Supercross, and AMA MX Nationals in the 125, 250 and 500 class. What does the 1985 125 National Champion and two-time Motocross des Nations Champion XDN champion think of the 250 and 450 title chases? Here we go!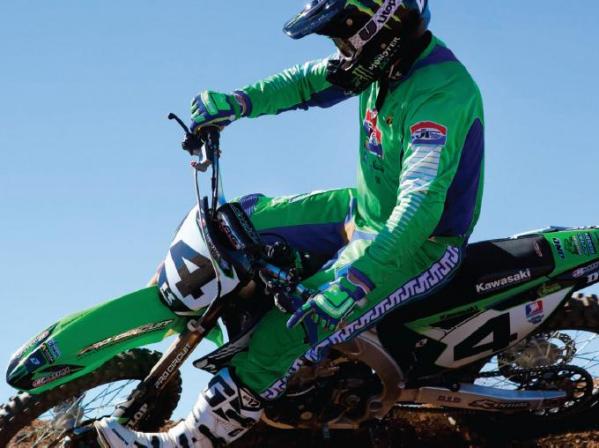 The Dogger still rippin!
Photo Courtesy JT Racing
Chad Reed: Well right now with six races left in both classes, I like Reed's chances in the 450s. He's definitely been great, I've been really impressed with Reed. I didn't think he had that in him, he seems to be smart in the motos and is really consistent. I still don't think we've seen the full potential of Ryan Villopoto, he was sick in the beginning and had a couple bad motos. I think that we're still going to see more from him. If he gets on a roll, it could be over. I missed the second motos last week but I understand he worked them good.

I think if you're Reed, you have to pay attention to the points lead, I'm sure he has that in his mind and there's no way you can do something dumb and lose it. You have to try and get the wins the best way you can but you have to still think about the championship. I would think so anyways. It's tough because the worst any of these guys can do is third unless disaster strikes. If Reed can keep getting thirds at worst, it's going to come down to the end and Reed will have the points. I didn't think he could run those guys speed, I figured he could run with Dungey somewhat but I wasn't sure about Villopoto.
Ryan Villopoto: I think Villopoto has those guys covered in pure speed but it's going to depend on the tracks coming up. I think Ryan has the tracks that are rutty down a little better than the other two whereas on the hard packed ones, Dungey's pretty good. It looked like at Texas though Dungey had those guys covered and it was pretty sandy, so who knows?

What I'm thinking is if he gets a little momentum going, he's going to have to win almost all the way out unless Ryan Dungey can get in there and mix up the points.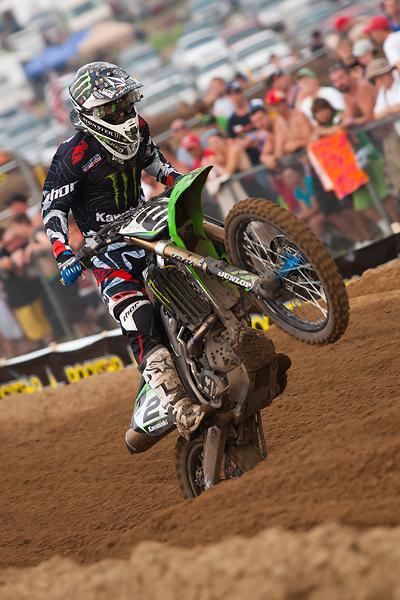 Villopoto has the pure speed.
Photo: Andrew Fredrickson
Ryan Dungey: I've seen that some lappers have screwed Dungey here and there but that's sort of his own deal. He's got to get a little more aggressive and get those guys out of the way. He gets some speed going and catches up to Reed, get's on a roll but catches up to lappers and he puts himself in the wrong position and gets screwed. That's stupid to do, spend all that time working hard at closing the gap up and then let some guy that's a lap down mess you up and lose momentum.
I also think that those two guys (Dungey and Villopoto) didn't come out to their full potential right away out of the gate and now, here we are in the middle of the season and Dungey's getting closer. He had them handled in Texas but had problems. He's been unlucky and put himself in bad positions in my opinion.

The Others: As far as the rest of the class, Davi Millsaps has surprised me with some good rides. In the past once it's gotten hot, he hasn't done much. It's good to see him up there and getting some podiums. (Brett) Metcalfe is hanging in there. If Trey (Canard) can come back and mix up the top three, that's going to be a big thing right there. I've never seen him ride a 450 outdoors but we saw from supercross that he's got something for those guys. Not at first but there's six rounds left and give him a couple of rounds and I think he'll be right in there. He could be the spoiler. And he's got to be on Reed's side right because he's on a factory Honda.

250 Class:
Blake Baggett: I'm leaning toward Baggett right now, he's got the ball rolling and has some steam behind him. I think he knows he's faster than those guys and that's a big plus also. He's had a couple of crashes but he's coming from the back and going by those guys and leaving them. If he can stay consistent and stay away from those mistakes, he's going to win this championship. Unless something big happens and we've all seen that before!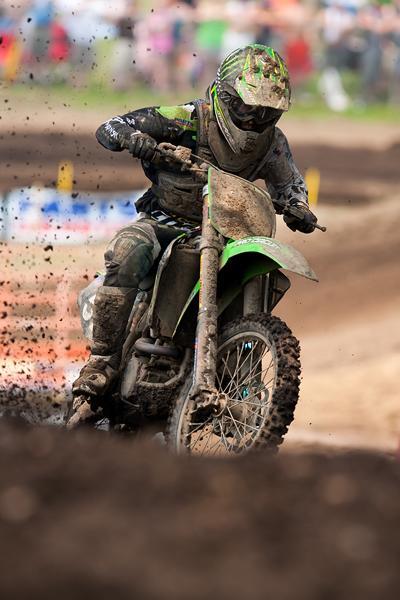 Baggett charging at RedBud.
Photo: Andrew Fredrickson
In that class when you get confidence and you have that bike, you can really run with it. Those guys seem to be inconsistent week to week. Also, Baggett doesn't weigh much, he's a little guy and that could be a big thing. The last moto I watched at RedBud, he was impressive. He got up on Dean and just left him, checked out. He looks like he would be a good mud or rut rider as well even though he's a SoCal guy.
Blake seems to have a good program also working with Aldon (Baker) right now. I'm sure Wilson's training hard, too, but it looks like Baggett's got a little extra in the tank than the other guys.
Dean Wilson: I like Wilson, I like his style and I thought at the end of last year he would be the guy but it seems that Baggett's got him right now.  Maybe it is that Blake's a little smaller? I'm not sure, what do they say- every ten pounds is a horsepower? Well that could mean something also in that class.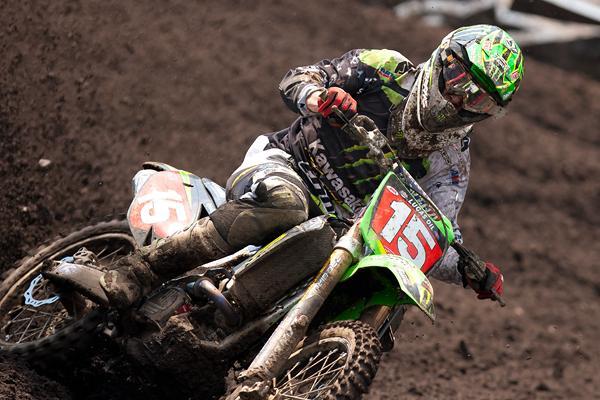 Could the 250 be too small for Dean Wilson?
Photo: Andrew Fredrickson
Tyla Rattray: I don't think Rattray has the speed of the other guys. I think he's the third place guy right now, which isn't bad, he's got the rest of the class covered unless Eli Tomac steps it up. It's surprising to me that Tomac hasn't been better this outdoor season. I hardly ever see Eli even up there. (Justin) Barcia's got the holeshots but he's such a yard sale. He's lucky the way he landed there at RedBud that he didn't break his ribs or something like that. I'm thinking his shoulder went in and it looked like a cracked rib to me!
Ever since Vegas SX, Barcia has been a bit off and seems to throw it away every single week. He's like me from supercross in '85. He could back it down a bit and win the race but he wants to show everyone how bad-ass he is and it's costing him the race. He's shooting himself in the foot. In 1985, I was getting the starts and was way faster than anyone else. I wanted to beat them by a mile not five seconds. I can count all the points I threw away and I lost it by five or something. I just threw points in the trashcan!