High Point Raceway
Mt. Morris

,

PA
High Point Raceway
Lucas Oil AMA Pro Motocross Championship
Most 19-year-old college students are preoccupied by the rigors of chasing girls, partying and trying their best to make that nine o'clock Biology class. For Ty Newcome these are just roadblocks that he must trudge through to reach his ultimate goal, becoming a professional motocross racer. Newcome hails from Punxsutawney, Pennsylvania, whose most famous resident is Punxsutawney Phil, a groundhog said to predict the weather annually on Groundhog Day. Newcome has taken a steadfast route to the national scene by not only qualifying for his first pro national in his first attempt (over the weekend at
High Point
), but doing it on two-stroke at that!
"I had four-strokes in '09 then I got a two-stroke just to try at the end of '09 and they were so much fun to ride. I loved riding them so I decided to stick with them," said Newcome.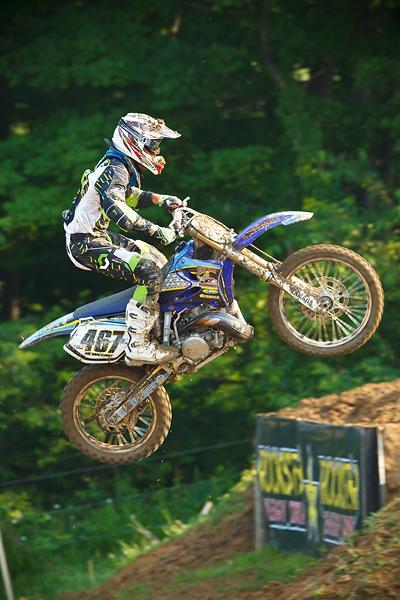 Newcome qualified for his first national at High Point this past weekend.
Photo: Simon Cudby
Newcome would succumb to the pressure cooker that is a pro national in the first moto at High Point, finishing in 35th place. "I was definitely nervous, I think I just wore myself out in the first couple laps by riding so tight," exclaimed Newcome.
If breaking into the professional level wasn't hard enough, Newcome also has the challenge of trying to train and ride while balancing the schedule of being a full-time student at Indiana University of Pennsylvania.
"It is a challenge. During the winter I want to go ride but I can't because of school. I can't just take two weeks off and go down to Florida to ride because I have school. But during the summertime, besides work, I am able to train as much as anyone. I bike and I ride two to three times a week. But I would say that riding is my main training," said Newcome.
When Mother Nature decided to unleash its wrath upon the High Point National on Saturday and blast the track for a good fifteen minutes, it made it that much more difficult for Newcome and his 2011 Yamaha YZ 250 to get around one of the toughest tracks on the circuit. But growing up near High Point, Newcome felt right at home in the rain and mud.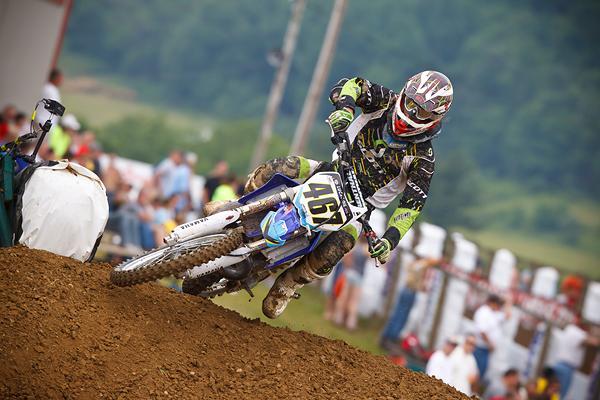 Newcome went 35-22 for 31st overall at High Point.
Photo: Simon Cudby
"I did feel disadvantaged a little bit. Getting into some of that deep mud was definitely a disadvantage. But I had the home field advantage too, so that definitely helped. I mean, I was disadvantaged but I felt comfortable with my bike. It was definitely harder to get around in those four-stoke ruts, they aren't the best for two-strokes," said Newcome.
Newcome fought through the adversities of the second moto to finish 22nd. With Budds Creek on the horizon, Newcome would love nothing more than to challenge the beastly four-strokes once again, but he will be preoccupied with something else—trying to qualify for Loretta Lynn's.
Taking the road less traveled, Newcome is technically still a full-time amateur rider that is vying with thousands of others across the country to qualify for the most prestigious amateur national in the world, the AMA Amateur National Championships at Loretta Lynn Ranch. And right now, that is Newcome's main goal.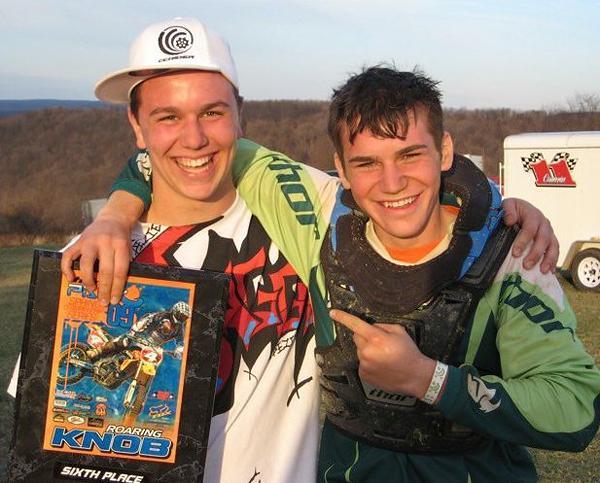 Newcome (right) plans on racing Steel City and Unadilla after Loretta Lynn's.
"I really want to do good at Loretta's this year to try and get my name out there a little more. This is my first year of doing Nationals, so I am just going to try and do the close ones this year to get my feet wet," said Newcome.
After Loretta's, Newcome still has plans of taking his two-stroke to a couple of more Nationals before the season is over, with plans to race at Steel City and Unadilla.
All in all it was a good day for the Pennsylvania native, who qualified for his first pro national. "It was awesome. All the fans loved the two-stoke, they would go crazy for it. It was just so much fun," he explained.
Newcome would like to thank his Mom and Dad, Rocket Valley Motorsports, FMF, Scott, In Blood Tattoo and Cernic's for helping him this year.