Budds Creek Motocross Park
Mechanicsville

,

MD
Budds Creek Motocross
Lucas Oil AMA Pro Motocross Championship
Muscle Milk Toyota JGRMX rider Davi Millsaps has made big strides over the last few weeks, going from forgotten contender in supercross to sudden podium threat outdoors. Is a win next for the 18? We rung up Davi while he was fulfilling press day obligations at Budds Creek.
Racer X Online: Hey Davi, it's press day today. What time did you wake up?
Davi Millsaps
: 4:45. We had a morning show to do.
4:45! Man, you going to take a nap?
Uh, we have to go ride this afternoon. We're actually heading back to the hotel now and I'll try to get a nap in.
Well I've heard that losing sleep catches up with you a few days later. You ever do press day and felt tired for the races?
[Laughs] Sometimes.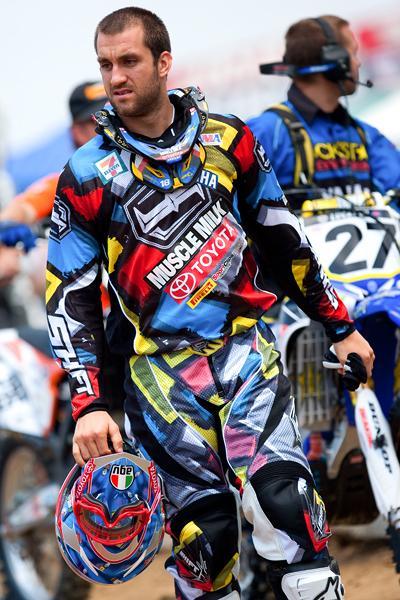 After a devastating crash at
Budds Creek
last year, Millsaps is starting to regain his form.
Photo: Andrew Fredrickson
Okay, so, the motocross season. It's been good. And I know this wasn't an overnight thing, recovering from your injuries from last year.
Yeah, it's taken awhile. About a month before the end of supercross things started to get better, and then it's been good so far outdoors. Coming into outdoors I still didn't know what to expect, though, because obviously I didn't have much confidence coming out of supercross. I went to the first round and did pretty good, so I was like "alright, it is what it is." I've just been doing my own thing. In Texas, I just tried to do 30 minutes and not worry about what place I was in or who was around me. It ended up working out and I got second overall.  

At High Point, it looked like by then you knew were you stood. It looked like you were trying to win the race and expecting to be up there. Where is your confidence now compared to where it was before Hangtown?
Obviously it's gotten better. At High Point, the first moto was pretty good but the second moto started off okay but ended badly. But overall it was a good race, for sure. It helped me a little bit again as far as my confidence goes, but I'm just taking it one week at a time. I know I have the strength and everything to go the whole motos and do what I have to do, so that's what I'm going to Budds Creek for.

What kind of a relief is it to be behind a rider now and think you can get them, instead of just waiting to hit the wall like you were earlier this season?
Obviously it's a way better feeling than knowing I couldn't even go halfway without hitting the wall. Every week I get stronger and better. I work hard with my trainer and we work hard to make the bike better. And we have a few more parts that are coming soon so hopefully we make things even better.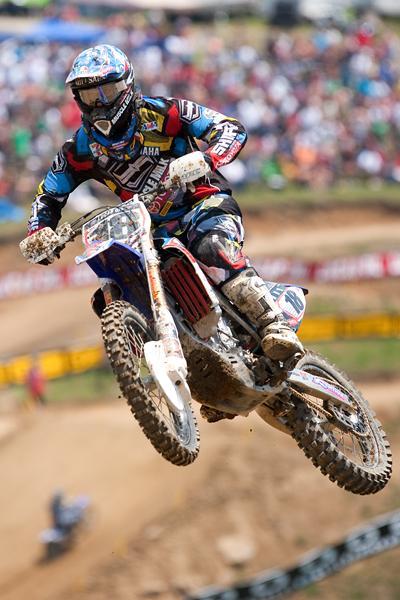 Millsaps went 3-9 for 5th overall at
High Point
.
Photo: Andrew Fredrickson
Now what people are going to say is, "Oh, no surprise, once 2012 contract season started Millsaps started doing better." Is that a coincidence? Obviously you were sorting through health problems at one point.
I mean, I have a two-year deal, but the second year is optional for both of us. But that all has nothing to do with it. I wanted to do good all year! It has nothing to do with the contract at all. I'd like to be back here next year, but that all depends on what they want. I'm having fun with it, I'm doing what I need to do to be where I need to be—and that's up front. So I'm just doing everything I can to do that.

At High Point, you finished third in the first moto. The riders who finished in front of you in moto one, Villopoto and Dungey, were behind you at one point in moto two. So were you thinking about that and going for the overall win?
Honestly I had no idea where I was!

Really?
Yeah I thought, when Dungey went down, I thought I went from fourth to third. I had no idea Villopoto was behind me until I went down. Like I said, I'm just doing my own thing. It was a gnarly one and I just wanted to finish the moto strong.

So are you going to change that strategy eventually and figure out who is where and what you need to do to win overalls?
Honestly I'm just trying to catch whoever is in front of me. I'll push as hard as I can to get around them. Then if there's someone in front of me after that, I'll go after them.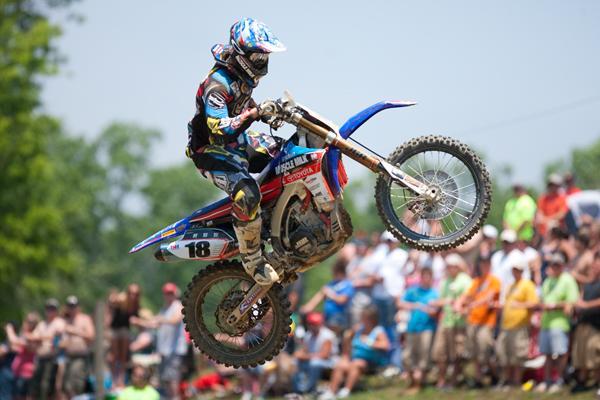 Can Millsaps grab an overall before the season is over?
Photo: Andrew Fredrickson
You switched to a new team this year, but you know how this sport is, after two or three weeks people are starting to make judgments on how everyone is doing. Is that fair? How long does it really take to adjust to a new team. A full season?
Well, my case was different because I was off the bike for a long time and it took forever for me to get up to speed. Then the bike kept having to change, because I'd be pushing harder and harder as I started to get going, so the bike would have to change again. So hopefully I can stay here and we can just keep the same settings we had this year and go from there. Honestly, I don't think it takes that long to adjust to a new team and a new bike. Especially with these guys, they're willing to try anything. So that wasn't the problem, I had issues with what was going on with my body.

Budds Creek was a disaster for you last year, so how do you block that out?
I've been hurt at a lot of tracks! At Hangtown one year I destroyed my neck. Budds Creek last year, Red Bud I broke my shoulder, Glen Helen I knocked myself out. I mean, the list goes on! It's just part of the series, I'm coming here and I'm just going to race, and hopefully it's better than last year.

Okay, you say you're just riding your own race and not focusing on anything besides who is in front of you. But at this point, do you feel like you can run with anyone, or are you still building to that?
Um, those guys are really fast and I'm doing all I can to get up there. I mean, they may not want to have to battle with any more people, but at the same time, it's good for the fans to have good battles. I think it would be fun to have a good four way or five way battle for the whole race. I think that would be awesome.