High Point Raceway
Mt. Morris

,

PA
High Point Raceway
Lucas Oil AMA Pro Motocross Championship
Darryn Durham / Eleven 10Mods / 15th O/A
You started strong at Hangtown, but Freestone didn't go to well for you. What happened there?
Yeah, I had some bike problems at Freestone but Round 1 was good and I'm looking to pick back up where I left off.
You got hurt pretty early in the supercross season and didn't have much time to train and then you come out and ran the majority of the race in the top five at Hangtown. How much confidence did that give you to know that you can run with anyone on the track?
Yeah, I kind of feel like I can run with any of them. I got hurt early and rode twice and came back racing and I was still kind of right where I left off. It feels good, I just have to get the whole thing together.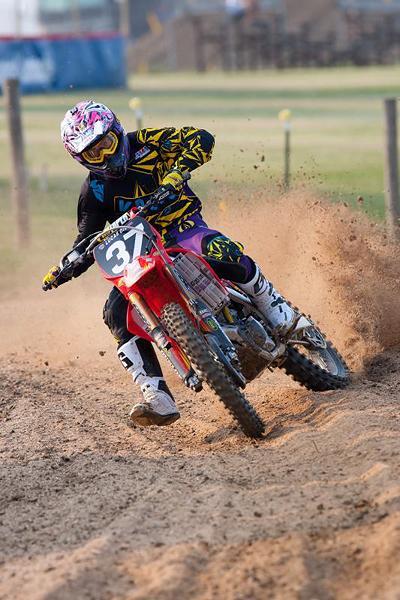 Durham is hoping to give the hometown crowd something to cheer for.
Photo: Andrew Fredrickson
Is the foot 100 percent now or is it still affecting you?
No, my foot is good now. I am able to train and do everything normal.
Hometown kid, hometown race, does that put more pressure on you to go out and perform, or does it feel like any other race?
Yeah, it is kind of riding my dirt bike. It's cool to have my family and friends out there and the crowd is always cheering so it gets me pumped up.
Your little brother Shane will be making his 2011 debut at High Point; how cool is it to line up with your brother on the biggest stage in motocross?
It's pretty cool. I like riding with Shane and it's cool that we get to race the same race and do all that together.

Based on your expectations how would you grade your season thus far?
Not very good. I expected to do more than I have been, but dumb stuff has been holding me back. I'm hoping to get it going this weekend though.
What are your expectations for this weekend?
I would like to finish top five overall.
How crazy would the fans at High Point go if you landed on the podium?
Yeah, that is what I really want to do, but I was trying to be nice with that top five. [Laughs]
Levi Kilbarger / Kilbarger Racing / 35th O/A
You have been battling a wrist injury this season; can you elaborate on the injury?
We were out in California at Milestone testing for the first round. I lost the front end and sprained my wrist real bad. I didn't ride anymore and thought I would be able to race at Hangtown, but I had to pull off in practice. It is getting better. It was better in Texas and I pushed through that one. Now it seems to be a lot better, so I am hoping this weekend is good.
Was the diagnosis a sprained wrist or did you have some ligament damage as well?
They took an X-Ray to make sure nothing is broke. They mentioned a MRI, but we didn't do anything because I didn't want to be out for the whole season. It was one of those deals where we were like nothing is broke so let's go for it.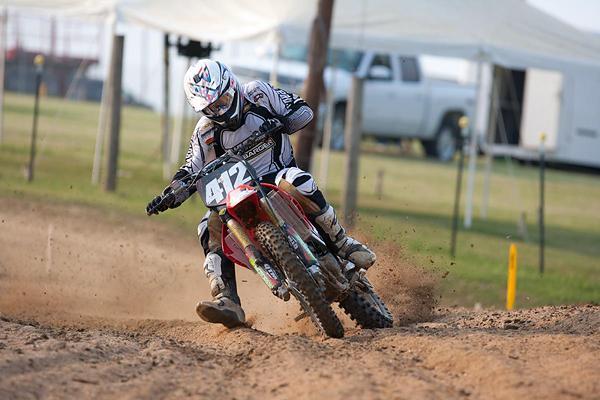 Kilbarger has been battling a wrist injury, but should be 100 percent for this weekend.
Photo: Andrew Fredrickson
How much more difficult was Freestone with the addition of the injury?
It was way harder, for sure. Going out there in practice and having to grit your teeth and then I took off in the first moto and ended up in a first turn pile up and I was so bummed. I came back to get 23rd and was pumped. Then the second moto takes off and I get caught in another first turn pile up and had to work my way back to 22nd.
Now you come to High Point, which is a very different track. What are your thoughts on the track, and your expectations for this weekend?
I love the fact that the track is different; it definitely suits our style better. Really I just hope that the weekend is better. I feel like I am riding good and the wrist is getting better. We always race to win; we never take off for second place, so just push from there and hope for the best.
What was your training regiment during the off-week?
I took that Monday off and then it was full steam ahead from there. I hadn't been getting to ride enough and wasn't real comfortable so my plan was to ride as much as I could while the wrist was getting better and push through it. The riding has definitely helped and I feel much more confident this weekend.

Alex Martin / Eleven 10Mods / 23rd O/A
You started at Hangtown with a 17th overall then at Freestone you seemed to have some problems.
The first moto was good for me. I started about 16th or so and as the heat started to knock the riders off I started to pick people off and worked my way up to 10th and spent the majority of the moto there. Then with about two laps to go my bike expired. I was pretty bummed because 10th would have been a good momentum builder. But there is plenty of motos left and I know that I will be up there.
You seemed to blossom this supercross season, did that momentum carry over to Hangtown?
Yeah, this year I am on a good bike with Eleven 10Mods. I kind of went into Hangtown a little under prepared than I would have liked, but I think to come out of there with some points was good. I feel like this year I can get good starts and be top five or top ten. I definitely found a couple of things that work better with my program, so now I am just trying to apply it.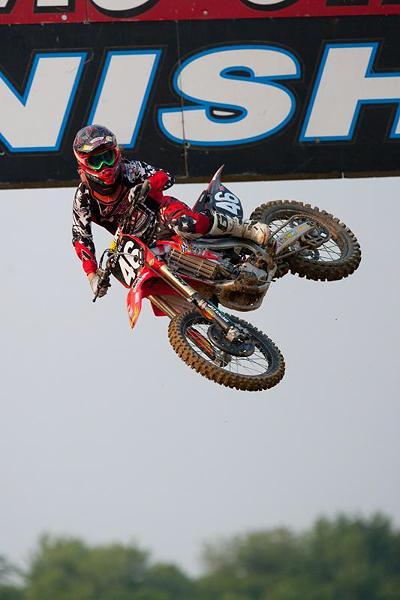 Alex Martin going big over the new finish line at High Point.
Photo: Andrew Fredrickson
What was your mentality going into the off week?
I was feeling good and my cardio was really good. But I know it can always be better so I put in about 40 miles of running last week. Then I went and did a motocross school in Nebraska last weekend for a local dealership that helps me out down there. It's cool to kind of get back to the grassroots and help the kids out and give them a couple of pointers.
You have proven you can run in the top ten at Freestone, is that what you are expecting every weekend now?
At this point where I am at confidence wise I am not going to be surprised if I am in the top ten. Other people may be surprised, but for me I feel like I can be up in the top five if everything goes my way. I feel like I have yet to have that breakout race that shows how good I can be. So I am looking forward to having that race and then just keep consistently putting down those results.
Nick Wey / Valli Motorsports / 12th O/A
You are twelfth in points through two races, what are your thoughts on your season thus far?
I think the first couple of tracks are defiantly not ones that I excel at and was still able to get inside the top ten this past weekend, which was cool. It was good having the week off to be able to fine tune some things with the team and I think coming into High Point this weekend I feel like I have stepped my riding up quite a bit, so I'm looking forward to it because this is definitely one of my favorite tracks.
You are coming off of a top ten on a track that you are not comfortable with, how much of a confidence boost does that give you coming into High Point, a track that you are comfortable with?
Well obviously I was tenth this past weekend and I want to do better so that gives the push to want to be better. We have made some good improvements to the bike and this weekend I got some family coming in and it's a race closer to home and one that I feel comfortable with. So for sure I am stoked on this weekend and excited to race High Point.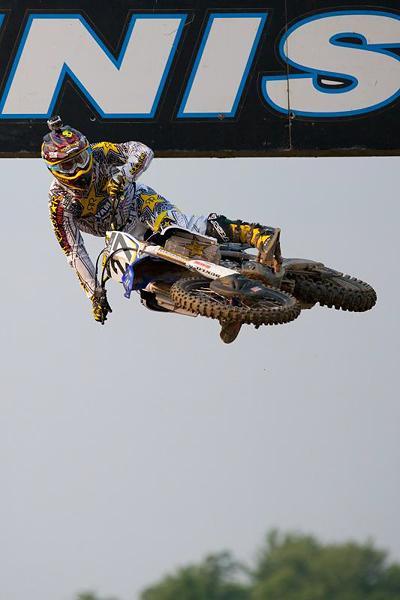 Nick Wey is looking to break into the top ten in points this weekend.
Photo: Andrew Fredrickson
What are you thoughts on the track?
The layout is awesome. For a rider it's got a lot of fun jumps and it's got a lot of sections that keep you thinking with all the off-chambers. The dirt underneath is really slippery and some spots are really rutted. It has a lot of different obstacles to challenge the rider, which makes it fun for us. The best thing about High Point is how pumped the fans are for the action and how enthusiastic everyone is. Hopefully we have some great weather this weekend for racing, but if it rains and we don't it doesn't matter at High Point because everyone is coming out anyway. The fans at High Point are such diehards that its awesome to go out there and do your best in front of them because they really seem like they appreciate you.
What are you expectations coming into this weekend?
Really I am just looking to get two good starts and ride hard as hard as I can for thirty-five minutes. I know that if I ride to my potential I am going to be up in the top five. I have been working really hard and the team has been working really hard to get me comfortable with everything. I am just excited to get out there and see what I can do.