Justin Sipes—younger brother of DNA Shred Stix Yamaha rider Ryan—is a true privateer in the 250 Class riding the #283 Kawasaki. After two top-ten rides in the West Region Supercross Series, he's now starting to build momentum outdoors. Last weekend at Freestone he fell after the first start and came back to finish twentieth, while in the second moto he logged a solid fourteenth after a bad start.
Racer X: Justin, how has your season gone so far this year?
Justin Sipes: The supercross season was okay. It just took me a few rounds to get going, but once I did I got a couple top-tens and top-fifteens. Then I reinjured my shoulder in Dallas and had to just tough it out in St. Louis. Vegas was good but it should have been better. I just ran out of steam from being sick. But all in all supercross was good and I'm still healthy. As for outdoors, it started bad but it is gradually getting better. At Hangtown my bike broke in the first moto and I had a DNF. Then, second moto, I just rode poorly, plain and simple.
Did you win any amateur titles, or did you come into the pro ranks under the radar?
I didn't really win any amateur titles. At Loretta's I finished top-ten for fourteen years in a row, the last twelve being top-five. My best was third but I could never seem to get three solid motos for a title.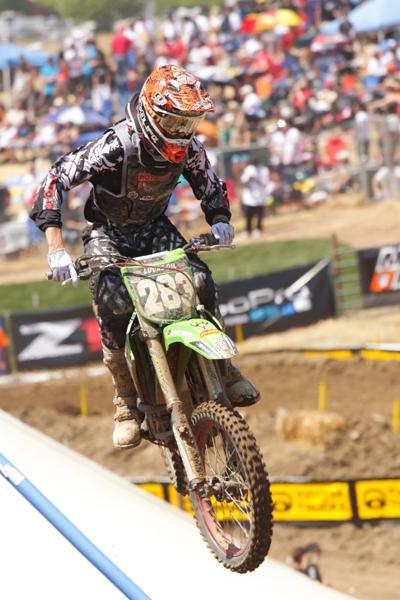 At Hangtown Justin placed 33rd overall, last week at Freestone he made it into the top 20 and finished 18th overall.
Photo: Shawn Goar
What kind of support to you get? How do you get to the races?
This year I get a lot of help from The Privateer Journey. They take my bike to all of the races so I don't have to drive to the really far ones. They also have a tent and tables for us to use at all the races. Ted Parks does more than everyone knows to run the team, and I've got to thank him for that. Motolifeinc.com, Tbparts.com, and Pro Logics have helped out a lot in getting me to the races as well.
How about bikes and parts? Are you getting help with those or buying them yourself?
Gateway Cycles is helping me with bikes. Then I've got Rekluse, FMF, Stryke Daddy Inc, Notoil, Moto Graphics, WPS, Vortex, Flaherty Tractor Company, Eleven10 Mods, Ti-Lube, Fly Racing, Galfer, Vertex, HotCams, FCA Motocross, BehindTheRider.com, Dunlop, Smooth Industries, Outlaw, Cometic, Devol, Dana K, Scott Kandel, and my mom and dad. I appreciate all the help from these guys—they help a ton!
Speaking of Rekluse, do you run one of those auto clutches?
I definitely do in my 450. Their auto clutch is awesome. That thing is like cheating. In my 250 I run their manual clutch because I'm always using the clutch anyway, but I will definitely run the auto in my 250 if I run any woods races. It's a must in the trails.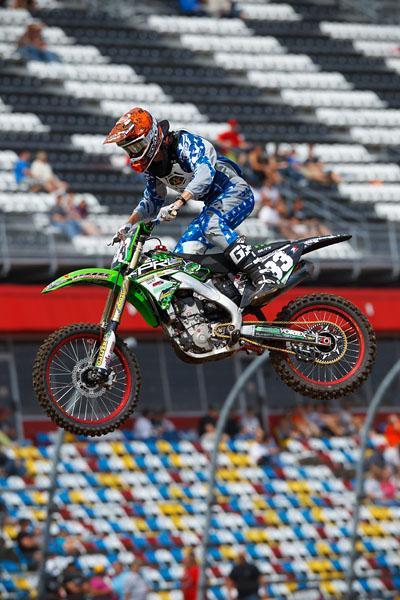 Justin finished 16th overall in the 2011 East Coast SX Lites class.
Photo: Simon Cudby
What's it like having your brother on a factory team and getting a lot of attention? How is your relationship with Ryan?
It's good. Gives me something to shoot for. It also helps as far as practicing for outdoors when we're both home on our track. Our relationship is good. He lives, like, a whole two miles from me, so we ride and train together almost every day. He's actually on his way over right now.
Is there a lot of competition between you two? How much age difference is there?
He's four years older. There's always competition between me and whoever I'm hanging out with, for sure! It don't matter if it's lap-time battles or seeing who can catch the most fish—it's always competitive.
Where are you from?
I'm from Flaherty, Kentucky. It's got no red lights, one caution light, like nine bars, a Dollar General, and a bunch of farmland.
What's a normal week like for you?
Well, lately it ain't been consistent because of flooding in Kentucky, and I've been driving back from California with my brother. But usually during the season I don't do a lot of training other than a bike ride a couple times a week and doing motos on the track. Most of the training happens before the season, then I just try to maintain throughout. As far as traveling, it's usually just leave out Friday and come back sunday. We drive to about half the races and fly to the other half. Most of my free time is taken up by either golf, fishing, BMX, or doing stuff for Dad on the farm. In the fall I'll be working for Pro Logics as well.
What are your goals for the rest of the season and beyond?
My main goal is to keep getting better each week, stay healthy, and start finishing up in the top ten consistently. Then hopefully that will lead to a ride for next year and we'll do it all over again.