Have you ever checked out one of those famous Las Vegas shows? I doubt it. When Vegas hosts a race, we get deep with the gambling, the bars and all that stuff that's supposed to stay in Vegas. But catch a show? Hardly. Sorry, George Wallace, Lance Burton, Cher, Celine, Bette Midler, Seinfeld, and Menopause (the musical), we're not plunking down hard-earned dough to watch something when we could throw it away in any number of less-responsible ways.
Well, the joke is on you. You actually did catch a Vegas show this weekend, same as any other. Tons of stars, some fits of magic and illusion, bright lights, a big opening and a strong storyline that took us all the way to the finish. Even had a rousing chorus screaming through every number. This finale to Monster Energy Supercross had to be the most action-packed night of supercross entertainment ever. With so many titles on the line and so many stars, it was almost impossible to keep track of it all. Who was the big star of the night? Ryan Villopoto? Chad Reed? Broc Tickle? Justin Barcia? Kevin Windham? James Stewart? Ken Roczen? Ryan Sipes? Blake Baggett? Ryan Dungey? I can barely even remember who won all the races, and not because I went to the circle bar late at night.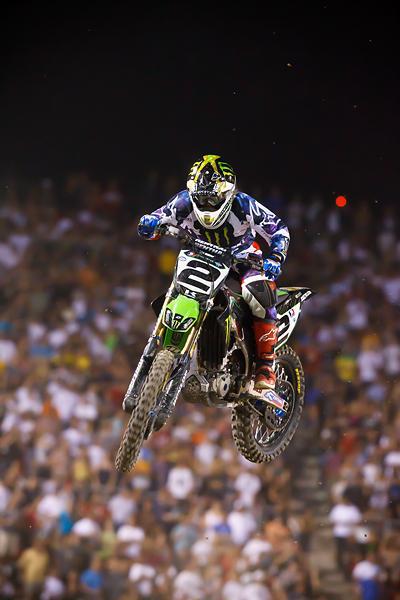 Villopoto en route to his first career SX title.
Photo: Simon Cudby
This was the night of nights for supercross. The crowd was pumped up from beginning to end, in a manner I've never heard at a race before. And why not? Both Lites races were awesome, and while this meant that the Dave Coombs Sr. East/West Shootout wasn't quite as hyped as usual, we needed a chance to catch our breath, anyway, after that crazy West race. Then came the SX main, which packed stars, crashes, action, a championship, and went all the way down to the last lap of the season to determine a winner.
You may or may not agree that this was the greatest season in supercross history (and if you don't, you better be able to make a strong argument for any other year). But I'll raise the ante and say that Las Vegas was also the greatest night in supercross history—we've never seen so many stars and so much on the line in one single event. This night wasn't just supercross, it was super supercross, and if you're not sure, replay the thing on your DVR and listen to that crowd.
I'm sure the folks at Feld Motorsports are just praying their new Monster Cup event in October provides the same feel, and why wouldn't it? We may be looking at the most level playing field in the history of this game. Yes, 1985 hosted a nail-biter SX class fight (and also gave us Back to the Future), but throw in the nine different riders who won Lites races. Throw in the fact that none of the three championships were clinched a round early. Throw in all the off-track drama. Throw in the idea that down to the 17th and final round of the season, you really had no idea who was going to win any of the main events (any of them!). This was super supercross, and regardless of if you saw it in person or live on TV, I can guarantee you there wasn't a better show anywhere in that city on that night.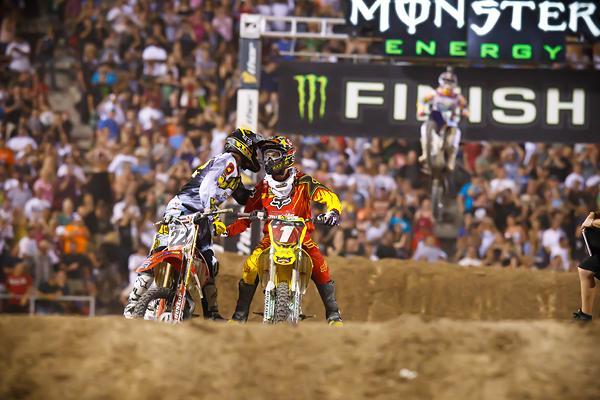 Reed and Dungey showing mutual respect after an intense battle.
Photo: Simon Cudby
The only thing missing was J-Law showing up and taking out Villopoto and Dungey to crash the whole championship party. (And then later, crashing the whole championship party, literally.)
(You're welcome. That was the first legit J-Law reference this year in Redux, besides me railing on people for constantly asking, "where's J-Law?" And now we, supposedly, have an answer to that question: Hangtown. On a 450 for Suzuki City, as a teammate of Malcolm Stewart. Please, get the Bubba's World cameras out!)
Think of Vegas this way: if you were paying big money to see Celine Deon perform (listen, the Vegas singing acts don't fit our demographic, so just go with this, okay?) would you really be happy if she didn't sing "My Heart Will Go On"? And conversely, if you went to see Jerry Seinfeld at Caesar's, you'd be bummed if he skipped the jokes and just talked about his kids, right? You go to these shows to see the A material, and the Vegas SX delivered. For example, Kevin Windham brought the whole bag of tricks, including his best opening-ceremonies transition jump of the year, following some fast practice laps. Then in the main, he was right in the hunt! Kevin is pretty much every fan's favorite rider right now, but he could have been mired in fifth or sixth like he was a week ago in Salt Lake. But not on this night. He gave the fans what they came to see—a run for the win.
Then there's James Stewart. He delivered the goods in the heat race. Scrubbed it almost upside down on the ski jump, then unloaded a massive quad jump. Totally spectacular and the fans went nuts, even the James haters couldn't not help themselves. From there, James could have run away with the main event and no one would have been surprised. But not on this night. James provided the full repertoire, including not only the quad, and a triple-triple into a rhythm lane, but one other move that has made the fans scream in 2011: his patented "go down in the whoops and take someone else with him." It may be unfortunate, but the fans did go absolutely positively nuts when it happened.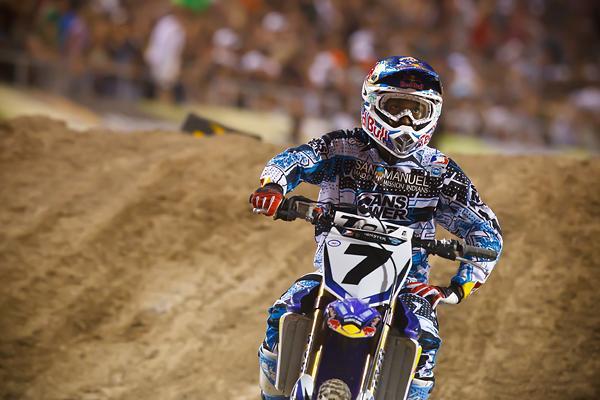 Stewart suffered yet another setback in Vegas.
Photo: Simon Cudby
This is just eerie at this point. I mean, we're now up to what seems like a 50 percent crash rate on Stewart, and this makes no sense to me whatsoever. Yeah, he's thrown away some races before, but never at a rate like this. What is wrong here? The bike or bike setup? Is he riding too hard? Losing concentration? Making mistakes under pressure? I haven't seen a rider make so many of the exact same types of mistakes so often. It's either gonna' be a washout in a turn or a blow out in the whoops. At this point I'm just feeling bad for the guy—that stuff hurts and big crashes aren't something to be taken lightly. I just don't understand this anymore and I really don't know what else to say about it.
By the way, in December, I had already begun to plan a LeBron James/James Stewart column about how they both went out and shoved it down the haters' throats and proved their amazing talent could overcome all. But on the night where LeBron was delivering, I was writing about Stewart coming up short. Strange.
With Ryan Villopoto coming into the race with a manageable points lead, everyone (except RV's crew) wanted to see at least one small moment of championship vulnerability, just to add some drama. There were two, actually, as he was briefly back a bit at the start (and even had to pass his old buddy Mike Alessi to fittingly put himself into championship position). Then later, he was right behind the Stewart/Windham crash. If he was any closer, he could have been done. At any other finale ('cept that one time when Bradshaw blew it) RV would have just cruised in third and locked this up drama-free. But this Vegas SX just had to make it interesting.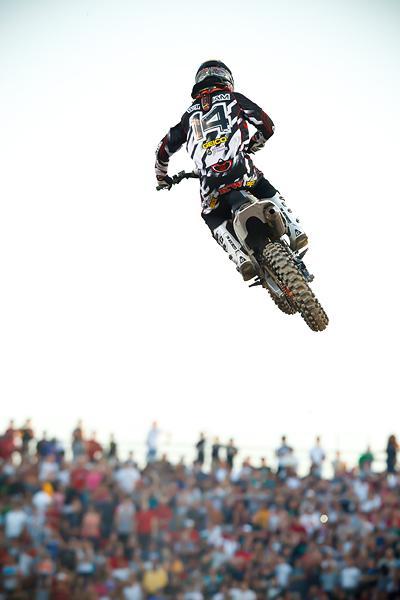 K-Dub went HUGE on his transfer at Vegas.
Photo: Simon Cudby
Chad Reed has really become a fan-favorite this year for rising from the career ashes with his own team. People would have been pumped to see him win Las Vegas, and guess what? They got what they wanted. Even cooler, they got to see him win a battle, because on this night Ryan Dungey had the goods to catch Reed and RV and make things interesting. Note that Windham and Dungey weren't quite up to pace last weekend in Salt Lake, but were right in the mix in Vegas. The stars were aligning here.
Then you have the Lites races. Barcia had the lead and could have won it, but like RV's brief moment, he washed out just to make things interesting. Ryan Sipes led and Blake Baggett was fast, too, but Sipes had the whoops dialed and appeared to have this race covered. But late, Baggett figured the whoops out, mounted an attack, and won the race with a last-lap pass. On any other night, this would have been the highlight, but instead it's mostly forgotten in the sea of Vegas SX spectacularness (See: Lites West main event).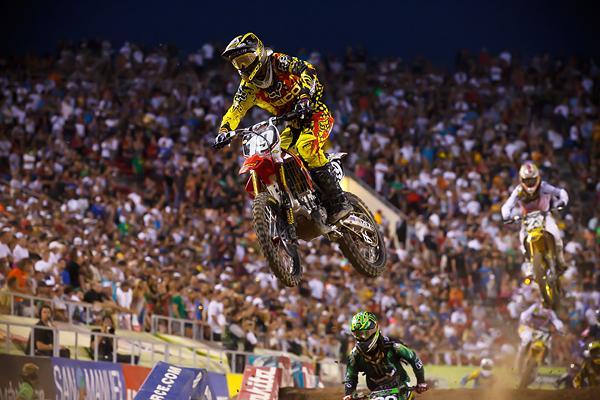 Tomac had a battle on his hands at Vegas.
Photo: Simon Cudby
This one was as crazy as crazy could be. It had every element, from crashes by the leaders, to a first-time winner, to a championship battle that turned several times. Even some conspiracy theories thrown into the mix! I've gone back and forth a hundred times on this Seely/Cunningham/Tomac thing. Watching the race in person, I was surprised when Seely passed Tomac (a fellow Honda rider) back. Yeah, yeah, Seely races for himself and he's not Tomac's teammate, but Honda hooked him up with a sweet factory 450 a few months back, so surely he would play Red Rider, right? So I did think this seemed strange, but if you watch carefully, he never did anything completely out of line. Never tried to take Tomac out, never tried to purposely slow him. Even when they nearly touched in the left hander at the beginning of the sand section, I think Seely was expecting Tomac to go inside there and was practically leaving the door open for him. But Tomac went wide, also, because the inside didn't work on the previous lap. Tomac needed his dad to dial in a Tour buddy and ask what it's like to go handlebar to handlebar with like 700 dudes at once. It seemed like the entire pack was all over Tomac, which was crazy, but again, Seely didn't do anything dirty. The only questionable move was Cunningham after the ski jump, riding as if he had escort privileges on his credential and was helping Eli to get up near the stands. "Here, just follow me, stay right behind me." But, again, Cunningham was going for his first podium of the season, so it's understandable.
Even the big celebration at the finish could go two ways—Seely, Cunningham and Tickle are buddies, so why wouldn't they hug after the race? There is a razor-thin line between just racing and just something else at play here. When the race ended, I immediately tweeted "Hey, it's not required for anyone to pull over just because a guy is racing for a title. That's just racing." I was immediately hit with a ton of dissenting opinions, and then heard more in the pits. To which I say, if that many people thought there was something wrong, is it really out of line to think something was wrong? I just don't know. Like I said, there's a razor thin line in this one.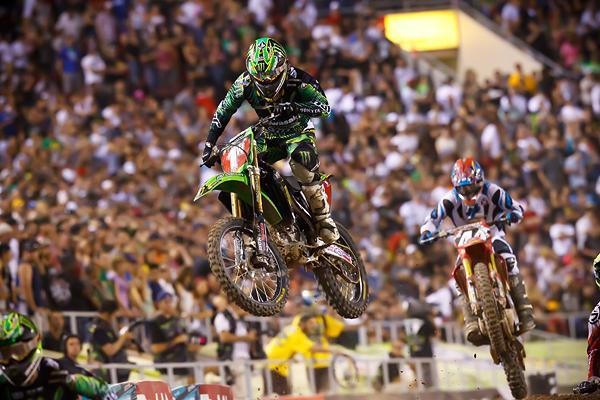 Tickle's championship didn't come without controversy.
Photo: Simon Cudby
Too bad some of this controversy had to surround Tickle's title, because he's a good dude and makes for a great story. Way back in the Loretta's days, Tickle wasn't doing much on minicycles, and the only thing he was known for was that he had a hilarious (literally) last name. But the next year on big bikes, he was suddenly a contender, and ever since I've been running the tagline Tickle is Serious. And he is! Works hard, wants it, keeps his nose clean, nice guy, this title is a great testament to how hard work can overcome anything. He may not be the most talented rider ever to come through the ranks, but aren't stories of hard work and determination the ones we like to see, anyway? And on that note, Sipes finally delivered another win, this time in the Shootout. Yup, Vegas delivered.
Email me: jasonw@racerxonline.com