Sam Boyd Stadium
Las Vegas

,

NV
Las Vegas
Monster Energy AMA Supercross Championship
Lucas Oil Troy Lee Designs Honda rider Cole Seely has been in the eye of the storm this week after a controversial Lites West final in Las Vegas. Eli Tomac was running ahead of title rival Broc Tickle during the race, until he caught up to Seely and Kyle Cunningham, struggled to get by them, and then ended up getting passed by Tickle. Since Seely is a training partner of Tickle, many suspect Seely purposely held up Tomac to help his friend. We called Seely to get his take on the race.
Racer X Online: Take me through the race, Cole.
Cole Seely: I had a pretty good start and I was up there early, then Roczen fell and I got the lead. I was feeling pretty good and just trying not to make any mistakes, but I cased a jump and went over the bars. I took a pretty good hit there. I got up and my bike was pretty bent and I was hurting a little bit. Roczen got away from me, and it took me awhile to get the front wheel go straight, I had to turn the bars and stuff. The bike was bent up pretty bad. So then that let Tomac and Cunningham and all of those guys catch up to me, and it was hard to ride the bike that way. I don't know, I don't really think I was blocking Tomac or anything, I'm not really sure what that was all about. I was just racing for position and trying to stay on the podium. I did the same thing with Cunningham and Tickle, I didn't let Cunningham by, and we went back and forth for a lap. When Tickle passed me I actually hit him, and that kind of messed me up and let Tomac pass me. There wasn't any of whatever everyone thinks is going on.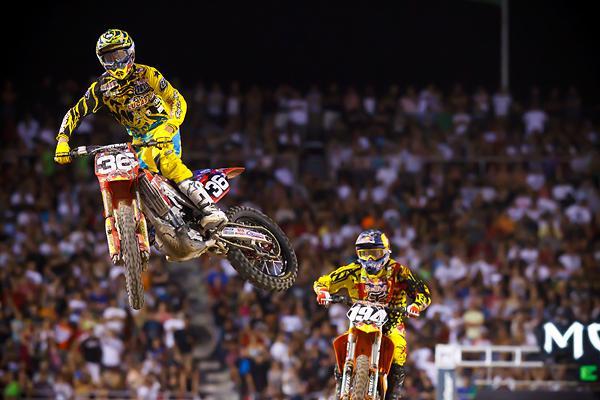 Seely was out front early, but a crash would take him out of the running for the win.
Photo: Simon Cudby
And being a Honda guy, you weren't given any orders to help Tomac, either?
No, I was just told don't race too aggressively with him. I actually let him by, but he messed up and couldn't do the triple, and I went wide and I had the run for it. I would have had to really slow down and block the whole triple, or just not jump it, and if I did that I probably wouldn't have gotten landed on.
So you feel you had no choice but to jump the triple and get back ahead of Tomac?
Yeah. And actually the next lap, I thought he was behind me again, and I was just struggling because my bike was so messed up from the crash. I was just going to let Tomac go, but it was actually Cunningham who was behind me by then, and it was the same spot where Tomac had passed me before. I just let him cruise down the inside like Tomac had done, and then I cut back underneath Cunningham and passed him back, too. I raced Cunningham the same way. We went back and forth, it was really a fun race with all that was going on. It just got crazy with what everyone has said after it.
After the race you congratulated Tickle. I know you guys are friends. So were you happy because your plan worked, or were you just congratulating him?
No, I was just congratulating him. I don't race any racers any differently. The race was over and he was champ. We train together three days a week, so we've become pretty good friends over the last year. I was just congratulating him.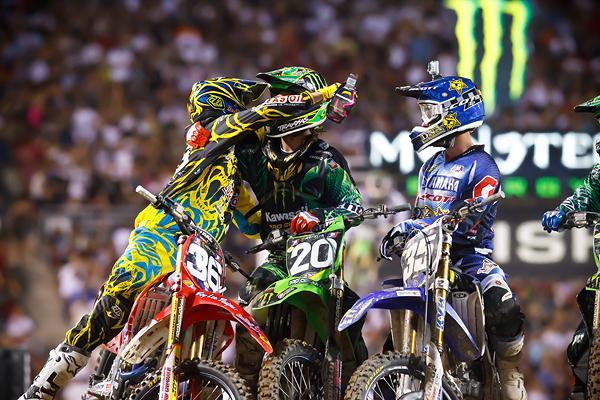 Seely congratulating Tickle after he wrapped up the 2011 Lites West title.
Photo: Simon Cudby
So during the week, did you plan any of this?
[Laughs] No! I don't know what that's all about, the conspiracy theories everyone has right now. That's pretty crazy.
Did anyone say anything to you after the race? Anyone from Honda, like Erik Kehoe, or anyone from the GEICO team?
Um, no. The only thing I have heard was the stuff people are writing on the internet.
Okay then. How did the shootout go? I'm sure you wanted to win that one.
Yeah I did, but Sipes rode a pretty mistake-free race. It was pretty fun, and I'm glad I could get back out there and prove my speed again, without my bike being all bent up.
Hey what about this format, with a 15-lap main and then a 10-lap main? Did you feel more fatigued than usual?
Um, I definitely did feel more tired, especially because not only was it more laps, but they were longer laps. The lap times were longer than normal. And especially in the first one, having to ride with my bike all messed up, I definitely rode tighter and got more pumped up than usual, so that made me even more tired.