Monster Energy Kawasaki has regained the supercross championship they last won with James Stewart in 2007. This time the title came from Ryan Villopoto, a rider who, like Stewart, came through the amateur ranks on green bikes. In the pits on Saturday night, we chatted with Team Manager Mike Fisher about the transition for the team from Stewart to Villopoto
Racer X Online: This team has a history of rebuilding with younger riders. Ricky Carmichael moved to Honda and Kawasaki invested in James Stewart. Then you chose to let Stewart go and invest in Villopoto. Did you see that as a risk, or were you confident Ryan could be this good on a 450?
Mike Fisher: Well, I knew it was a risk because I know how fast James Stewart is. I also know that Ryan is very different than James. But clearly it was a risk! I think we did feel Ryan could win a championship for us, and that's one of the great things about working for this company, they're so committed to racing. If you look at our Team Green program for amateurs, it's a really a big commitment, and we really try to bring those guys up. So when James was there, and Ryan was ready, we certainly had trouble with James at some points. Not all the time, but sometimes we did. And some of the things were just really hard for me to manage. These weren't personal things, it was just tough for me to manage on behalf of the company. When Ryan was there at the end of his Lites days, he had to go, he was ready to go. So I had to make a decision. We either lose Ryan to keep James, or the other way around. We couldn't afford both, and they were both hot, both winners, and that costs a lot of money. It would have made for a wonderful team to have both guys like that, be we couldn't afford that. But we made a decision to go with Ryan. We knew it [success] wouldn't happen overnight. But last year, I thought he would be ready to win, and he was. But there was that time when he got hurt, and that ruined his chances to win the supercross championship and an outdoor championship. He's never gone into an outdoor championship on a 450 healthy like this. I shouldn't say that—in 2009 he was healthy and he won the first race. But he was still coming in with a torn ACL. Now he has all of his ligaments attached, and he's ready. He's fit and he's mentally much stronger than he was. He always doubted himself against the other guys. Especially against the other two guys, Stewart and Reed.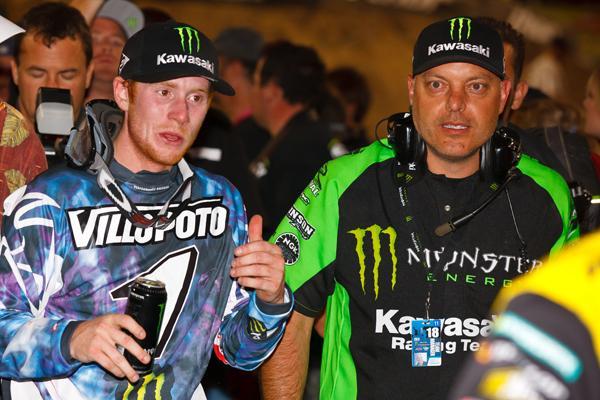 Villopoto's title was the first SX class title for Kawasaki since 2007.
Photo: Simon Cudby
Really?
Yes, the first year, he was so afraid of Chad Reed. He wouldn't really say it, but the way he rode around Chad Reed, he was very scared. Last year he got to know Chad a little bit. But Chad got hurt right away. I hate to say this, but last year with Reed, it was a half-assed attempt to put it together, for us, too, and it just didn't work. After that, with Ryan now, I don't think he feels that way anymore about Chad. But James had him spooked at times this year. But it just depends on the day. Sometimes James is just blazing fast on the track, and it's a little demoralizing when someone can go a full second faster than you when you think you're doing everything as fast as you can. Ryan doesn't think about qualifying too much. He mainly thinks about doing it for twenty laps. He thinks, "I wouldn't be able to do that for 20 laps, for sure. I could do that for one lap, but maybe crash." Ryan certainly has proven to be very smart, and I think he was last year, too, but this year he was even smarter.
I'm surprised to hear this, because to me one of his strength is his ability to not get caught up with the other guys, the mental wars, confidence issues, things like that.
I'm not saying he ever actually says any of this. But when you see him ride, watching it, you can tell he didn't have that confidence when he was riding against them or with them.
So I'm assuming that's all out the window now.
Well, I think it's a good, humbling thing. Like you said, he doesn't get too caught up in it. He doesn't ride over his head, he doesn't push himself to where he's going to make mistakes. I mean, Jacksonville we could say he made a mistake, but Jacksonville, he got cleaned out in both the races he was in.
I know this team put in a big commitment to make the bike better for him, and then he put in a big commitment to get better for you.
Yes. It was a tremendous effort on both parts. At a time when we're facing some budget cuts, it's tough. We brought a lot of things in house, and it didn't make everybody happy. We also leaned on KHI, our parent company in Japan more, and then they pressed on us to do it. They provided us with good drawings, then we worked hard to modify the designs some, and we made some big improvements. Weight was a big thing with us. Ryan was talking about losing weight, and he asked what our bike weighed. We were over the limit last year, too far over the limit, so I told him we could commit ourself to closing that up. Even though we don't know what the other bikes weigh, we know our bike is close to the limit now. We didn't want any question marks. There are no question marks when it comes to performance, power, the chassis, suspension, we didn't give up anything. We left no question marks, and he didn't leave any questions for himself. He is on an incredible program, a big life-changing program now with Aldon Baker.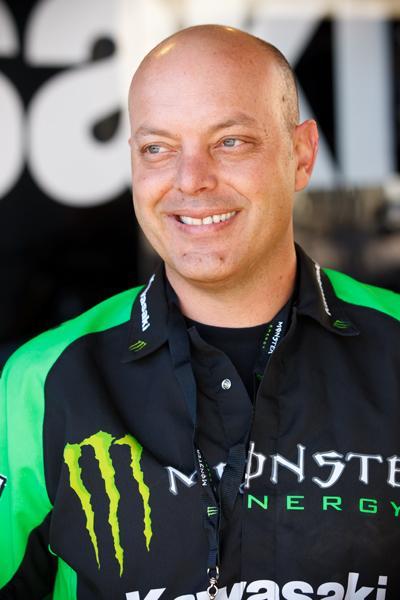 Monster Energy Kawasaki team manager Mike Fisher.
Photo: Simon Cudby
And that's not easy, either.
No, especially for him. I mean, he likes to eat! I mean, you can see when he's not racing, during the off-season, he's a big boy. He would use racing to keep the weight off.
So big commitment on both ends. But what's crazy is, all of that effort, you know other people are doing the same thing. All that work and there still aren't any guarantees. This year was close!
Right. We know our bikes have always handled well as far as being stable. But being nimble and quick, that was something we were not known for. But I think we're there now. Everyone put in a lot of work to make this happen, it was a major commitment from Ryan to us, and from us to him.