Jacksonville, FL
Jacksonville
Monster Energy AMA Supercross Championship
Justin Barcia restored order to a wide-open Lites East class by becoming the first rider to grab his second win of the season. But although his main event went smoothly in the results column—holeshot to checkers—his night, and the race, weren't nearly as easy as the lap charts would indicate.
Racer X Online: Good night?
Justin Barcia: Rough night, but it turned into a good night.
And I heard it started for you in practice.
Yeah did you see that? In practice, I was trying to throw down on fast lap, I was third and real close, and I was putting in a fast one and the last whoop kicked me and I went down pretty good. The last whoop in my last lap of practice. I came down on the bad wrist, and I was like "Man, this doesn't feel good." But I knew, hey, it's already broken, so how much worse can it really get, anyway? And good thing I had that wrist brace on, that wrist brace saved my life tonight. Then in the heat race, I got taken out. I don't usually get taken out, I don't even remember the last time I got taken out.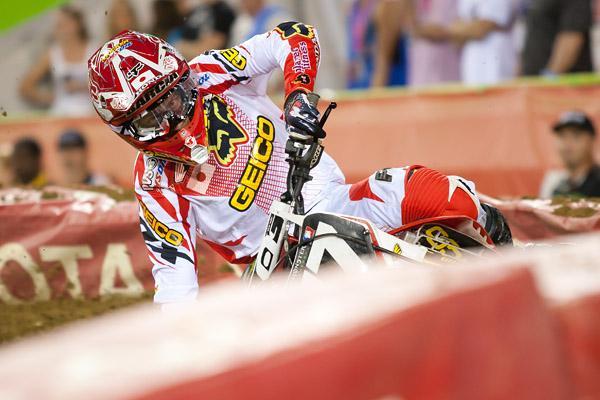 Barcia had a rough start to the day, but would end it with a victory.
Photo: Andrew Fredrickson
So that's what put you off the track.
Yes! Someone took me out, I got pushed over the berm. There was no way to get back on the track, so I just rode down the side of the whoops. I went around them, and worked my way to fifth. Then I got penalized because they said I passed guys while I was riding along the side of the whoops. I didn't think I did, I don't think I passed anyone, but they said I did, so I got penalized three spots. So I had 15th gate pick in the main event, and I ended up ripping the holeshot. That doesn't even make sense.
How'd you do that?
Just ripped it! GEICO Honda puts out the power and the Dunlops hooked up!
So the main was calmer than the rest of the night?
It was. We had a lot of good fans here cheering, it was fun.
Where you marking Wilson when he got up to second?
Yeah once I got that holeshot I put down a hard sprint lap on the first lap. I did the three onto the table top on the first lap and opened up a nice gap. After that I just tried to keep that gap.
How bad were the whoops?
Man it was tough. I'm sure it's not going to look pretty on TV, because I was all over the place. That's my style, I guess, but I definitely don't like being all over the place.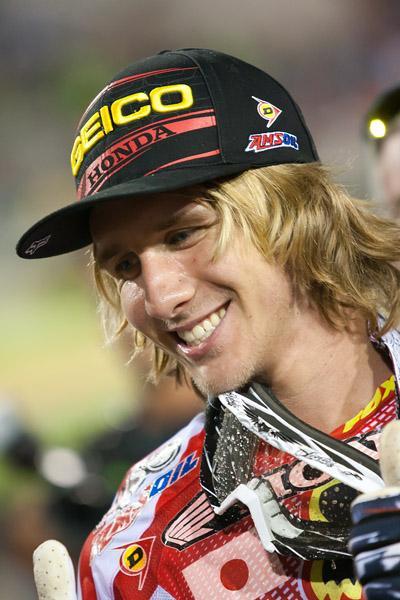 Barcia extended his points lead to 17 in Jacksonville.
Photo: Andrew Fredrickson
Is the wrist any better?
No, I'd say it feels just like it did after all the other races. It's not getting better.
Wrist brace helped?
Yes the All Sport dynamics brace. The guy's name is Jeff Brewer, he hooked me up.
And you have a 17-point lead.
Yeah 17 for 17. It feels good, I'm stoked. Just really happy.