Lucas Oil Stadium
Indianapolis

,

IN
Indianapolis
Monster Energy AMA Supercross Championship
After two weeks of winning races after riders in front of him fell, the Monster Energy Kawasaki rider Ryan Villopoto erased all talk of luck or gifts by winning tonight's Indianapolis Supercross at Lucas Oil Stadium the old-fashioned way: he out rode everyone else.

Two Two Motorsports Bel-Ray Racing's Chad Reed snagged the holeshot in Indy, but Villopoto quickly made the pass and began pulling away. He was not only fast, he was consistent on a rough and rutted track that invited inconsistency. So while the big names behind him were logging one good lap and one bad lap, Villopoto made all 20 of his count as positives, and won the race with seeming ease.

With three-straight wins, Villopoto now holds a 26-point lead in the tour, a massive gap considering how close things were just three weeks ago. Everyone else is up and down, both in the standings week to week, and during the race. For example, American Honda Racing's Trey Canard battled with Rockstar Makita Suzuki's Ryan Dungey early. Dungey was looking to make aggressive passes, so he cut underneath Canard to take third, and Canard ended up stalling and dropping all the way back to 19th.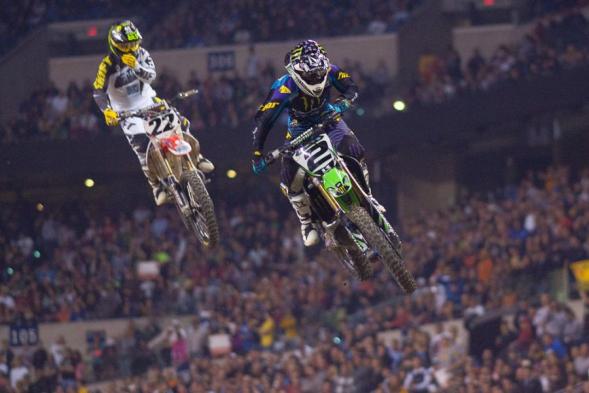 Villopoto quickly distanced himself from Reed and took the win.
Andrew Fredrickson photo

Then Dungey and Reed went at it for second, and Dungey got within inches of completing the pass several times. Reed held him off until Dungey ran into the back of him and fell.

Next up came San Manuel Red Bull Yamaha's James Stewart. Stewart got off to a horrible start, and made several huge mistakes early in the race, losing whatever ground he would make up. He finally got into the groove through the second half, passing the fallen Dungey and then scrubbed a triple to go past Reed. But by then there was no chance of catching Villopoto.

Dungey put his crash behind him and made another run at Reed down the stretch. Reed didn't appear to be riding nearly as well as he has for the last few weeks, so Dungey closed the gap again. On the last lap they went back and forth, but Reed once again hung tough and fought for the spot, salvaging third over Dungey.

Muscle Milk Toyota Yamaha's Justin Brayton took fifth, with Canard climbing back up to sixth. After the race, a frustrated Canard rode past Dungey and gave him a tap in regards to their early race run in, but Canard later apologized after he settled down.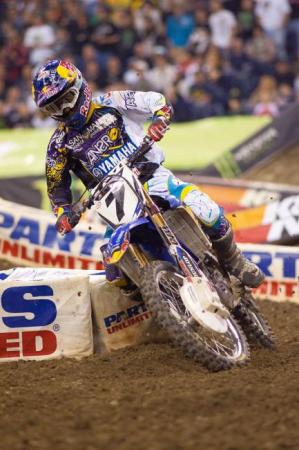 James Stewart fought through a bad start and a few mistakes early to collect second.
Andrew Fredrickson photo
GEICO Powersports Honda's Kevin Windham, Rockstar Valli Yamaha's Nick Wey and Honda's Cole Seely took seventh through ninth, and Red Bull KTM's Mike Alessi was 10th. Alessi's teammate Andrew Short finished 20th when he suffered mechanical troubles early.

It seemed like the whole industry was pumped when DNA Shred Stix Star Racing Yamaha's Ryan Sipes won the Indy SX Lites race. Sipes is a veteran of the Lites class, and he's come so close to victory time and time again without ever finally getting it. On this night, he carried his speed from practice (he was fastest in both sessions) by winning his heat race. In the main, last week's winner, Monster Energy Pro Circuit Yamaha's  Blake Baggett took the holeshot and held Sipes at bay early, but Sipes found his groove first and closed right in. Then Baggett bobbled on the finish line jump, landed on tuff blocks and crashed. Sipes took the lead and held off heavy pressure from GEICO Powersports Honda's Justin Barcia. Barcia took two big shots at it on the inside of a few corners, but Sipes held him at bay to finally get his first pro win.

Dean Wilson, who won two weeks ago, struggled with a bad start and crash and took seventh.

Moster Energy Supercross Results
: SX Class
Indianapolis, IN
1. R. Villopoto
2. J. Stewart
3. C. Reed
4. R. Dungey
5. J. Brayton
6. T. Canard
7. K. Windham
8. N. Wey
9. C. Seely
10. M. Alessi
11. D. Millsaps
12. M. Boni
13. M. Byrne
14. F. Izoird
15.M. Goerke
16. T. Simmond
17. R. Kiniry
18. C. Blose
19. I. Tedesco
20. A. Short
Lites Results
Indianapolis, IN
1. R. Sipes

2. J. Barcia
3. B. Baggett
4. M. Stewart
5. M. Lemoine
6. D.Wilson
7. B. Wharton
8. P. Larsen
9. A. Martin
10. L. Smith
11. G. Audette
12. B. Ripple
13. T. Futrell
14. R. Renner
15. M. Akaydin
16. N. Izzi
17. T. Sjorberg
18. J. Anderson
19. S. Rife
20. H. Hewitt

Eastern Regional Supercross Lites Class Season Standings
1.      Justin Barcia, Ochlocknee, Ga., Honda – 91
2.      Blake Baggett, Grand Terrace, Calif., Kawasaki – 85
3.      Ryan Sipes, Ekron, Ky., Yamaha – 79
4.      Dean Wilson, Menifee, Calif., Kawasaki – 75
5.      Blake Wharton, Aubrey, Texas, Honda – 65
6.       Malcolm Stewart, Haines City, Fla., Suzuki – 62
7.      Matt Lemoine, Collinsville, Texas, Kawasaki – 51
8.      P.J. Larsen, Murrieta, Calif., KTM – 46
9.      Jason Anderson, Edgewood, N.M., Suzuki – 44
10.   Alex Martin, Millville, Minn., Honda – 40

Supercross Class Season Standings
1.      Ryan Villopoto, Poulsbo, Wash., Kawasaki – 221
2.      James Stewart, Haines City, Fla., Yamaha – 195
3.      Chad Reed, Tampa, Fla., Honda – 192
4.      Ryan Dungey, Belle Plaine, Minn., Suzuki – 183
5.      Trey Canard, Shawnee, Okla., Honda – 169
6.      Andrew Short, Smithville, Texas, KTM – 129
7.      Justin Brayton, Cornelius, N.C, Yamaha – 121
8.      Davi Millsaps, Carlsbad, Calif., Yamaha – 114
9.      Brett Metcalfe, Lake Elsinore, Calif., Suzuki – 107
10.   Kevin Windham, Centreville, Miss., Honda - 103