Qualcomm Stadium
San Diego

,

CA
San Diego
Monster Energy AMA Supercross Championship
We could start this race report off by making a joke about the storm in the sky being surpassed only by the storm on the track, or go on and on about how anything can happen in the rain, and both would be right, but neither would be new information to you. If you were following the weather in the days leading up to the race, you know San Diego was in for a deluge or hard rain, and if you're a fan of racing, you know just how crazy things can get in those conditions. Of course, what you didn't know, was how the races would play out, and odds are, you wouldn't have been able to predict what went down at California's last round of supercross in 2011.
In the Lites class, Red Bull KTM's Ken Roczen had been fast all day. He was fastest in practice, and led every single lap of his heat race. Early in the day, he said he loved the mud and seemed genuinely excited for a wet race. Unfortunately for Roczen, he was involved in a first turn crash in the main event.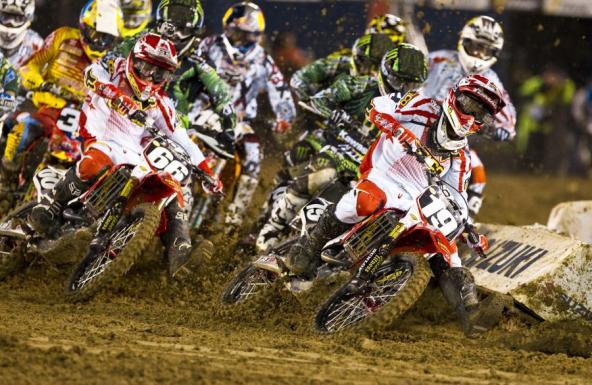 Eli Tomac nailed the Lites holeshot in front of his teammate Jimmy Decotis.
Garth Milan photo
It was Eli Tomac who nailed the holeshot, and after battling briefly with Josh Hansen, the Geico Powersports Honda rider started to check out. Behind him, Hansen, the Lites points leader, was trying to avoid trouble. Hansen's broken hand is far from healed though, and he was clearly not able to run at his usual pace. It wasn't long before he started to slide backwards. First, he was passed by Tomac's teammate Jimmy Decotis, then, Hansen's teammates Tyla Rattray and Broc Tickle went past. Lucas Oil Troy Lee Honda's Cole Seely came through, too, and Hansen let them all go through without putting up a fight.
Decotis was riding well in the slippery conditions, but he soon fell victim to the charging trio of Rattray, Tickle and Seely, as well. Tickle needed to get on the move and make up max points on Hansen, and with all three pushing hard, it wasn't long before they were slicing through lappers. It seemed certain that the lappers would provide some passing opportunites for Tickle and Seely against Rattrey, but that just didn't happen. Even though you could have thrown a blanket over the three of them for much of the race, the battle turned into a game of follow the leader, which left Rattray second and Tickle third. Sometimes that's what happens when a track gets soaking wet.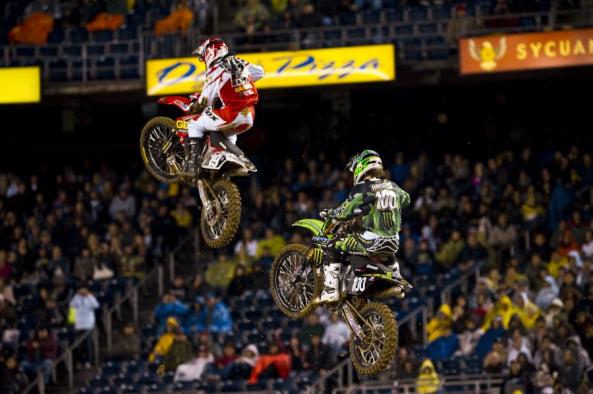 Hansen slid into second early, but was unable to keep pace while riding with a broken hand.
Garth Milan photo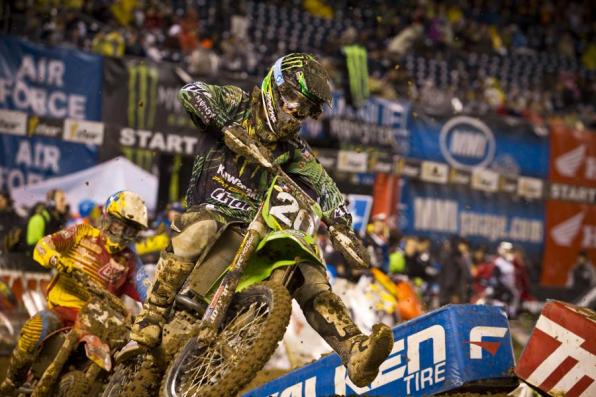 Tickle scored a podium with third, but could have benefitted from making up maximum points on Hansen.
Garth Milan photo
Hansen held on for sixth, preserving his points lead by a single point over Tickle as the West Lites tour goes on a break for nearly two months. However, Hansen announced before the race that his hand has gotten so bad that he will have to undergo surgery to insert a plate. Will even two months be enough healing time for Hanny?
Roczen's seventh place finish didn't look impressive on paper, but once you consider the fact that he crashed twice during the race, you start to realize that seventh place was actually pretty good.
Even if Roczen had not crashed at all, he may not have had anything for Tomac anyway. The Colorado kid led every single lap, had the fastest lap and best average lap times of the race, and took the win by over 10 seconds. The rookie was flying out there, and now that he's broken through for a win, he's not going to be satisfied with anything less. Expect more great finishes from Tomac when the Western Region resumes in Salt Lake City.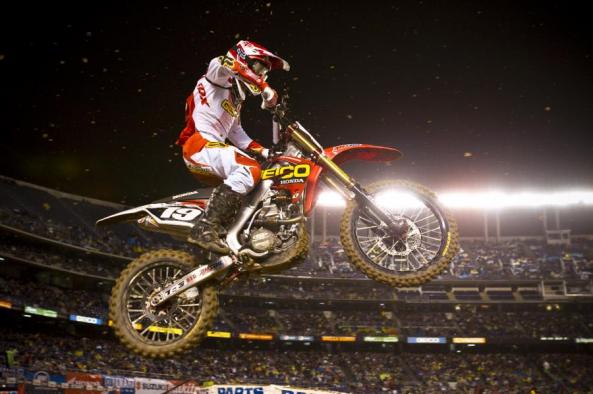 No one could touch Eli Tomac on this night.
Garth Milan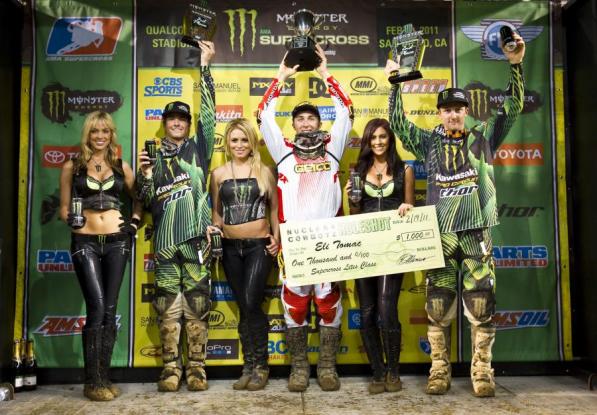 Rattray (left) scored a solid second after missing Anaheim 2 with a back injury.
Garth Milan photo
Let's get into the 450 main. Does it seem like nobody can get on a roll this year? Ryan Villopoto started the year out great, then he finished completely off the podium with a pair of crashes in Oakland, and got flat beat by James Stewart at A2. Stewart had dominating performances in Oakland and especially A2, then had a disastrous race last week in Houston. Trey Canard had been plagued by bad starts, unti he pulled out a dramatic victory last week. Ryan Dungey hasn't won any races yet, but he also had a terrible race at A2 when his chain derailed, relegating him to last place. So far, this season is still hard to predict.
Stewart and Dungey need to make up points, while a victory for RV could have given him the momentum he needs to start turning this season into a runaway. All three of them needed wins tonight, but when it was over, none of them were standing on top of the podium.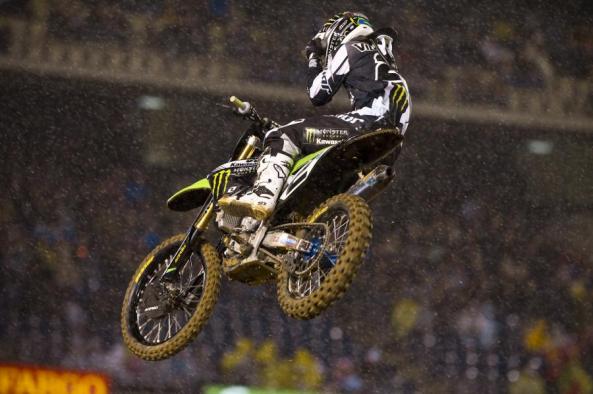 Even in a driving rain, Villopoto looked flawless in his heat race. The main event would not go so well.
Garth Milan photo
America loves a comeback, and as those stories go, this one is pretty good. When the dust, or in this case mud, settled, it was Chad Reed who crossed emerged the victor. Reed, who had to start his own team this year, who struggled through the first few races, who many had given up on, started the race right when he grabbed the holeshot. He led for a few laps before Canard caught and passed him. Then, Canard crashed all by himself, allowing Reed and Stewart to go by. By then, Reed had found his groove and started hitting his marks, pulling out a lead. Stewart wasn't closing on him. In fact, Canard and Dungey were both closing on Stewart, but before they could pounce, Stewart stalled his bike and coughed up a couple positions to Canard and Dungey. Canard then crashed again, and Dungey inherited second place, where he would finish out the night. Stewart passed the downed Canard to take third.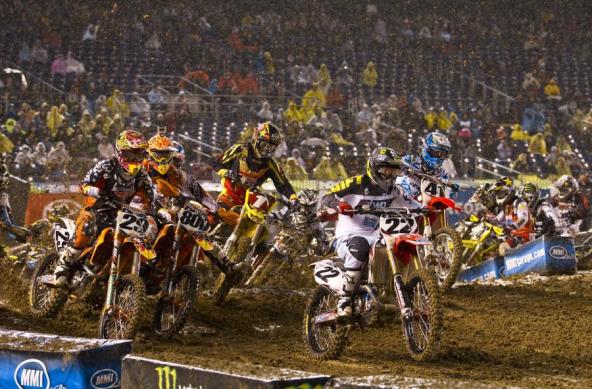 Chad Reed (22)grabbed the holeshot in the SX Main.
Garth Milan photo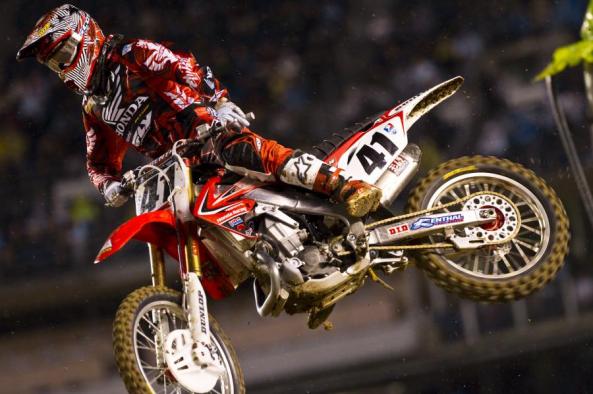 Riding the momentum of last weeks' win, Trey Canard made a pass on Reed and led early. Then he crashed in the mud.
Garth Milan photo
So where was Villopoto in all of this? RV was in a first turn crash, and it was bad enough that when he got going again, he was almost half a track behind the second to last rider. He also lost his front number plate and rear fender. Earlier in the day, Villopoto mentioned how important getting a good start was tonight. Well, he holeshot his heat race and won it, then got a bad start in the main and ended up on the ground miles behind the nearest racer. Turns out these pro racers know a thing or two about racing.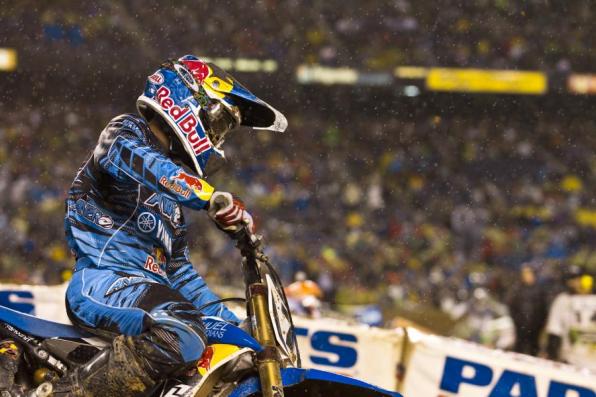 James Stewart didn't have his usual speed, but took third.
Garth Milan
Villopoto managed to charge his way back to seventh, which is a pretty good ride when you consider how far back he was at the beginning of the race. It also allowed him to maintain a slim margin on Stewart in the standings.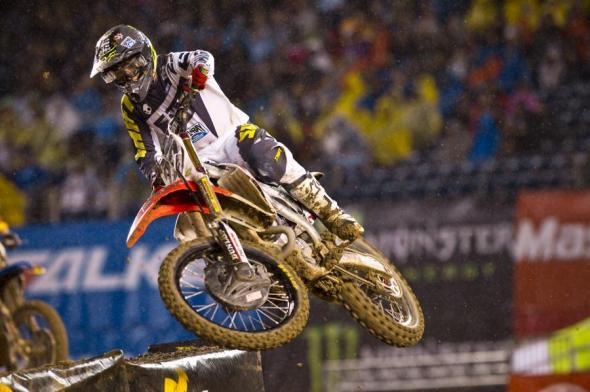 Reed found his groove and logged a solid 20 laps.
Garth Milan photo
Kevin Windham pulled out of this race early after an early crash in the main. He did have a nasty wreck in his heat race that left him holding his wrist in pain. It's very possible that his departure from the race could be related to that crash, although he did dominate the LCQ.
That's it from the night's action here in San Diego. Make sure you visit www.racerxonline throughout the week for more updates, news, and analysis from the race.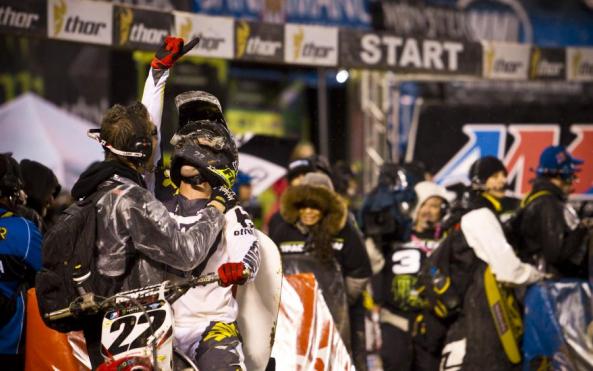 Reed's win seemed improbable just a few months ago.
Garth Milan photo
Results: Dan Diego Supercross
SX Class
1. C. Reed
2. R. Dungey
3. J. Stewart
4. T. Canard
5. D. Millsaps
6. A. Short
7. R. Villopoto
8. B. Metcalfe
9. M. Alessi
10. J. Brayton
11. N. Wey
12. K. Regal
13. F. Izoird
14. C. Blose
15. I. Tedesco
16. M. Byrne
17. M. Lesage
18. A. Stroupe
19. W. Peick
20. K. Windham
Supercross Class Season Standings
1.     Ryan Villopoto, Poulsbo, Wash., Kawasaki – 146
2.     James Stewart, Haines City, Fla., Yamaha – 143
3.     Chad Reed, Tampa, Fla., Honda – 130
4.     Trey Canard, Shawnee, Okla., Honda – 130
5.     Ryan Dungey, Belle Plaine, Minn., Suzuki – 123
6.     Andrew Short, Smithville, Texas, KTM – 95
7.     Brett Metcalfe, Lake Elsinore, Calif., Suzuki – 93
8.     Davi Millsaps, Carlsbad, Calif., Yamaha – 78
9.     Justin Brayton, Cornelius, N.C, Yamaha – 76
10.  Ivan Tedesco, Murrieta, Calif., Kawasaki – 66
Lites Class
1. E. Tomac
2. T. Rattray
3. B. Tickle
4. C. Seely
5. J. Decotis
6. J. Hansen
7. K. Roczen
8. B. Evans
9. R. Morais
10. K. Cunningham
11. A. Balbi
12. M. Davalos
13. R. Smith
14. T. Weeck
15. N. Paluzzi
16. C. Hinson
17. S. Champion
18. T. Bright
19. D. Tedder
20. K. Beaton
Western Regional Supercross Lites Class Season Standings
1.     Josh Hansen, Elbert, Colo., Kawasaki – 128
2.     Broc Tickle, Holly, Mich., Kawasaki – 125
3.     Eli Tomac, Cortez, Colo., Honda – 116
4.     Ryan Morais, Murrieta, Calif., Suzuki – 96
5.     Cole Seely, Corona, Calif., Honda – 88
6.     Ken Roczen, Germany, KTM – 83
7.     Tyla Rattray, Wildomar, Calif., Kawasaki – 80
8.     Kyle Cunningham, Aledo, Texas, Yamaha – 71
9.     Martin Davalos, Cairo, Ga., Suzuki – 69
10.  Jimmy Decotis, Peabody, Mass., Honda – 67