Qualcomm Stadium
San Diego

,

CA
San Diego
Monster Energy AMA Supercross Championship
Good evening race fans, and welcome to this delayed practice report from San Diego. This report comes to you later than normal, because practice itself took place much later than normal; the threat of rain kept the track covered until the last possible second. As a result, free practice was eliminated, although the riders still received two timed practices per group.
The track crew did a fantastic job of keeping the track relatively dry, but just as the first practice rolled out, the rain started coming down. The track tonight features two short whoop sections, a long start ending in a sharp left-hander, and does not have a sand section. There are a few corners that could make for some extremely aggressive block-passes, and if the rain comes back, maintaining momentum through the slick rhythm sections will be key.
The first Lites session saw times starting high, and gradually falling as the riders became more familiar with the track. There was surprisingly little carnage, although Nick Paluzzi did manage to jump over a berm and off the track. The big news from this session was Josh Hansen, who was attacking at first, but later was seen rolling the track with his broken hand hanging loose at his side. He left practice early, and we'll have more on that situation when information becomes available. Tomac set the fast time with a 58.597, followed by Ken Roczen (59.060), Cole Seely (59.628), Tyla Rattray (59.893), Kyle Cunningham (59.917), and Broc Tickle (1:00.146).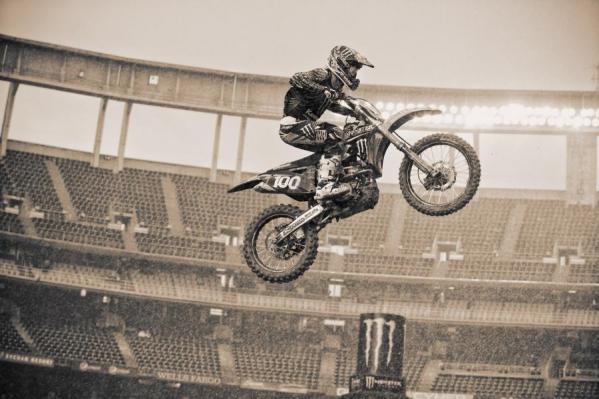 Hansen is still not 100%.
Photo: Garth Milan
The final Lites session was largely uneventful. Roczen set the fast time early on, and the only person to beat it was himself. In the end, he turned a 56.983, followed by Cunningham (57.652), Seely (57.680), Tickle (57.738), Tomac (57.892), Rattray (58.722), and Davalos (58.807).
When the first supercross session started, the fastest time was going from rider to rider so quickly that it was tough to keep track of. Then Stewart jumped into the lead with a 57.403, and for a little while it looked like the time would stand. Then, the times started bouncing around again and didn't stop until the final lap of practice, when Brayton and Reed snuck in for first and second. Brayton turned a 56.313, then Reed (56.475), Dungey (56.687), Stewart (56.687), Short (57.388), Windham (57.439), Millsaps (57.610), Canard (57.618), Villopoto (57.788). Yes, you are reading Dungey's and Stewart's times correctly; their fastest lap was exactly the same in this session!
In the second 450 session, the times didn't bounce around nearly as much. Stewart came out and set an amazing 53.960, and nobody was able to come close for the rest of the session. Villopoto improved his time to 55.263 (which was good enough for second fastest), followed by Brayton (55.646), Canard (55.754), Dungey (55.947), Reed (56.076), Windham (56.167), Millsaps (56.183), and Short (56.512).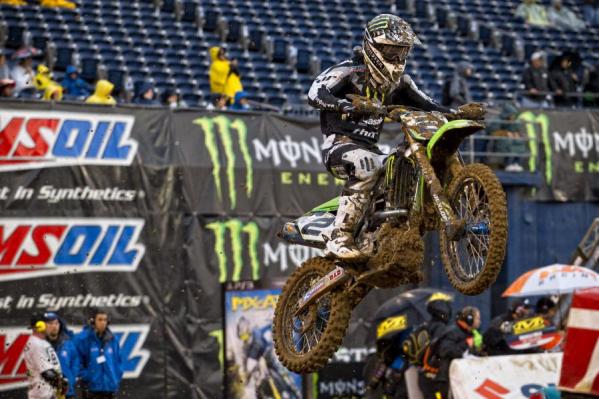 Villopoto set the second fastest lap in practice.
Photo: Garth Milan
The track crew is now performing track maintenance, and if the rain stays away, we should have a decent track for the night show. If the rain returns, a lot could happen. Crazy stuff can happen in the mud, and tonight could serve as a chance for Dungey to make up some points and get back in the title chase. If things go horribly wrong, San Diego could also be the nail in his season's coffin.
The same could be said for Josh Hansen, who impressed everyone at A2 when he gutted out the pain from a broken hand to win the Lites race. If the mud swings things his way tonight, he could retain the points lead. If the mud monster bites him and his broken hand, he could be left with a points deficit with only three rounds remaining in his season.
No matter what happens, San Diego has the potential to be a pivotal race in the 2011 Monster Energy AMA Supercross Series. Stay tuned to www.racerxonline.com, and follow us on twitter (@racerxonline) to keep track of all the action.