San Diego, CA
San Diego
Monster Energy AMA Supercross Championship
Nicknames aren't what they used to be. That's what the editors of Racer X realized when we started coming up with this week's list. Nowadays it seems to suffice when a rider goes by his initials (RV, K-Dub) or some play off his name (J-Law, Metty), but there once was a golden age of nicknames, as you are about to read... And forgive us for leaving off some of your favorites, as sometimes 10 just isn't a big enough list to get all of the great ones in!
10.  CHICKEN: Jeff Matiasevich once killed a chicken when he was young, and the name stuck. He was fast and funny but didn't seem to take the craft of racing seriously enough to win any major titles. Maybe that's why Chicken seemed so perfectly appropriate for this Southern California wild child.
9. ROLLERBALL: Ross Pederson struck fear in the hearts of his competitors. A brawler from Canada, he could ride with just about anyone, and if he couldn't, he would likely try to knock them down. He's the best Canadian rider of all time, and he's got the best nickname to boot.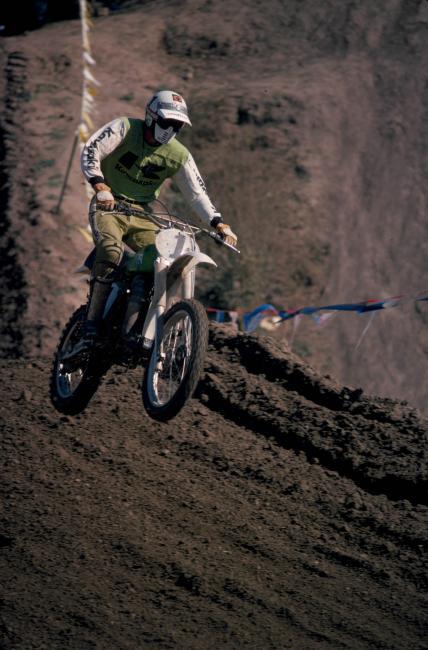 "Jammin'" Jimmy Weinert was one of the first great characters of American motocross.
8. BOMBER: With his open-faced helmet, tight Oakley goggles and Jofa mouthguard, Mark Barnett actually looked like a fighter pilot. He raced his Suzukis to four major titles, strafing the competition in the 125cc class in particular. To this day, riders and industry folks refer to the track-builder as simply Bomber, and everyone knows who they are talking about.
7. JUNKYARD DOG: John Dowd's family business was a salvage yard, and he never lost touch with those roots. Dowd started late, raced hard and become one of the most respected riders in the history of motocross. And every summer, even in his mid-forties, Dowd can get out there at Southwick's Moto-X 338 and show up most pros that are half his age.
6. THE LITTLE PROFESSOR: Gary Bailey was "The Professor," and so it was no surprise that they started calling his son David "The Little Professor." But David was so damn good on the motorcycle, his technique as close to textbook perfect as it gets, that the play on his stepdad's nickname was even more spot-on. We may call him "the Icon" now, but he will always be thought of by his original moniker.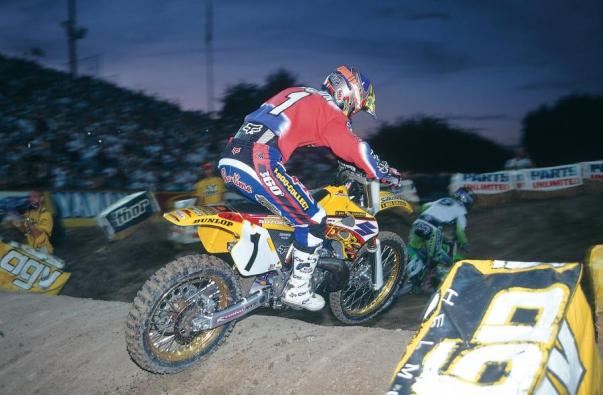 Showtime. Enough said.
Photo: Moto Verte
5. JAMMER: "Jammin'" Jimmy Weinert was one of the first great characters of American motocross. He was a whirling dervish of speed who raced out of New York and into the national spotlight in the early seventies, and then stayed there for a decade. He was tough, he was funny and he was hilarious.
4. DOGGER:  Ron Lechien was often accused of dogging it, but the nickname really came from the fact that le chien means "the dog" in French (and le canard means "the duck" BTW). Lechien was a fascinating rider in the eighties, wildly talented on the track and wildly undisciplined off of it, though few knew that because he was so damned effortless and smooth. And he's still one of the coolest guys the sport has ever known.
3. MAGOO: Danny Chandler's nickname makes those who remember seeing him race think of big crashes, wild cross-ups and amazing speed, all wrapped up in a kind-hearted kid from NorCal. Not sure whether his nickname came from the old cartoon of the nearly-blind elderly driver Mr. Magoo that was always nearly crashing his car and on the edge of disaster, but that fit the late Chandler to a T.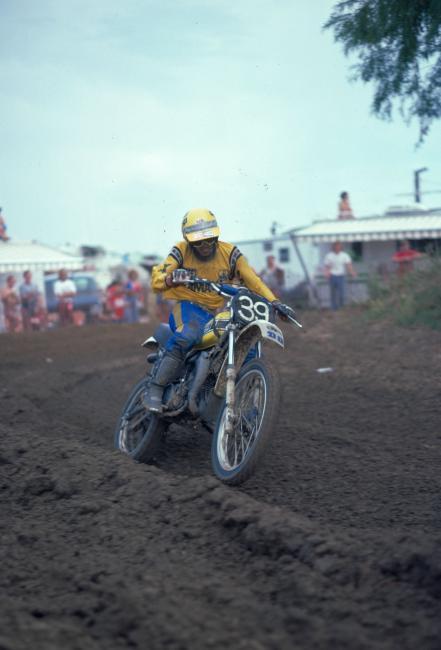 Bob "the Hurricane" Hannah will go down as one of the greatest nicknames ever.
2. SHOWTIME: Jeremy McGrath changed AMA Supercross forever with his charisma, his technique, his showmanship and his dominance, practically taking it upon himself to help carry the sport deeper into the mainstream by being the perfect champion. Even though the entire sport is on a first name basis with McGrath—someone says "Jeremy" and you know who they are talking about—his nickname was perfect for his legacy.
1. HURRICANE: Bob Hannah was showed up on the American motocross radar like a force of nature, blitzing the 1976 Florida Winter-AMA Series on his YZ250s and inspiring Jimmy "the Greek" Giantastis to coin this most fitting of nicknames. Coincidentally, Hannah's friends didn't call him that—they called him Buckwheat!
(Honorable mention: Though he was never a top professional racer, Rick "Super Hunky" Sieman belongs in the nickname hall of fame. The legendary editor-in-chief of Dirt Bike Magazine wore a handlebar mustache and had little patience for things like authority and environmentalists. His columns of the seventies mark a pinnacle of humor in our sport, and he's still out there somewhere, raging against the machine, on his machine. Just wanted to give him a tip of the visor....)