Los Angeles, CA
Los Angeles
Monster Energy AMA Supercross Championship
Hello, everyone, and welcome to the Rev Up. Now things get interesting. After a fairly slow season opener, the train is on its way to full song after a great race in Phoenix. While it was really cool to watch RV Park stalking Bubba Stewart, one of the coolest things to me on the night was the much ballyhoo'd traction control scenario. I wasn't into it because of the legality or performance enhancing possibilities, I was wearing a big smile because the sport is reaching new levels. Let's face it, unless you're a die-hard fan, three hours of supercross isn't the best show on television. Yet! "TV" is what makes a sport great. The NFL, the NBA, NASCAR, any of the big shows are what they are because of the production. There is a reason ESPN can get 50 million people to watch cars go in a circle for 500 miles over four hours. They make it so you know when the drivers are on the gas, brakes, yelling at other drivers, and their crew chiefs... so on so forth. You're virtually in the car.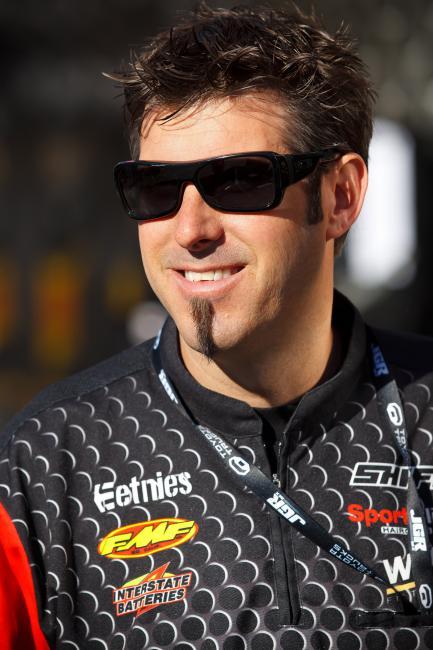 Have SPEED and the JGR boys opened pandora's box?
Photo: Simon Cudby
When SPEED cut to the radio communication with the JGR boys, I think it opened pandora's box of opportunity. We need more of that stuff! It puts the folks at home on the couch, down there on the starting line and into the race. Just that one little sound bite spun the supercross community into a week long, and on-going, chat storm. That is the stuff of a growing sport.

I remember a few years ago somebody laughed at me when I told them the racers should have radio communication in their helmet. Think about how cool it would be to hear Chad Reed talking to himself on the starting line, or while he takes the cross flags. Yes, we are limited because of the incredible concentration it takes to navigate a supercross track, but there is a lot to be heard. Who knows what we would hear if the riders knew they were being heard? It's something to think about and something I feel would make the show even greater than it is.
Kudos and thanks to SPEED channel for giving us live TV.

Ok, enough of that. The racing is getting good. Let's put the balls of the feet on the foot pegs, get the elbows up and get Revved Up for The Los Angeles Supercross!

250
Every racer has a few that get away from him is his career. Broc Tickle let one get away from him last Saturday night. I think he would have been able to hold off Hansen had he not lost the front wheel. That said, Hansen is riding superbly. You really can't teach riding style but take the polar opposite of say, Ken De Dyker and you will see #100 out there flicking it un-turn down style around the track. It's really cool to watch Josh ride.

I think round three will show a different scene. Eli Tomac, and one of the Rockstar Suzuki guys will make a stronger showing for the win this time around. I just have a feeling about that one. I'm not sure what the dirt will be like this weekend, but if it ruts up, Tickle will be even stronger.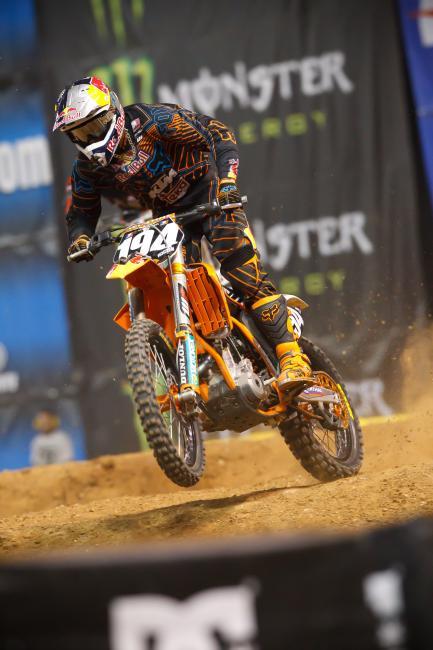 Roczen should continue to improve as the season rolls along.
Photo: Simon Cudby
Man, poor Ken Roczen. Welcome to the show, my man. Sometimes too much, is just too much. Go back to Robbie Reynard, Travis Pastrana and even RickyCarmichael and James Stewart. We always throw our boys to the wolves, 300 style, and hold out breath that they make it back. Pro Supercross is
too much of a mind game for a 16-year-old. They're too thick on adrenaline and too thin on concentration. Make no mistake, young Roczen learned a lot. Take your medicine, bro. 

He'll be back.

450
This deal is about to go nuclear! Don't think for one second that Ryan Dungey has lost what it took to wear the red number plate. If he gets a start, he'll win. The almost forgotten rivalry between he and Villopoto will emerge this weekend as the two will go toe to toe for the victory.

Speaking of rivalry, we heard a little bit of The Thunder rumble last weekend. Chad Reed is probably two or three races away from being a threat to win each time out. All of those guys run on confidence and with it comes the flow. You can tell when Reedy is feeling it. He moves around on the bike a lot more and his corner speed goes through the roof. Get mean out there, two-two and show the kids how you did it in 2003.

And then there is James Stewart. I'm really proud of him for where he has put himself at this point in his career. There was a time when I didn't think he would be able to pull out of the tailspin in seemed he had spun into. The money, the ego, and Ricky Carmichael almost put the racer we used to know as #259 into the shadows. Well, he is here to stay now, it seems, and good for that. Supercross needs James. Can he keep it rolling? (nodding head) He's a bad dude, plain and simple.

Yes, it is still early, but this is a pivotal point in the season. The opening round jitters are out the door and it's time to start taking care of business. Ryan Villopoto and Josh Hansen are the early point
leaders, but can they escape from LA in the fashion they'll ride in? As they say, "that's why they run the races."

Well, my friends. The game is afoot and it's just about to get real interesting.

Thanks for reading, see you next week.