Los Angeles, CA
Los Angeles
Monster Energy AMA Supercross Championship
It's all new for Chad Reed this year; a new team, a new bike and newfound challenges. Reed, who's now tied for third in the all-time SX win list with Phoenix winner James Stewart, came into the opening round feeling confident about his machine and pace, but in the end his fifth looked much better on paper than it was on the track. The Two Two had work to do and not a lot of time to do it in. In Phoenix, his practice didn't go so well but in the main event he charged hard, made a few passes (including one on defending champion Ryan Dungey) and ended up one spot better than last week. His fourth was probably the opposite of last week where you had to be there to appreciate his ride. In fact, e was closing in on Trey Canard at one point. Although he has more work to do, I caught up to him after the race to find out where he stands.
Racer X:  Hey Chad, good ride at Phoenix. That's more like it, huh?
Chad Reed: Getting there. Not quite where I want to be yet, but I learned a lot last week and we worked on things this week. As a matter of fact, we were working on things even today. You know, I didn't feel like I looked as bad as my times were in practice (Reed qualified eleventh) so I had a good feeling going into tonight. I got jacked on every one of my fast laps and wasn't able to lay it down out there. We made some suspension changes also, but at the same time it doesn't feel good to be eleventh. I just never got a clean lap when the track was its best. Can you talk to the AMA? I don't like those free practices, why do they have those anyways?
Because if you go out there and have a bike problem, you can get it fixed and not lose a whole timed practice.
Yeah, I guess, but I think it's a waste of time. Maybe they should give the privateers…wait, am I not a privateer?
No you're not.
Why not?
Because you're not. I don't have enough time to list all the reasons.
I buy everything on my bike, so just because I am well enough off and can buy a semi and all that, I'm not a privateer?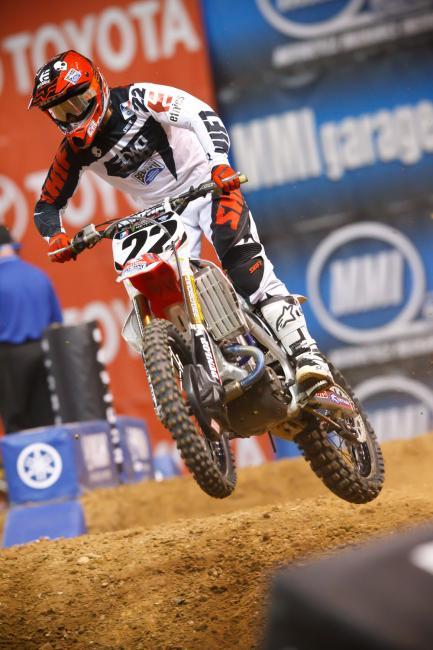 Reed is a privateer this year, for the first time in a long time.
Photo: Simon Cudby
Fine. You're a privateer then. In the main event, you were coming through the pack and actually catching Trey Canard; were you marking your progress?
Oh yeah, I could see him and I could also see that (Ryan) Dungey was behind me also, but with the way the track was, I knew he wasn't going to get by me. Every time I hit a lap decent and didn't get caught with lappers, I would pull him. I was watching Trey and I was hoping he would have some problems with a lapper or he would try to pick it up and wash his front end out or whatever [laughs]. No, but I felt good. I felt like I was in the battle the whole time, not the battle that I want to be in yet, but a battle anyways. It was so much better than last week when I was just riding out there alone and there was all this hype for the first race and there was no racing going on!
I think the Dirt Wurx guys did a fantastic job with the track and finishing it. It's Phoenix, what are you going to do? You know the track will dry out. I don't like the fact that there wasn't any passing spots out there. Overall, they are doing a great job and it was a good weekend. We learned some things last week and put them into play this week and it helped out. We'll continue to learn as we go and continue to try and get better. We have some great plans that Mitch (Payton) and Bones (Bacon) are putting together, some new exciting people to work with and it should be great.
Did you see Dungey and (Justin) Brayton hit in the air over the triple when they both passed you?
No, I didn't. That sounds sketchy, that was one of the reasons why I didn't go for the triple. It was a little sketch and I saw (Ken) Roczen come up short and that didn't look like fun. Yeah, both of those guys got by me right then and then I got them back the next lap which was cool. You had to be patient yet you had to be aggressive. It was a weird deal.
One of the things that made me think you were on your game was the fact that near the end of the race, you were still jumping that triple onto the tabletop where others had stopped doing it completely.
I felt that as the race went on, it was coming back to me. I don't know why I felt like that because I raced in November and it wasn't that long ago. Yeah, it was Australia, but it still was good. I don't know why I'm having trouble getting into the race pace so far this year. I've been in some race environments! But then you look at RV and James and they've been out of it longer than me, so I don't know, maybe I'm just being a pussy or whatever. I'm starting to get back into it. I liked the sand, though. If you're going to make a one-line track then make it all sand.
I would say that my weakness as a rider over my whole career is riding on racetracks that were like tonight where you're racing for a tenth here or there. I like tracks that are more wide open. My eyes would just light up every time I came around to that sand section.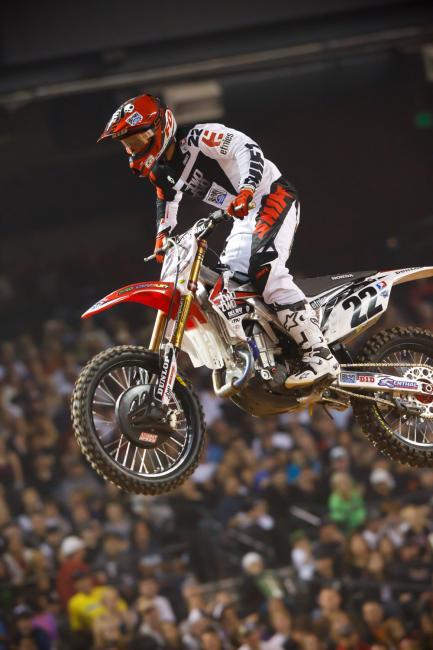 Reed is getting more and more comfortable on the Honda.
Photo: Simon Cudby
I thought your bike looked soft last week. Did you stiffen it up or am I wrong?
Honestly, we didn't make a whole lot of changes. We had a little stiffer front fork, not a lot. I think last week I rode horrible and I didn't do it justice. We found some things this week, a shock part that we were previously using and we tried it and found some results…
A shock shaft? Where we going with this?
A spring, actually. A titanium spring from a different company. Really surprised, I would have bet my house that we made more changes than just putting a spring on, it was that much better. We didn't get crazy this week, there was no panic. I knew that I was OK and you don't spend the last three months training and riding to just throw it away at the first race. We're trying to make the learning curve as short as possible. The people that I'm going to work with this week are going to make it interesting and we'll get out to the Honda track and work with those guys. I'll get out there with Trey (Canard) and the boys. I think he's a good kid, he's focused and going for the same goal I am. It's nice to have that kind of mentality out at the track. So we'll get out there and battle and do some starts together and try to get those better and battle for podiums and race wins.
I haven't gotten too much into it, but tonight there was a lot of talk about traction control devices and data acquisition devices on the bikes. What's your take on all that?
I personally think the AMA should do what they did with road racing and just allow it. I can tell you that every race team I've been on has had it to a certain extent and it's not illegal. I heard that L&M had wheel sensors or something like that and I'm not sure if that's legal or not. I'm a privateer and I have assistance and I'm a privateer. GET sells it as a kit, it's available to everyone. You can buy it. Your stock bike has it in its ignition, and ever since Suzuki I've had all that stuff available. The sensors on the wheels make me nervous though, and that's traction control. You're pulling from the front wheel to the rear wheel and that's traction control and isn't right. I looked at Stewart's bike and didn't see any sensors. Ellie said she was watching live TV tonight and RC was saying something about it.