5 Minutes With... Jeff Gibson
As a long time journeyman racer, Ohio's Jeff Gibson is well known for his passion for racing, fan interaction, and Christian faith. More recently you can add Arenacross skills to this list. In what was basically his first full season of AMA Arenacross in 2009, Gibson took the championship. While Gibson may have struggled somewhat early in the 2010 season, by series end he was returning to form. Now in 2011, he looks to be exactly where he belongs after winning the series opener in Tulsa, Oklahoma. It was just minutes after the race when we caught up with the 28-year-old to congratulate him.
Racer X: Jeff; great way to start out a new season – congratulations!
Jeff Gibson: Thanks, Jim. Yeah, it was a truly great way to begin 2011. Actually the whole night went very well. I felt good all day. In the heat race and the Dash for Cash I didn't have the best of starts, but in the main event I got the holeshot and that really helped a lot. What else can I say, I'm just very pumped and excited – I'm on cloud nine right now.
What were your thoughts coming into Tulsa?
Being that it was the first round I came in with the mindset that you can win it, but also that you can lose it and hurt your chances for the entire series. You cannot win the championship in this one race, but you can definitely lose a championship. I just wanted to do my best possible. I didn't really know what to expect. I have been doing a lot of work, and training, so I felt good – but didn't really know where I was at. So tonight was really good as I could see where I was at, and how I stacked up with the other riders. It turned out to be a very good night, so I'm very thankful for that.
It's kind of funny Jeff, as the last time we spoke it was just after you took a win at the series opener - two years ago in Grand Rapids, Michigan.
Well I didn't actually take the win there--that was a two-night round, but I did come away with the point's lead – still it was a good weekend there.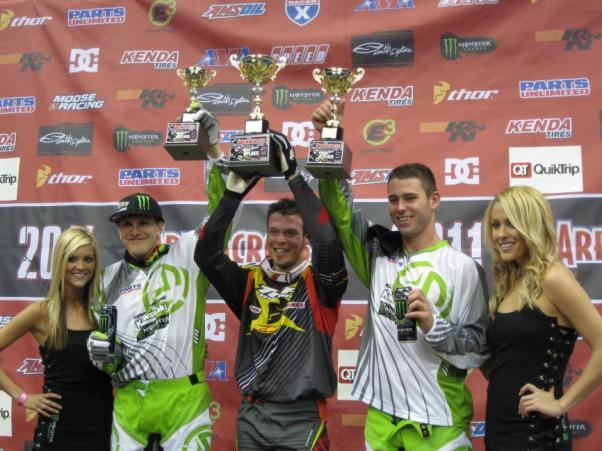 Gibson returned to form in Tulsa, grabbing the season opening win.
Photo: James Kimball
I am not sure the best way to word this Jeff, but last year as the defending champion, you just seemed a little off pace.
Yeah, last year I initially rode the 250, which I truly believed that I was faster on – and my lap times while testing confirmed it. But later I found that in certain race situation, like if I was stuck behind some lappers or trying to come forward after a poor start, I just needed more power - still, our 250 was very, very good. Looking back, it probably was a bad decision to start with the 250, but we learn from those mistakes and just move forward.
You've returned as a member of the Tuf Racing Honda team this year. Is the bike very different than your '09 or '10?
Our Tuf Racing bikes are very good, the Factory Connection guys do an awesome job with our suspension without a doubt, and our motors are great. The 450s were great good last year, but it just took me a while to get back into the groove of riding a 450. Once I got used to the 450 I was getting some holeshots, and riding pretty well. Overall, I just love my Hondas. I think it's a bike that really suits my style.
With living in Ohio, have you been staying anywhere else this winter?
Actually, the weather has been pretty good in Ohio. The fall was nice, and the winter has come pretty late, so no, I have been staying at home in Ohio. I was able to get a lot of the pre-season testing and practicing done there due to the mild weather. I did spend a week in Georgia riding, but really other than that I've been in Ohio all this time. I feel great on the bike and very comfortable on it. I'm ready for next weekend.
With that said, how do you view the rest of the series?
I'm just going to take it one race at a time. It's a long series, and I'm really going to take my time with everything. I'm not thinking about the championship now, I'm just focused on each race.
Thanks, Jeff. Before we finish, is there anything that you want to add?
Yes, I'd really like to thank the Tuf Racing team; they are doing an awesome job, and to Factory Connection for doing our suspension. I'd also like to thank Thor, UFO, Gaerne, and all our other team sponsors. Finally, I'd like to glorify God as he is the one out here keeping me safe and watching over me.