JDR/J-Star/KTM Race Report
Anaheim, CA
– The JDR/J-Star/KTM Racing Team of Tye Simmonds and Ryan Marmont debuted at its first U.S. Supercross race at the opening round of the AMA Supercross Series at Angel Stadium.
In his first Supercross attempt, Simmonds used the first practice to dial in his bike and reported that he felt very comfortable on his KTM 350 SX-F at the end of the session. "It was the second session where it set me back a bit. The track was rough and rutted and it was very hard to get a good time. I struggled in the second practice," stated Simmonds.
The third practice was the best for Simmonds who turned his fastest lap time. Simmonds qualified 22nd fastest in combined qualifying. "My goal tonight was to qualify into the main event and after practice I felt confident I could achieve that with lap times just outside the top twenty," remarked Simmonds.
Simmonds was placed in Supercross class heat number one where he suffered a horrible start. "I was 18th around the first corner, almost nearly last! But a large group of riders fell on the first lap and I was able to sneak by and move into 13th," stated Simmonds. He continued to push and moved into the top ten. "I didn't realize I was in 10th on the last lap and I didn't push as hard as I should have." Simmonds ended up finishing 10th in his heat just one spot shy of qualifying.
Simmonds reported to the LCQ for the final attempt in making the main. He had a decent start inside the top five but unfortunately only had six laps to make his moves. He did move up in position but not enough. He finished 4th in the LCQ, missing the final transfer spot by two positions. "I have to keep reminding myself that this is my first U.S. Supercross as well as the teams and that it will take some time to adjust. My goal was to qualify tonight and I fell short of that but it will just make me work that much more for it in Phoenix," stated Simmonds.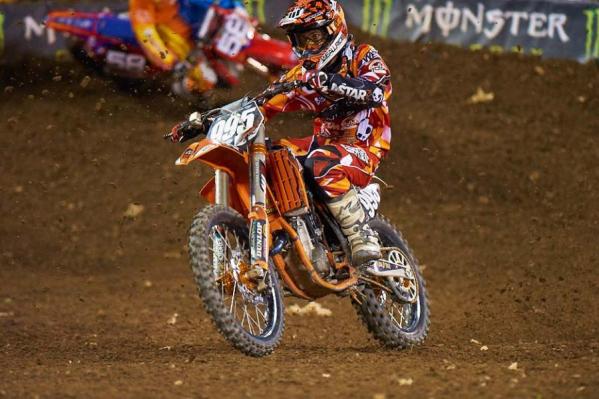 Marmont had a more fortunate night in the SX Lites class. Marmont, who is known for his excellent starts in Australia, definitely continued his streak here. The night started well for him in his Lites heat where he had a 4th place start and held the position four out of six laps. On the fifth lap Red Bull/KTM Factory Racing Team rider Ken Roczen got by. Marmont made a mistake with one lap to go and got passed by a few other riders but eventually finished a solid 6th place to qualify into the main event.
As the gate dropped for the main event, Marmont got off to another great start rounding the first turn in 6th position. Marmont held that position for the first lap before dropping back to 11th by the end of the third lap. "My weakness is my speed right now. My bike is great and my fitness is great but I need to pick up my speed and intensity to run the pace of these guys," remarked Marmont.
After a good run in the SX Lites class, Marmont eventually finished in 14th overall. "My goal was to make the main tonight and work toward a top fifteen finish. So far I am two for two, so I am feeling pretty happy right now."
Next Event: Phoenix SX – January 15, 2011
Overall Results

Ken Roczen – KTM
Ryan Marmont – KTM
Cody Gilmore
Bruce Rutherford
Travis Bright