Nathan Ramsey only recently retired from full-time competition. The Tennessee native raced professionally from 1994 through 2009, and despite a a late start in the sport, he still managed to have a very successful career. While many top-level riders step away from the sport and into retirement, Ramsey has landed a new gig as a team manager for an established (in Australia) team and is now in the unique role of building a racing program. We spoke with the former West Region Lites Champion as he was toiling away in his office at his new team race shop for today's Where Are They Now, presented by Bob's Cycle Supply.
Racer X: Nate, can you tell us about your decision to retire in 2009?
Nathan Ramsey
: Well, after I left Team L&M in 2008, I wasn't really sure what the plan was. I still wanted to race but felt that I needed top-level equipment, and at the time there were no rides. So I started training
Blake Baggett
and
Michael Leib
and just making sure that I stayed in shape. A few races into the 2009 season, the guys from JGR contacted me after one of their existing team riders got hurt, and I got to fill in for seven races with them. I pretty much knew that was my last deal, and I made sure to put in a full effort. I definitely made the most of that opportunity. Lining up at that final race in Vegas was special – I knew it was my last ride. I remember sitting on the line for the main event and just taking it all in, thinking about my career. I had been riding pro for nearly fifteen years, and I felt good about taking the next step in my life. I really need to thank the JGR guys for giving me that opportunity, and allowing me to close that chapter of my life on a high note. I feel really good about how things came to a close for me.

As you look back, what were some of the highlights and cool moments?
Wow, there are a lot! For sure, winning the 1999 West Coast Lites Championship stands out, as did the win in 2002 at Pontiac, which was the first supercross win for Honda's new four-stroke. I never did win a national, though. I think my best finish was a second or something. But really, that win on the Honda was a cool deal. Four-strokes were just coming in then, and it opened a lot of doors for me with factory rides. I was the first rider to race a number of bikes that were new to market, including the YZ250F, both the CRF450R and 250R, as well as the KTM 250 four-stroke.

Is there anything else about your career you think people didn't know, or would find interesting?
One thing people might not know is that I got a late start with racing. I started trail riding as a kid, and when I was 12 I raced a few local races back in Tennessee. But I broke my leg real bad after three races, and that kinda spooked me. I stepped back from the sport for a little bit and wasn't sure it was something I wanted to do. But by the time I was 15, I was totally back into it, although I was suffering a little bit in the confidence department. I was able to find motivation in the fact that I got a late start and channeled that lack of confidence into motivation. My parents instilled a strong work ethic, and basically, that's what I drew on. I just kept working on my skills, learning, and moving up the ladder of results. I think my first [factory] ride for Suzuki in 1997 or whatever was a real eye-opener for me, and I didn't do so well. I had just moved to California and things were kinda crazy. The following year, I moved over to Pro Circuit and that's where I was able to finally put things together - and managed to win a eventually win championship.

What was it like working with Mitch, and how was your time there?
[Laughs] It was gnarly compared to what I was used to at that point in my career! I had always wanted to win, but Pro Circuit was where things really came together for me. Riding for Mitch is a lot like some of the stories that you hear. There were times that I felt that no matter how much effort I put in, it just wasn't enough for him. There was a point early on where I just couldn't stand him, and I don't think he could stand me. We didn't really understand each other, and it reached a boiling point. We got it sorted out and our relationship did a complete 180-degree turn. He started to use me for testing and I really grew from that experience. Mitch is the kind of guy that gives it his all, and I learned how to do the same, and in a way that worked with him. I was able learn so much during my time at Pro Circuit and translate that onto many of my other rides. It was a really good experience for me.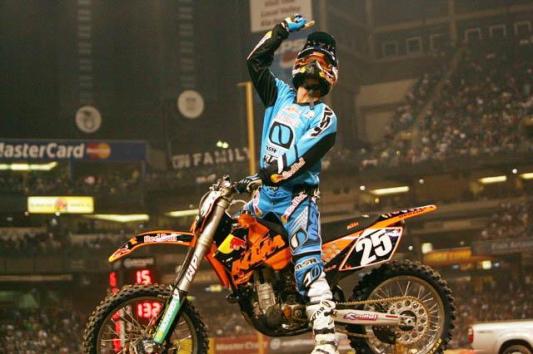 photo: Courtesy KTM

So that brings us to today. What is freshly retired Nathan Ramsey doing today? I assume your AARP discount hasn't kicked in yet...
Well, I have a pretty cool deal, actually. I'm team manager for the new [to America] JDR Motorsports KTM team. Basically, I'm working on starting up the American division for a team that is already established Down Under. Jay and Derek Rynenberg are the KTM importers for Australia, and they've had a program going for a while. About eight or nine months ago, they decided to expand and bring the effort to the USA and asked me if I wanted to manage it. So I've had to get it all going, including getting all the structure in place, such as the race shop, team transporter, and all the details that come along with that. The JDR guys are serious about this - we will have two mechanics, two riders, a crew chief, myself, and two marketing people, and we're fully committed to being successful both on and off the track. Because of their established KTM business in Australia, we're already enjoying really solid support from the factory.

Which riders will be under your canopy?
We've already contracted with PJ Larsen and Tye Simmonds. Simmonds is a highly decorated Australian rider who has a very bright future and is on his way up. Larsen, our American guy, had a strong amateur career but had a rough start to the pro leagues. He spent some time racing in Australia and has done very well with that. Basically, this allows our guys to come a little under the radar. We have also hired Vince Bereni as a crew chief, and he has been a huge help for me on the technical side. The plan is to build a team here in the U.S. that will be around for a long time, and we have a three year deal with KTM here in the states. This isn't a here today, gone tomorrow team, and the owners are totally dedicated to success in America.
photo: Simon Cudby

What about life outside of racing?
I've been married for eleven years to my wife, Monica, and we have two kids – our 10-year-old daughter, Tatum, and our 8-year-old son, Tyson. We live about fifteen minutes from our race shop in Menifee. The shop is in Murrieta, and we're planning to stay put in Southern California for the future. I do miss Tennessee, but my life is now out here in California, and there is just a lot more opportunity out here. Plus, Monica has a ton of family in the area. I pretty much moved out here full-time in 1997.

Well, congrats on the new team. It sounds like you've made a smooth transition from the racetrack to a new career, which isn't always easy. Good luck with the new program.
Thanks. See you at Anaheim!

Have a rider you want to see profiled? Drop me a line at nick@mxsports.com.