Happy Thanksgiving weekend. Racerhead is coming to you from the Big Easy this time around, as my mom and wife and I are headed to New Orleans to visit some family friends over the holiday weekend, and then also visit with Kevin Windham in Mississippi for his annual Party in the Pasture, which will feature acts like country star (and moto head) Craig Morgan. K-Dub lives in Mississippi, which means I can mark another state off my list of places to visit. I now have seven to go: Alaska, North Dakota, South Dakota, Montana, Maine, New Hampshire, and Vermont. It should be a lot of fun. But first, some not-so-fun stuff.

For the second week in a row, we have to start with a farewell. Last weekend, while the motocross world was mourning the passing of Eyvind Boyesen, word came out of California that another member of the motocross fraternity was no longer with us. Rich Eierstedt, a charismatic member of the mighty Honda factory teams of the mid-1970s, passed away in his sleep. Eierstedt was on the Big Red Machine in the days of Marty Smith, Pierre Karsmakers, Tommy Croft, and more. He won a couple of 500cc AMA Supercross races, and he was always a good bet to win the 250cc Support class races during the late, great Trans-AMA Series.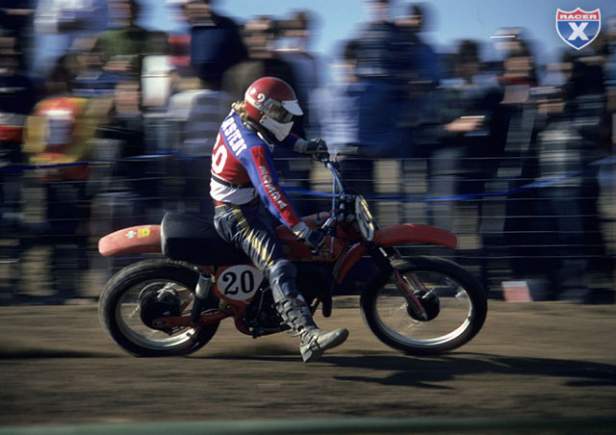 Rich Eierstedt (1954-2010)
Photo: Dick Miller Archives
But Eierstedt also had his fair share of problems off the track, stemming from a long battle with alcoholism. His results suffered after he left Honda, bouncing around to a series of waning teams: Harley-Davidson, Bultaco, Can-Am. He was done by 1980. In the three decades that followed, Rich drifted in and out of the sport, often supported by the MXA gang and Jody Weisel, who did his best to help Eirerstedt out as he tried to stay sober. He couldn't, and a recent relapse left his system weak enough that he fell asleep on the couch one night last week and never woke up. Godspeed, Rich.

And then on the eve of Thanksgiving, Doug Henry and family lost their Connecticut home in a fire.... How much can one family take? When someone gets a fundraiser or donations going to help the Henry family in this terrible situation, count us in. I imagine that every person in the motorcycle industry who's ever had the pleasure of knowing or working with Doug feels the same way.

It was our publisher, Scott Wallenberg, who told me the news of all this on Saturday afternoon, during the AMA Amateur Racing Awards banquet at the very trendy and cool Red Rocks Resort on the outskirts of Las Vegas. We were sitting at the very back of a very packed room, in which the AMA was handing out all kinds of #1 plates and honors to people who race and work around the sport. Rookie-to-be Jason Anderson was there to accept his award from Loretta Lynn's as Amateur Athlete of the Year, as he was the winner of the AMA's Horizon Award at Loretta Lynn's. AMA Amateur and FIM World Champ Jake Pinhancos, plus other LL champs like Cooper Webb and David Jones—the KX125 rider from Cleveland who overcame bad starts and some serious horsepower disadvantages to just plain out-work everyone in the Vet +30 B/C class. Look for more on David in a future issue of Racer X.

I didn't know John and Rita Gregory that well—their JT empire was on the wane by the time we got The Racing Paper going, and all of my resumes in the hopes of getting gear while I was racing never made it far up in their support department. That's because the names they had really didn't need a backup presence on the East Coast amateur circuit! Marty Smith, Bob Hannah, Broc Glover, Kent Howerton, Jeff Ward, Danny LaPorte, Chuck Sun, Donnie Hansen, Johnny O'Mara, David Bailey, Rick Johnson, Ron Lechien, Marty Tripes, Scott Burnworth, Jean-Michel Bayle, Mickael Pichon,
Tim Ferry
, David Pingree, Mitch Comstein, Johnny O'Hannah,... Everyone who was anyone rode for JT Racing.
So what happened? In my opinion, they had grown to the point where they took their eyes off their core product and starting getting into paintball gear, just as AXO was starting to ramp up its efforts through a catalog push and very slick advertising, and Greg and Pete Fox were graduating school and starting to have input on the direction of
Fox Racing
in the mid-eighties. Both AXO and
Fox Racing
took off as JT Racing started losing sight of what made it so successful in the first place. The Gregorys soon left the sport, more or less, and the brand started to wane. But to hear them both talk about the glory days of their game-changing company was priceless. And see Broc Glover come out in his still-perfectly-fitting '85 JT Racing threads to introduce John and Rita was just awesome.
And don't forget that this weekend is the final round of Competitive Edge Motocross Park's four-round amateur supercross series under the lights. Go to
www.ridecemx.com
for all the details.
Killy Rusk got
Broc Hepler
's #60 for 2011. Learn more about Killy by watching this video:
HERE
Just in time for the holiday gift season, New England Photo Ace Paul Buckley has updated his classic prints archive, and the shots are worth a look, as there are some epic shots from every era, with a nod towards the 1990¹s and his neighbor Doug Henry:
HERE
On Any Sunday is in the 99-cent rental section of iTunes this week (as of 11-24). It's $9.99 to buy.
If you're a Heikki Mikkola fan like we are, you're going to love checking this website out:
HERE
Mikkola was my personal favorite rider of the seventies, along with his great rival, Roger DeCoster, and the star-crossed Czech rider Jaroslav Falta, so every time I happen on some new data or photos on the Flyin' Finn, it's a good day. Thanks, Herr Wallenberg!
Wait, there's more! Dueling Mikkola websites:
HERE
Looking for something off the beaten path to watch? Check out etnies' Kyle Loza and Todd Potter passing the mic and interviewing each other. There's some juicy stuff in there. Todd Potter doesn't like to bathe because he has aquaphobia? Is that even real? See for yourself:
HERE
.
5 IMs with... Mike Fisher
The Monday morning instant message gab session went as such:
Here's some first-head footage of RXI designer Mike Fisher racing in Colorado last weekend. Mike finds time racing and trail riding in between going to school full-time, working full-time, and partying part-time. Ahhh the things you can do when you're 22...

David Brozik interviews Fish for this piece as it aired on his screen: