Spy Photo: Vegas EnduroCross Track
Vegas' Orleans Arena track will have riders shaking their heads, wondering if they can make it around

IRVINE, Calif. – Here's a spy photo and some quick notes on this Saturday's (Nov. 20th) GEICO AMA EnduroCross, presented by E3 Spark Plugs, final at Las Vegas' Orleans Arena.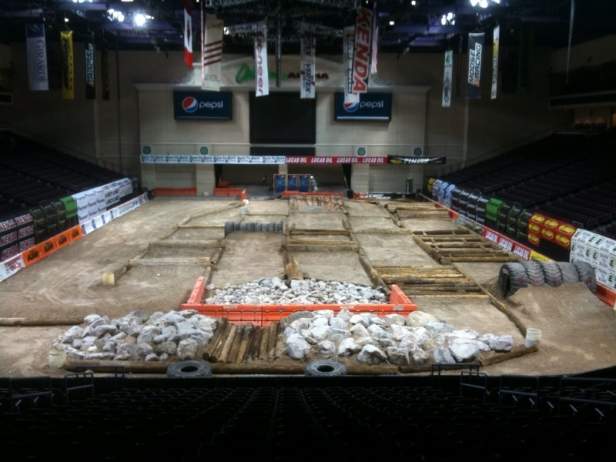 VP of Events for Source Interlink Media, Mike Karsting, said his team pulled out all the stops to create an off-road battlefield worthy of deciding the 2010 GEICO EnduroCross championship and closing the season on a note that'll have fans buzzing over the winter months in anticipation of the 2011EnduroCross season.

Amongst the giant fallen sequoias and other hefty logs, misplaced boulders, sand pits and other treacherous features long associated with GEICO EnduroCross, Karsting said that they've added something to the Vegas/Orleans track that riders haven't seen throughout the seven-year history of the sport.

"We actually put a turn in the pond," said Karsting with a devious chuckle. "They'll have to cross or jump a log going in, ride up over another log in the middle of the pond, then negotiate a right hand turn before riding up and over another log to get out.|

"Guys will for sure be shaking their heads on the track walk over this one!"

Another feature sure to give everyone fits will be the massive boulder pile where, for the sixth and final round, riders will drop down into the obstacle and have to cross logs in the middle section before climbing back out on more rocks.

"That one's going to be real tough as well," added Karsting.

Along with usual standing giant tires, rail road tie crossing and a jagged rock quarry corner, riders will have their hands full.

Doors open at 6 p.m. and racing gets underway at 7:30 this Saturday!

TICKETS ARE STILL AVAILABLE … for the upcoming Nov. 20th GEICO EnduroCross finals at Las Vegas' Orleans Arena. Link to www.endurocross.com for details.

GEICO EnduroCross on the Lucas Oil Motorsports Hour on Versus:
Event / Date / Arena Air Date / Time Re-Air Date / Time
Denver, CO 10/30/10 - National Western Complex: 12/12/10 5:00 PM 12/15/10 5:00 PM
Las Vegas, NV 11/20/10 - Orleans Arena: 12/19/10 6:00 PM 12/23/10 5:00 PM
Note: All times are Eastern

EnduroCross tracks incorporate various elements of off road racing into a supercross-style setting, including rocks, boulders, logs, sand, mud, a water-hole… and even a few special obstacles like giant tires thrown in! Known as the "toughest racing on two wheels," this indoor version of extreme off road racing will certainly keep you on your feet. With its excitement and unpredictability, the EnduroCross championship has always down to the wire and this year will be no different as the series starts and finishes at Vegas' Orleans Arena! Don't miss your chance to see GEICO Powersports AMA Endurocross "Live."