SprocketList.com & Racer X Giving Away Rolling Tool Chest
Custom, high end Snap-on, Inc., rolling tool cabinet, wrapped in Racer X logos and an action motocross image on the front, is valued at nearly $3,000!
NORTH ADAMS, Mass.
– Powersports classified site
SprocketList.com
, part of the Raceway Media network of classifieds websites, has teamed with Filter Publications – publishers of Racer X & Road Racer X – to give away a custom, high-end Snap-on, Inc., rolling tool cabinet (valued at $2,895) to a lucky supercross fan attending (or following online) the opening rounds of 2011 Monster Energy AMA Supercross, an FIM World Championship.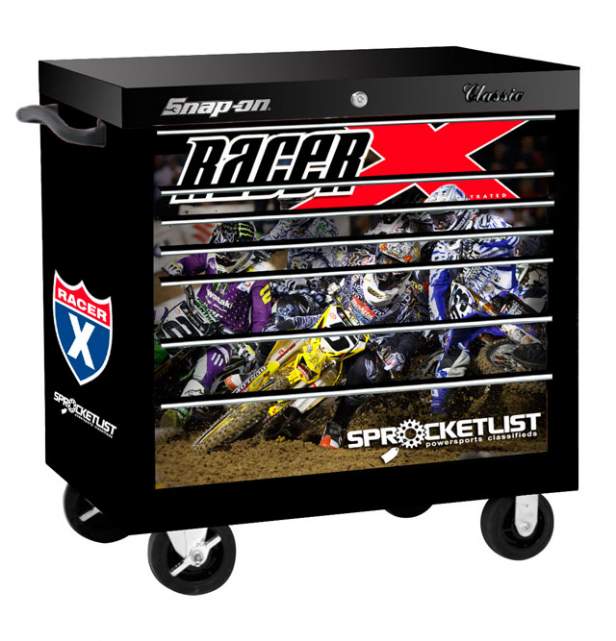 From the global leader in tool storage, boasting the
most valued productivity solutions in the world
, Snap-on's custom seven-drawer Heritage line rolling tool cabinet is wrapped in action motocross graphics, giving it a 'magazine cover' look up front, along with running the iconic Racer X shield on the sides. A "must have" for any off-road motorcycle enthusiast who knows the importance of proper tool storage, the custom Snap-on rolling tool cabinet is set to be the first in a long line of promotions between
SprocketList.com
and Filter Publications.
"We're celebrating the beginning of what we're confident will be a long term relationship with the media leader in the motocross industry – Racer X," said Joe Tripp, formerly the Executive Director of Digital Operations at SPEED Channel and now President of SprocketList.com. "This spectacular co-branded Snap-on rolling tool cabinet comes courtesy of SprocketList's online partner in the automotive classified world, Raceway Media Group's
RacingJunk.com
.
"SprocketList.com is pumped to be able to offer promotions like this to the off-road motorcycle industry with our new partner, Racer X."
The contest is open to everyone, with those in attendance at Monster Energy Supercross' first four rounds being able to sign up at the Racer X booth, a popular destination in and of itself beginning at Anaheim (Calif.) 1. East Coast supercross fans – along with those not able to attend the live supercross events in person – are welcome to sign up online at
www.sprocketlist.com
The winner of the SprocketList.com/Racer X Snap-on custom rolling tool cabinet will be announced at Round Five of Monster Energy Supercross at Anaheim's Angel Stadium.
For more information on the SprocketList.com/Racer X Snap-on custom rolling tool cabinet contest, visit either SprocketList.com or Racer X's websites.
Launched this past September, SprocketList.com offers powersports enthusiasts a free, easy-to-use platform for buying or selling motorcycles, ATV's, snowmobiles, personal watercraft and associated gear, parts and accessories. For a small fee advertisers will have the ability to upgrade their ads to include premium features or to reserve a premier position on top-level pages. Ads placed on SprocketList will be visible throughout an entire network of classified sites powered by the same core technology and database, affording unparalleled reach and success.
The approach is a proven success model. Raceway Media Group, previously focused on the auto racing segment, has built a network that boasts nearly 1 million unique visitors and more than 70 million page views per month. Its myriad partner sites include marquee names such as ESPN Outdoors, SPEED.com and Autoweek. RacingJunk.com, its core property (and sister site to SprocketList.com), is the world leader in online four-wheel motorsports classifieds.
About Filter Publications Inc.
Filter Publications, Inc. is a leading motorcycle-related publishing company that publishes twenty-nine books per year, as well as various websites, including the industry-leading
RacerXOnline.com
. The company is based out of Morgantown, West Virginia, and has been publishing in the motorcycle industry for more than twenty years.
Snap-on Incorporated is a leading global innovator, manufacturer and marketer of tools, diagnostics, equipment, software and service solutions for professional users. Products and services include hand and power tools, tool storage, diagnostics software, information and management systems, shop equipment and other solutions for vehicle dealerships and repair centers, as well as customers in industry, government, agriculture, aviation and natural resources. Products and services are sold through the company's franchisee, company-direct, distributor and Internet channels. Founded in 1920, Snap-on is a $2.8 billion, S&P 500 company headquartered in Kenosha, Wisconsin.

About Raceway Media: Raceway Media is a multimedia technology company with expertise in creating online marketplaces for passionate enthusiast groups. We utilize proprietary technology that allows us to integrate our online marketplaces into partner websites including ESPN, SpeedTV and a number of sanctioning bodies and tracks nationwide. These external sites easily incorporate the highly modular and scalable marketplaces within their own websites. Raceway Media has a growing list of prominent clients and partners.
About Sprocketlist.com:
Sprocketlist.com
is an online classified advertising website focused on the powersports market. It is built on an already-successful technology and network of online classified sites that garners nearly 3 million visits per month.
Sprocket Media Group, LLC
106 Main Street
North Adams, MA 01247
(866) 326-9227