Thursday Rev-Up: Veteran's Day
Hello, everyone, and welcome to the Rev Up. Today is a somber holiday, yet it serves as a reminder to celebrate our freedom. Veterans Day hits very close to me in a couple ways. For starters, the first "All Veterans Day" celebration took place in my hometown of Emporia, Kansas. The date used to be coined Armistice Day to recognize World War I soldiers, but a local Emporia man lobbied to congress to alter the day of remembrance to honor soldiers of all foreign wars and conflicts. In addition, both of my grandfathers served in the armed forces. My Grandpa Tomson was in the navy and would tell us stories about being stationed in Oakland, California, and the first time he boarded a ship. He saw footprints all the way up the side of the hull, and with him being a landlocked Kansas boy, he wearily asked, "How could those footprints have possibly reached that high on the side of the ship?" To which his superior coldly replied, "You'll see." My Grandpa Bowyer was an officer in the army in WWII. He earned a Distinguished Service Cross for valor when he and his men overcame a German heavy machine gun to capture a muddy and snow-covered position in France. I have a steadfast appreciation for our veterans. I visited Arlington National Cemetery and have seen the Changing of the Guard. Our vets have allowed us to live the American Dream and have provided a platform for a couple motocross related stories I wanted to touch on this week.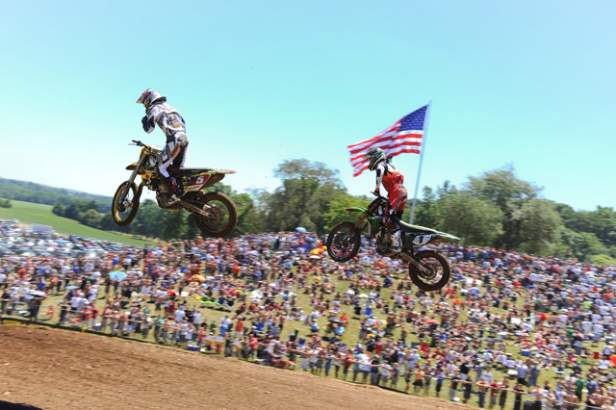 photo: Steve Cox
I suppose one of the coolest things I saw this week was Carey Hart's interview on Racer X Online. I met Carey over fifteen years ago at the Denver Arenacross. We were both racing on our own out of the back of Ford vans. We both probably had less than $1,000 to our names. To sit and listen to Carey speak during that interview blew my mind. He's still the same mellow-spoken guy I met in the shitbox Ford van with Nevada tags, but today he's married to one of the largest pop singers of modern times, plus he co-owns a world-renowned and respected tattoo shop and a motocross team that could see podium time in 2011. I could only shake my head after his interview and think, "Only in America." Good for him.
And how cool it is to see Jeremy McGrath still riding supercross? I don't know about all of you, but I still appreciate what McGrath did for the sport and regard him as perhaps our greatest ambassador. Nobody won as much, had as much fun, and came off as cool as Showtime. And while he doesn't exactly have a rags to riches story, he did go from bagging groceries at a Vons store to become the greatest supercross racer to ever live. His seventy-two wins will never be touched, but more than that, he is one of the most recognized icons in all of motorsports. His nac-nac logo mirrors Michael Jordan's slam-dunk icon. They say to truly brand yourself, you need to be recognized by your silhouette alone. Like Richard Petty's side profile with his western hat, McGrath is the only motocross racer to ever accomplish this. Only in America, folks.
Meanwhile, Ricky Carmichael and James Stewart's stories are totally rags-to-riches. My man RC lived in a motor home for a couple years, but today he has his own pilot and a really big damn house. James Stewart is the first African-American supercross champion in our sport's history. Nobody ever makes that point, but I think it's a poignant symbol of the freedom Americans have been provided. Things could have been a lot different had our veterans not stopped the press of evil and tyranny.
We like to complain about taxes and censorship and laws, but we have it better here than anywhere in the world. Motocross is a great reflection of American freedom. We have white champions, black champions, deaf champions, French champions. Anybody that can throw a leg over and twist it has the same chance as anyone else. Remember this when you're tailgating somebody on the highway with a veteran's symbol on their license plate.
Like I said, Veterans Day is quite somber, and it should be. Our generation will hopefully never know what it was like to live the way our grandparents did. But we still have war and conflict. There are still Americans fighting and dying to protect our freedom to ride motocross and post our stories on freaking Facebook. I suppose my message this week is to respect and appreciate our vets and honor them by living every day to the fullest. This is the land of the free, home of the brave. Let's keep it that way.
Thanks for reading, see you next week.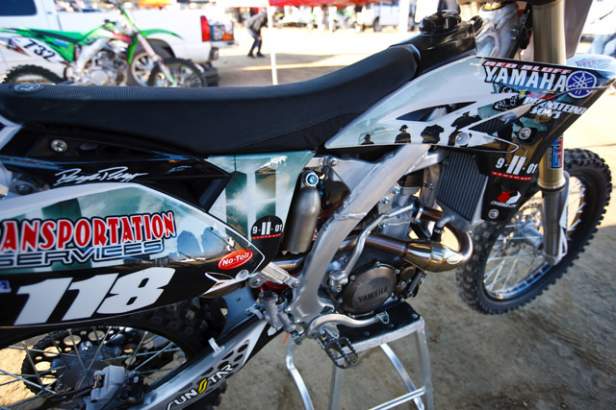 photo: Simon Cudby
Check out Andy's Rev-Up archive here.