5 Minutes with...Blake Baggett
Friday afternoon at 3 p.m. and Blake Baggett has finished up at the Kawasaki practice track in Corona and is now leaving his Kawasaki KX250F at Pro Circuit Racing before moving on to his next destination. The most recent member of Mitch Payton's Monster Energy/Pro Circuit Kawasaki dynasty, the 18-year-old from California, after an impressive rookie season in 2010, had rightfully earned a place on, arguably, the most powerful team in the sport for 2011. A consistent top-five finisher for Bill Keefe's Rockstar Energy Suzuki satellite team in the 2010 AMA Supercross Lites East Region Series – he also won the Dallas round – Baggett ultimately wound up being one of the sensations of the year. An almost lifelong Kawasaki rider (hold this thought), Baggett had designs of riding for Pro Circuit his freshman year as a professional but lost the seat to AMA Horizon Award winner Dean Wilson. However, rather than running his mouth or burning a bridge, he let his riding do the talking, and despite breaking his left humerus at Budds Creek and being forced out of the remainder of the '10 season, earned the respect of Payton with his results and determination and was rewarded with a place on his 2011 team roster. Before leaving Corona, Racer X sat down with the well-spoken racer and talked with him about the ups and downs of the season that was, as well as making the transition from yellow to green.
Racer X:
Blake, I just saw your #57 KX250F leaning up against the back of the Pro Circuit building. It looked pretty dirty, so I'm going to assume you were out riding today, right?
Blake Baggett: Yeah, I was definitely putting in some laps over at the Kawasaki supercross track.
Was anyone else riding over there today?
You know Ryan pretty well, correct?
Yeah, I've known him from when he switched over from Yamaha to Kawasaki 80s (Note: 2002). He actually lived at my house and stayed there. Pretty much both of our families lived in one house and we went riding everyday together and then when he got on big bikes they moved down to Murietta. But we're still pretty close.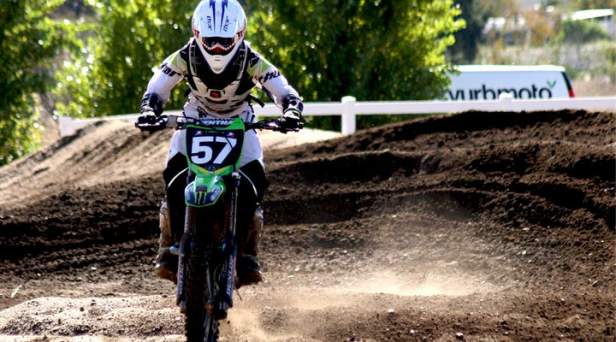 Blake aboard his new ride.
photo: Andrew Campo

So you guys sort of grew up together?
Yeah, I kind of think of him and his family as like my second family.
As far as being on the bike and going into the race shop and all, how long have you been on the Monster/Pro Circuit Kawasaki team?
It's probably been three and a half weeks now. I just started riding supercross this week. Tuesday was the first day. So I rode to days at the Kawasaki track this week and two other days at a private supercross track to just kind of get into the swing of things and get used to the 2011 bike.
So you're really new over there, huh?
Still getting to know everybody?
Yeah. I think I have all the names dialed in so far. I know the who's who, but you always come across a brain-fade.
I know it's quite early, but how do you like the 2011 bike so far?
I mean, the bike is really good. I always rode Kawasakis from when I got on 60s. Last year was the only year that I didn't ride a Kawasaki. So jumping back on it, it feels like I'm right back at home, you know? A Kawasaki is a Kawasaki; they all feel really close to the same. I really like the bike.
So, it's a pronouncedly different motorcycle that the RM-Z250, huh?
Yeah, they just have a different feel to them with the way they corner and the way they handle. I don't know... The bike has kind of got that mellow feel to it while the Suzuki felt kind of like abrupt.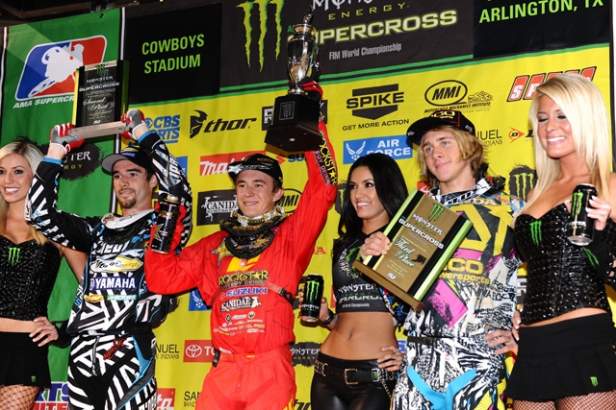 photo: Steve Cox
So, you were just on a Suzuki for one year...
Yeah, just one year. And I even got on it late... I had not even ridden yet at this time last year. I don't think I got a bike until the last week of November, maybe. Actually, December 1st was when I got a bike. So I guess you could say I have not ridden Suzukis for very long.
Was that due to the fact that Pro Circuit was hesitating as far as making a decision about whether they were going to go with you or Wilson for 2010? There was a lot of talk about that and the final decision was made pretty late...
I mean, I don't really know about that whole thing. I went in and talked to Mitch and I just basically just asked him what I should do. I said, "Here are the offers I have." He didn't have an offer for me. I didn't have an offer from him at all. I had two offers and I asked him as a personal friend who has always used his stuff, "What should I do? Where should I go so in the years to come that I could end up here?" He told me where I should go and that's the deal I took. The Rockstar deal, you know they didn't really have bikes or stuff set up so that was kind of a last-minute "scramble together" thing. So the guys who were riding West Coast, they got their bikes first. Us East Coast guys got our stuff a little bit later.
Okay. Kind of a tough question: Did you have to watch your words when Mitch told you to go to the other team?
I mean, I think everybody's dream is to end up on the Pro Circuit team. No matter how old you are, whether you are a kid or not or no matter where you grew up, that's everybody's dream. I always wanted to go there, but I knew that I didn't have the greatest amateur career. I won stuff, but I was never really the guy. I was runner-up a lot and that didn't give me any titles. When it came down to it and I didn't have a ride, I wasn't mad or anything, I was just a little bit bummed out on myself that my performance kind of hindered me a little bit. But I was kind of glad that I got my rookie year out of the way and I didn't have Mitch there breathing down my neck. The team that I did ride for was awesome and everyone was really helpful and now I feel like I'm ready to go out there and battle for wins.
You started your supercross season with an 11th-place finish at Indianapolis, but then went 5-4 at Atlanta and Daytona, respectively.
Yeah, I kind of got into the swing of things and I was going for a top 10 at the first race and I figured if I got a top 10, I'd be pumped. I came out with an 11th, which wasn't bad. From there out at every race, I figured I'd try to get in the top five. I also hoped to shoot for a win and we got one of those, so that was pretty cool.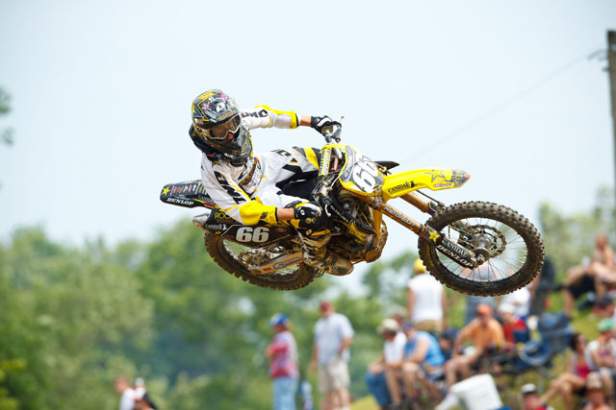 photo: Simon Cudby
Tell us about your win at Dallas... That night started off a bit rough, didn't it?
Oh, real rough. We went into the heat race and I caused a big pile-up in the first turn because the corner was so slippery that I locked up the front brakes and went down and was underneath everybody. We went to the Last Chance [Qualifier] and there was a red flag. Then, in the next one, there was a crash in front of me and I got lucky and made it as the last rider into the main event. I definitely think that was luck there. Going into the main I knew there was going to be a big, huge pile–up in the first turn. Guaranteed. I thought, "I'm kind of glad I'm the very last guy out there, because worst-case scenario, if everybody bumps out, I'll just get out on the concrete and then get back on as soon as I can." Sure enough, in the first turn, 90-percent of the people were lying on the ground. I ended up starting the race in fourth and things just started to click from there. Once you get in that groove, I just kind of got in that mindset and just rode and when it came down to it, lappers started slowing it down a little bit and I just got a good line and jumped down the inside of Ryan Sipes and was able to pass him.
Your outdoor season began pretty positively but ended abruptly at Budds Creek. What happened?
During the last lap of the second practice at Budds Creek I ended up with a compound fracture in my humerus and tore my rotator cuff in my shoulder.
At that point, did you know where you would be in 2011 yet?
Yeah, after Freestone [Texas] I had already talked out a deal with Mitch. Mitch was cool enough to tell me, "Hey, I really would like you to ride for me in 2011." We came to an agreement. He just basically wrote it on a blank piece of paper that said, "Hey, you have a ride with me no matter what." So that was kind of cool. I really appreciated it. It took a lot of weight off of my shoulders.
What I think is really cool is that while Mitch couldn't find you a seat for the 2010 season, you kept your cool. Then things played themselves out and you ended up coming full circle and scoring a ride with his team. In other words, you didn't burn a bridge last autumn...
Yeah, the bridges all connect here between all the factories. Suzuki was great. Bill Keefe was a great team manager. Mitch is definitely different, but I think he's different in a good way. He breeds champions, so hopefully I'm one of those guys.
So, your dream to race for him has come true, but it just took a year, eh?
Yeah, we took a year detour to get there. That's fine with me. I got my rookie season out and all my mistakes out, so this could be the year.
We don't really know each other. We don't talk. We race, and that's about it.
Come 2011, East Coast or West Coast? Do you have a preference?
Doesn't matter. If you win either one, you're a winner.