Between the Motos: David Vuillemin
David Vuillemin is one of the only racers who can boast that he beat both Jeremy McGrath and Ricky Carmichael heads-up in supercross in their primes. After spending 2009 racing the GPs, he hung up his boots and got ready to move into a new role. About a month ago, he landed a spot as Team Manager for the Motoconcepts Yamaha racing team for 2011. We caught up with him today to find out what he's been up to, and what his plans are for the future of the team.
Racer X:
Talk about the last year or so since you quit racing at the end of 2009. What have you been doing that whole time?
David Vuillemin: Yeah, it ended just over a year ago. I was in France for a while, and I didn't do much. Then Gautier Paulin called me and wanted to try out some supercross in the U.S. and get ready for the GPs, so I said, "Okay, we can go to my house in California, since I didn't sell anything in California." So, we came here and trained and rode supercross – he hadn't ever ridden supercross before – and he did three races, and then I went back to France with him. We started riding in the sand to get ready for the season, and went to Lommel to train in the sand a little bit. He actually beat Jeffrey Herlings on his home track. And here at home, we went to the desert to train in whooped-out sand in the desert. We went every day and rode and trained in Lommel and other sand tracks in Belgium, and he ended up improving a lot. That's what we did for four months, and then he broke his leg like a week before the World Championship started, so that was kind of a bummer. I was supposed to go with him to the first few, so that was a bust.
What have you done since?
I haven't done much. I didn't really ride in France, even though I had a YZ250 that I rode once in a while. I really didn't want to ride. In the two months I was in the U.S., I didn't ride at all. I had opportunities to go ride some new tracks, and it was probably the best time of the year to go ride motocross here, but I didn't really have the motivation. I didn't want to do it. I was kind of tired of it. To this day, I don't ride at all anyway. I put some weight on, and then I'm not as fast, and it doesn't feel right to go ride. I'm bummed out in how much I've lost in only a year. You can't really do what you used to do, so that bums me out, and it's not really fun.
I went through the same thing when I quit racing. Obviously, I wasn't even close to that fast, but I didn't ride for years and I was okay with that…
Yeah, so maybe it will come back after a while. I bought a new YZ450F, so maybe I'll want to ride again. But after that, my family, we all stayed in France for a little while, until the end of June, which was the end of the school year. I wanted my kids to learn French and to learn the culture. They're both fluent in French, although my son's kind of losing his French a little bit, so I'm trying to speak to him in French as much as I can. They speak French to each other quite a bit, too, so that's good. Charlotte, my daughter, is doing awesome, and she's perfectly fluent. That's why I wanted to stay in France until the end of the school year. But the kids were kind of missing America a little bit, because it just wasn't as fun, and I was interested in maybe doing something in the industry, so it was better to come here. To tell you the truth, I was kind of bored, but it's not like I was dying to find something to do. Luckily, I wasn't racing in 2010 and 2011, I was racing five and 10 years ago, when you could make better money, and I saved a bunch and I was smart with my money, so I wasn't dying to find something to do. I liked being bored and not having much to do – just doing whatever; play some cards, go to lunch with my wife, go to soccer practice and games with the kids… It was just the normal stuff that I never did when I was racing.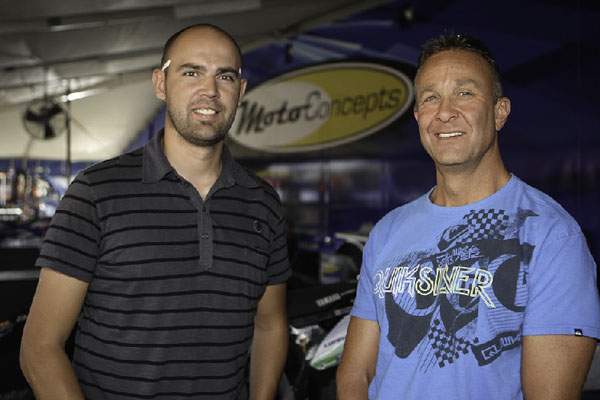 David Vuillemin (left) and Motoconcepts team owner Mike Genova (right).
Photo: Steve Giberson/VitalMX.com

It's funny because I don't think people realize how busy the life is of a full-time racer, because you don't get many weeks of vacation or anything in racing, so you didn't get a chance to do a lot of the normal stuff other people take for granted.
Yeah, it's funny, because we go everywhere – we're always traveling – but I've been in the U.S. for 11 years, and I had never been to New York City, for example. I've never been to Hawaii. When you race, you're busy, and when you're hurt, you're just trying to get back riding again. I rode hurt pretty much my whole career – there was always something wrong – and basically, at the end of the Nationals, a week later you had supercross testing. That's the circle, and I never stopped unless I was hurt. It was tough. I had some good and not so good results in '09 in the GPs, and I think my best was a fifth or something in a moto, but it wasn't great. But I was the French Champion, and last year I beat the current MX2 World Champion in the French Championship, and that was only like 12 months ago! But when I stopped, it was kind of a relief, and I shut off completely. It was crazy. Some of the guys stop, then think about it and come back to race this or that, but for me, there was almost nothing. I did a race in Mexico, and I would do some stuff, but I'm done. I turned the page, and the page was really, really thick, and I don't think I can turn it back again. I'm good where I'm at right now. I'm busy with the Motoconcepts team now, and overall I'm enjoying everything.

How is that transition going for you? It seems like it would be a big change from your racing days to end up organizing stuff all day...
Yeah, but I organized a lot even as a racer. I never really had an agent that paid my electric bill and my water bill and all of that. All the top guys now don't do anything. If a top guy now has a problem with his sprinkler, he doesn't call the guy who does his lawn, he calls his agent, who takes care of it. In my day, we would take care of it ourselves. We booked flights and dealt with promoters and ad agents, and I dealt with my sponsors directly just to manage my career and figure out what I had to do. Obviously, the work as a team manager is way different than it is as a rider, but I was a big fan of strategy and managing stuff, and I like doing what I'm doing now. I put a lot of heart into it, and I believe in being fair to sponsors and not taking anything for granted. I'm just putting a lot of heart into my job. It has only been a month, but I'm trying hard to build something.
Being a manager who used to be a successful racer, do you think that makes you harder on the racers, or easier on the racers on your team?
Well, basically there aren't too many guys who can BS me. That's the thing. My goal is to move forward and help the guys, and have the best bike we can. We're a non-factory team. We don't have all the needed support from a factory, so we pay for our bikes, our parts... We're trying to do the best that we can with what we have. The riders aren't here yet, but they're going to be here soon. They're riding now, but they haven't gotten with the team yet, and we're just putting things in place to make the best program that I can with what we have. We don't have unlimited funding or parts allowances. We have to pull in ever direction to make something good.
So, you have to find the smart compromises...
Yeah, it's a compromise, but at the end of the day, what I want is to optimize the bikes and the riders. When I was racing, I would've been happy to have somebody that was fast enough to win a championship, but never did, as my team manager. Someone like a Kevin Windham, or look at the job Mike LaRocco is doing. I'm sure the riders like the feedback they get during testing and racing. I hope the guys on the team here realize that they have that as a tool with me being here, and that I would love to help them at the track, or with input on training or riding. So, I'm doing my best to optimize every side of the team – the mechanics, the parts, the bikes, and the riders.
What is your goal for your first year? What do you think is possible for your first year?
What I want to achieve is to optimize the team and be up front – in front of the rest of the non-factory guys. I won't say we're going to get podiums or anything, because those things are longshots, but we're going to do our best, for sure. There are a lot of great factory guys out there with great equipment, so we're playing in the big leagues. We're going to try our best, and I want to be in front of all of the other non-factory teams, and I want to make our partners and sponsors happy. At the end of the year, I want them to know that they helped a good motocross effort, and that they got exposure and a value – a return on their investment. Also, I want to build throughout 2011 to get even better support for 2012. We're going to be a 450cc team only, and I don't want to go in every direction and do all kinds of crazy stuff. I'm drawing a line and trying to stay on it. I just want to build a good reputation and have a good, professional look to the team. That's about it.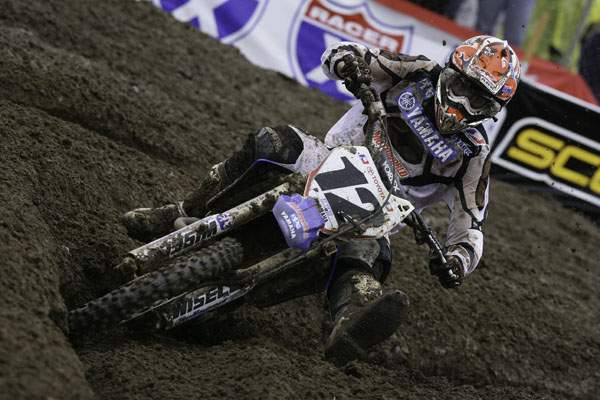 David Vuillemin in his post-factory racing days in the USA, racing for Motoworld Yamaha.
Photo: Simon Cudby
So, you're sticking to 450s only...
We're looking for two or three guys on 450s, and we have Kyle Chisholm and Tommy Hahn already, so we might just stick with the two guys, because even to go racing with a third guy who is riding for free – just bonuses and prize money – at the end of the day, that guy costs the team at least 200 or 250 grand a year. Staff, expenses, bikes, modifications, suspension, parts, travel... At the end of the year, if you put a price on that and multiply it by three guys, it's a lot of money, and we're not even talking about rider salary. When you see the sponsor money that comes in, it's a fraction of what the team costs. We're in difficult times, and we realize that. Even if a guy rides for free, the owner, Mike Genova, has to sign a check for 250 grand above the budget. People seem to forget that about going racing – at least to do it the right way. I mean, we could do it with one bike and just change the grips and graphics and air filter, but if you want to do it right, that's how much it costs.
Well, congrats on the new gig, dude...
Thanks!