5 Minutes with... Trey Canard
It's almost appropriate, in hindsight, when you realize that Team USA's Trey Canard caught fire during the outdoor season on Fourth of July weekend at RedBud. Less than four months later, he lined up in the red, white and blue to take on the world at the Motocross of Nations in Colorado. He won the MX2 qualifier on Saturday, but a fall at the start of the first moto on Sunday, and a poor start in the second moto as well, limited his results. Still, he put in solid finishes for Team USA that would've put him third overall in the MX2 class, despite the troubles.
Racer X:
Look at this whole season: National Championship, now MXoN champion... What are you thinking right now? You couldn't have expected all of this to happen when the season started, did you?
Trey Canard
: I mean, you obviously hope for it and dream for it and want to be a part of it. I wanted to be a part of it. There were parts of my season where I was just hoping to be a podium guy and maybe come here and watch. Luckily and thankfully things turned around and I was able to come here and we were able to pull it off. I'm just thrilled with the year; it was unbelievable. To get the championship was really special to me and to come here and represent the United States and just to be here and do this is... I don't have words.
When you got here Saturday and you knew it was business time, what were you thinking then?
I was ready to go. I was kind of sick of the anticipation, really, because I got here Thursday night and realized we weren't going to ride the next day – I was going to have to wait another day. I was having a hard time, but it was good because it's just a different format and it was difficult. I was nervous for sure, Saturday more so than Sunday. I was actually doing really good with nerves Sunday. It was cool. I was happy to remain calm in some tough situations, and I gave it my best, I know that for sure.
Yeah, those tough situations... What was going through your head when you ended up falling in the first turn in the first moto?
I was stuck in a really weird position with Zach [Osborne]. It was weird. I just stayed calm and I talked to him. I was like, "Hey, you need to do this, we need to do that," and he agreed and we got it going.
That's pretty funny. You crashed with the only other American in the moto, besides Ryan Dungey. You're lucky you didn't end up locked up with someone who didn't speak English!
Yeah, exactly! I've known Zach for a long time and he was sorry that it happened, but it's a racing incident and I was just happy that I didn't do anything stupid afterward trying too hard. I felt like I rode pretty well. I wasn't too excited with the way I rode, but I gave it my best. I kind of spent myself a little bit in the first moto, but hey I did the best that I could and that's all I can ask for.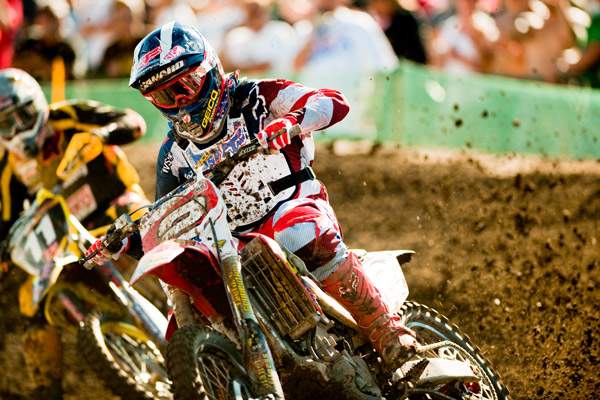 Trey Canard (2) being chased by Ken Roczen (11) in the MX2 qualifier on Saturday.
Photo: Steve Cox
I know you said you were riding a little tight Saturday, and Ken Roczen gave you everything you could handle. Talk about that young German kid.
Yeah, he's very mature for his age. I mean, I don't know him personally, but as far as a racer he's very smart and he rides a bike really well. It was cool racing him. I had fun with him Saturday. It was unfortunate I didn't get to race with him Sunday, but it was really cool and I think he's got a bright future ahead of him and I'm sure we'll be racing many years to come.
You'll probably be a seasoned vet in the 450 class by the time he shows up to race 250s here full-time...
Yeah, it'll be a while, but as we saw today, age doesn't affect anything. He has really good speed and all the Europeans are very good in motocross and they never cease to amaze me.
Now, you're up on the podium, you've got all the fans screaming, and then they start the National Anthem... What's that like?
Yeah, I remember that from '07 [when he went to
Budds Creek
to watch the MXoN]. That's probably one of the things that sticks out in my mind the most. I just realized it was real and it's a hard concept to grasp. You know, I'm still not grasping that I won the Championship, so it's really cool and I'm just happy to be a part of a successful year and I'd like to come back for years to come.
Now, when you're looking forward to an off-season, it's got to kind of all be downhill from here, right?
[Laughs] Well, the cool thing is I'm going to a new class, so there's no pressure of being a defending champ. I'm kind of the underdog again, which is a good position for me. Hopefully, I can have a healthy and successful off-season and get some good overseas races and come into Anaheim 1 strong.
What races are you doing overseas?
I'm doing Genoa, Italy, and Bercy, so it should be fun. I'm really looking forward to going over there and just hanging out and checking it out.