5 Minutes with... Andrew Short
Andrew Short was Team USA's "clutch player" at the Motocross of Nations last weekend in his home state of Colorado, and we mean that literally! It was his clutch work (his starts) that essentially sealed the deal for Team USA, despite a fair amount of bad luck (such as Trey Canard going down in the first turn in moto one, and Short himself getting taken out by Ben Townley in moto two). Short swept all three starts he had, even giving up the inside gate to his teammates in the two starts on Sunday. We caught up with the now-unemployed rider after the race to get his take.
Racer X:
Did you feel like getting in a fight with Ben Townley after what happened in that second moto? It kind of looks like you did get in a fight with your black eye!
Andrew Short
: I hope that move was unintentional. Ben is a great guy and a great racer and I was really surprised that he pulled that move; there was no room. I covered the inside pretty decent. Obviously, I swept wide, but he came in and I don't think he let off. It hit my side hard and it dazed me. It hit my eye, hit my arm, my elbow; my whole left side is really sore. Mitch [Payton] and Roger [Decoster] and my team at Honda, and Erik [Kehoe], they all said that no matter what happens I have to keep going because we might need that score. So I did the best I could without a clutch and it was a little ugly.
Yeah, but you got like 13th. That's pretty damned good with no clutch.
Yeah, it was 13th or 12th... I didn't ask, and I knew going into the last moto that it was up to me. You know, I ripped every holeshot here and put myself in the best position possible. It was awesome, and that's something that I'm proud of and I'm glad I could do.
That's a pressure thing, too, right? I mean, sitting on the line, you were giving everybody the inside, and you knew you absolutely had to perform.
Yeah, I gave everybody the inside. I was way on the outside and I just ripped 'em. It was so cool and I was so excited. It's cool when you come around that first turn and the crowd just goes nuts. You can see all of the flags waving and hear the bells and the horns and the screams. Sometimes you can't even hear your bike. It's an unbelievable feeling and I'm just so excited to be a part of this team and to be selected. It was one of my goals at the beginning of the year, and with the race being in Colorado, I knew it was a once-in-a-lifetime opportunity that would never happen again. I'm just so happy that it turned out well.
One of the things I was going to ask you is if there was some sort of bad blood back in the day or something weird with Townley, but I guess probably not...
No, Townley has raced me hard in the past but I just didn't expect that from him. I knew he was there, but maybe I just have to change my style. I haven't talk to him and maybe he didn't mean to do it. I'm going to give him the benefit of the doubt. I've done that to people, too. It's just a shame that it happened in the biggest race of the year for me, and it hurt so bad and it cost me, but in the end it worked out for us and I'm happy. You know, a little adversity is never bad for anybody. You're always tested in life and that was like a little test for me, and I'm glad we could pull through in the end.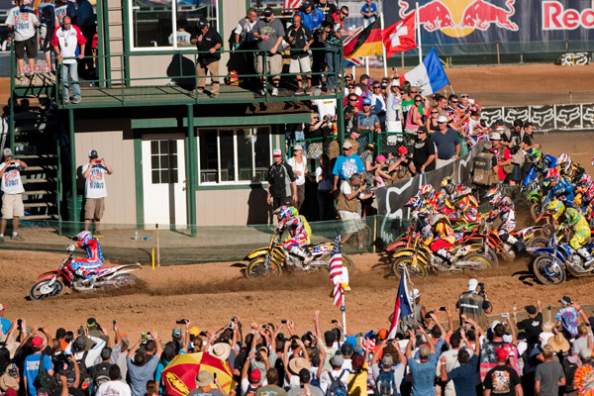 Andrew Short grabbed the moto-three holeshot over Ryan Dungey, essentially sealing the win for USA.
Photo: Steve Cox
While you were racing that last moto, I know you want to focus on what you're doing right now, but I know you saw Dungey behind you at that one point and you let him by. Up to that point, did you know that that was Dungey or that he was near you?
I thought it was [Kyle] Regal behind me at first and there was no way I was going to let that guy by me. I was going to start picking it up a little bit and hanging it out a little more, then I looked back and saw it was Dungey and I'm like, "Okay, go buddy! Just go!" I wanted him to win and give us the best chance. I tried to tuck in behind him, then I saw some Belgians coming at the end. Those Suzukis were coming fast and I stepped it up. It's tough! The motos are so close for moto two and moto three, just like Trey had with one and two. Without any break, you really have to dig deep and I did that in the second moto, and I'm proud that I could come through for those guys.
And being all banged up has to make it even harder, doesn't it?
Yeah, I was really sore and I wanted to take some medicine just to help with the pain, but I'm scared of the drug testing. I didn't want to put anything in my body that would jeopardize the race for the USA or something stupid like that for taking Advil or something. I knew once I got on the line the adrenaline would take over. I'm sore, but I can rest forever now, you know? I'm so excited that it turned out well and I ended up with a good finish that second moto. It was unbelievable.
With those holeshots, how much of that has to do with just believing you need to be in the front and that's just where you have to be?
For me, I practice it so much... I guess it's a mental thing because I know I can do it and it's so easy for me, but I have that bike down. I know exactly what RPM to hold it at. I know exactly how to release the clutch. I know exactly when to shift.
So, it's a science?
Yeah, we've learned so much from the data bike and I've practiced it so many times, I know the optimal way to start on that bike. Here, it's totally different because we normally start in second and here we start in first. I hold it at a little higher RPM, but I basically dump it and then just shift really good and clean. When I do that, I can gap everybody and all that practice has kind of paid off. It's an unbelievable feeling just to go through the first turn knowing that you have 21 tearoffs that you don't really need and everybody is cheering. It's awesome and it makes your day.
So you've won races, but you've never won anything like this before. This has to be the top of the list so far in your career, isn't it?
Yeah, this is the biggest moment of my career and especially with it being here in Colorado in front of all my family and friends. Just to be associated with Ryan and Trey, Mitch, Roger, my whole team at Honda and Red Bull... The whole atmosphere was awesome. Even the food at the Alpinestars [hospitality area] is just unbelievable with the chefs there, and it's just awesome. It couldn't have gone any better. I'll never forget this day for the rest of my life and I couldn't be happier just to be successful. To win is truly amazing.