Race Report: MotoUSA.com WMX Final at Pala
Coming into the final round of the Lucas Oil AMA Pro Motocross Championship at Pala Raceway, Jessica Patterson had her sixth title all but wrapped up with a 22-point lead over rival Ashley Fiolek. All Patterson had to do was make sure she scored a few points in each moto and the championship would be hers. But after the DNA Shred Stix/Star Racing Yamaha rider went out and dominated both qualifying sessions, it was obvious that Patterson was determined to close out the season the same way she entered it: in attack mode.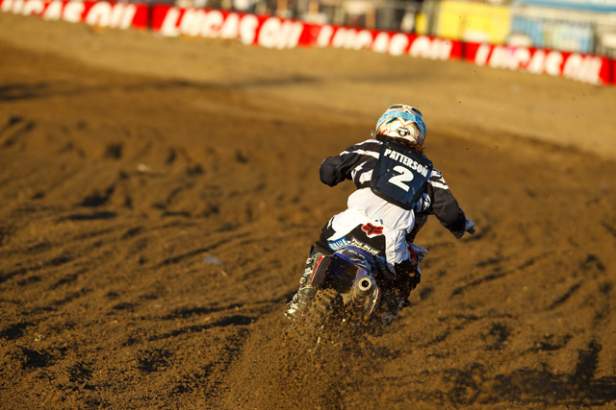 This is view that JP$'s competition had throughout most of the 2010 season.

When the gate dropped for the first moto, Honda Red Bull Racing's Fiolek streaked out of the gate and nabbed the holeshot, followed closely by Patterson. Initially, it looked as though the crowd would be in for a Patterson-Fiolek showdown, but it was not to be, as Fiolek went down on the first lap, allowing Patterson and Sara Price to go past. Fiolek was able to regroup and get back into second place, but there would be no catching Patterson, who had checked out faster than Mel Gibson's publicist. Patterson knew a moto win would clinch the title, and it showed in her riding. Despite a massive lead, she charged hard until the checkered flag came out.

Also on the gas was Vicki Golden. The Moto Concepts Yamaha rider, who recently started working with Steve Lamson, was way behind Monster Energy Kawasaki's Sara Price, but with each passing lap, it became clear that Golden was reeling Price in. She caught Price on the second-to-last lap and, after a brief battle, took over the final podium spot. Lucas Oil/TLD's Tarah Gieger also put in a charge, finishing seventh after a thirteenth-place start.

Patterson took the moto win, with Fiolek, Golden, Price, and Mariana Balbi rounding out the top five. After the moto, Patterson's team was ecstatic as they watched her don a #1 jersey and accept a $25,000 championship check on the podium.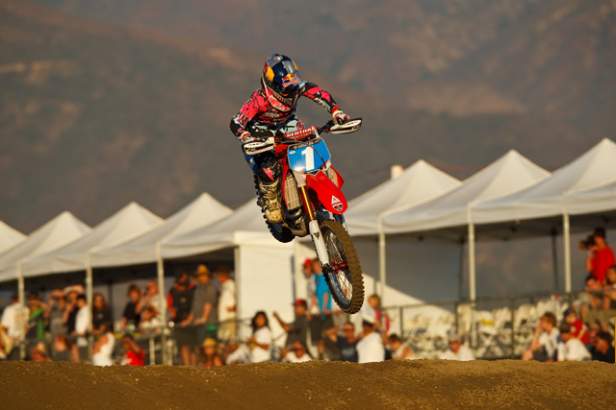 Fiolek took the win in moto two.

In the second moto, Fiolek seemed to ride with renewed energy. She nailed her second holeshot of the day and immediately started building a lead on Patterson. Despite having already wrapped up the championship, Patterson again went into attack mode and began chipping away at Fiolek's lead. Unfortunately, the furious pace and treacherous track took their toll and JP crashed hard at the finish line. Bruised and in pain, she remounted and cruised to second.

"I kind of hurt myself a little bit again, so good thing this is the last race," Patterson said. "It was really rough. I think the sun was worse than anything—you can't see anything going up to those jumps. It was pretty sketchy."

Elsewhere on the track, Price had a healthy lead on Golden, and it looked like she was headed to the podium for the second time this season. Then she took herself out of contention when a crash on a step-up sent her cartwheeling down the side of the jump. Price lost a ton of time trying to get the bike restarted and ended up finishing twenty-second. Several minutes later, Nicole Madsen of Taft, California, went down hard on the same jump and was carried off on a stretcher.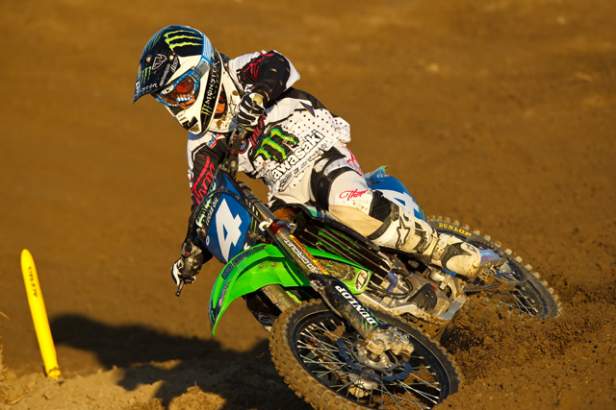 A crash ended what looked to be a podium finish for Sara Price.

In the end, Fiolek took the moto and overall wins, pumping her fist enthusiastically over the finish-line jump. She was followed by Patterson, Gieger, Alexah Pearson, and Balbi.

1. Ashley Fiolek 2-1
2. Jessica Patterson 1-2
3. Vicki Golden 3-6
4. Tarah Gieger 7-3
5. Mariana Balbi 5-5
6. Alexah Pearson 9-4
7. Sherri Cruse 8-7
8. Tatum Sik 6-9
9. Sarah Whitmore 11-8
10. Jacqueline Strong 10-14