5 Minutes with...Mitch Payton
September 10, 2010 10:35am
| by:
dirtgirl
Pro Circuit Kawasaki's Christophe Pourcel is facing a titanic, moment-of-truth title fight with GEICO Powersports Honda rider Trey Canard at Pala Raceway. Going into the finale, he holds a tenuous seven-point lead over Canard, who has won the last five of six nationals. We spoke with team boss Mitch Payton to get his thought on the finale and the season in general.

Racer X: Mitch, you were in a somewhat similar position last year when Pourcel's motor let go at Southwick. Now here you are, once again, caught up in a battle for the 250cc National Championship. How do you feel about things?
Mitch Payton: I feel good about it. Both Trey and Christophe are very good riders. I believe Christophe has been in this position before and he knows what he has to do. The goal should be for him to go there and win. He said that last week in his interview, that he wants to go there [Steel City] and try to win. And last week he gave everything he had. He didn't get a perfect start in the second moto, but neither did Trey. They both went to the front and they had a great race. The way that those two raced last weekend was awesome.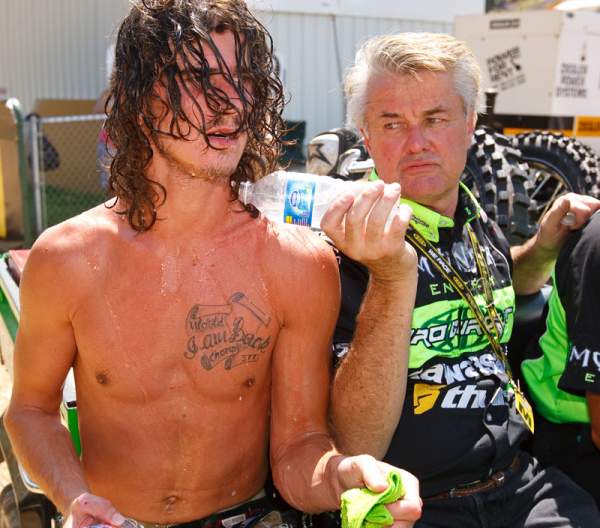 Mitch helps Christophe cool down after a hard fought moto at Millville earlier this summer.
photo: Simon Cudby

Were you surprised with how Canard really hit full stride just past the halfway point of the season?
Yes and no. Truthfully, Trey was fast two years ago and he was fast last year. He's just had injuries. He certainly isn't somebody that you just say, "Oh, that guy is done with and he's over." That moto at Mt. Morris where he crashed and got hurt, he was in front of Christophe that moto. I think Christophe even went over and saw him afterwards. You don't wish anyone – or I don't – to get hurt in our sport. The way it goes down on Saturday will be the way it goes down. They're both great kids and the way they're doing it and keeping it clean is something that I think is respectful.

What's it like for you to have the series come this far and have it all come down to just two motos?
I've said this before, but I think when this is all done and all the results shake out, whoever wins or loses this championship won't win it or lose it this weekend. They will win it or lose it when they look back on the results early in the year. Whether Trey had a really bad moto early on, or with Christophe you could easily say by his crash at Unadilla, where he got zero points, that really hurt him. If you would give Christophe, say, a fifth at Unadilla in the moto he was leading without a crash, a fifth is 15 points, so Christophe would be looking at leading right now by 22 points. That's almost a moto. A day like last Saturday, those were both respectable rides by both kids. You'll look back at the results, you'll tabulate the points, and you'll be able see where you won it or lost it. Whether Trey or Christophe wins both motos or one moto each, they both had some rough motos early in the season – or just currently for Chris.

When Christophe hit the ground at Unadilla and gave up 25 points to Canard, do you think that miscue allowed Canard to smell blood to a certain degree?
Maybe in one way, because it was a big chunk of points and he was able to capitalize on that. That's what you have to do, and that's what he's expected to do. It's never been different. I've gone to the last moto twice, and shit can happen. It's good for the series. It's good for everybody.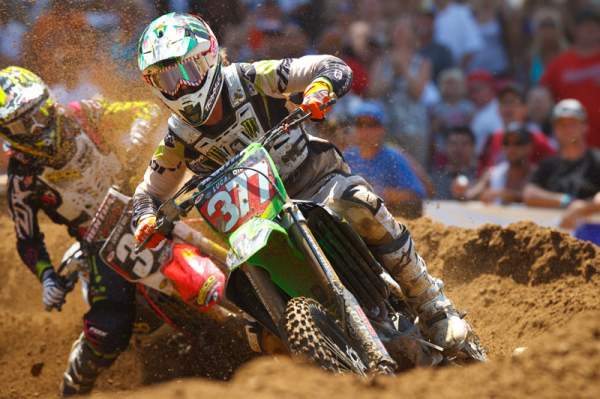 The 250 Class championship will be decided this weekend at Pala.
photo: Simon Cudby

By the way, did the fact that Roger DeCoster went to KTM catch you off guard?
It did, I would have to say, for a few different reasons. Knowing Roger, Roger was at Honda a long time, and it wasn't like Roger quit Honda. He was not re-signed, and that was the same year that Honda told me to beat it.

That would have been the end of 1992, correct?
Yeah. And he's not the type of guy, nor am I, that just packs up his bags and look for a bigger, better deal. I didn't really see that coming. I could see Roger staying at Suzuki until his career was over. He was a five-time world champ on the brand. For [Suzuki] not to see that and not have value in that, I think, is a huge mistake. So someone upstairs at Suzuki was asleep with their feet on the desk.

Going back to this new Pala track you'll run on come Saturday, have you heard anything?
I'm going to save judgment until we go there. I just hope it's rough. I hope it's wide, so that it's not one-lined, because I've heard it's kind of narrow and one-lined. I hope it's a good weekend for us and that we can close this thing out.

So come Saturday, what do you tell your guys to do?
I'd tell them to frickin' get it on. What I would love to have is a one-two-three group up there. For me, it's not going to matter whether Christophe is first, second, or third. The most important thing is that Trey is behind him. And obviously, if Christophe got a bad start and is coming through the pack, then hopefully he can get up there regardless. There's not much you can do about it. It's out of your hands when the gate drops. Fate will bring it.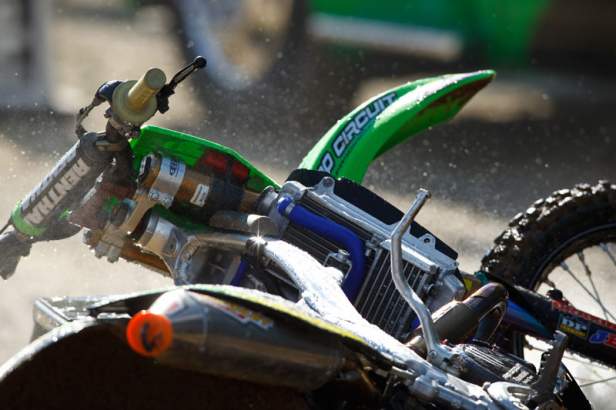 photo: Simon Cudby