5 Minutes with...Nick Paluzzi
Most people will never know what it's like to make the gate at an AMA Pro National, let alone finish in the points, and that makes what Nick Paluzzi did in his pro debut at Steel City even more amazing. Riding out of the Muscle Milk/Toyota/JGRMX rig as a replacement rider for the injured Josh Grant, Paluzzi took seventh overall in the 450 Class via 10-8 moto finishes. We spoke with the rookie to get his thoughts on his first pro national.


Racer X
: Nick, take us through your day at Steel City.
Nick Paluzzi: It was my first pro race, and a lot of people were excited for it. My first practice went great; the second practice, I messed it up a little bit and qualified pretty bad but just tried to think positive. I went out for the first moto and ended up tenth. Everyone was pumped, I was pumped, and we just brought that energy to the second moto and ended up eighth. It was above my expectations, that's for sure.
What were your expectations going into the race?
You know, the team didn't put any pressure on me. I'd only been on the bike for a few days. I went there, and I expected a top-fifteen, but seventh overall is definitely a lot better, so it was a good day for me.
Did you think there was any chance you would do as well as you did?
After the first practice I was about tenth. I think that helped me a little bit, but honestly, I had no idea what to expect from those guys. I just rode with them a little bit and got into their pace. The bike played a big part of it. The whole JGR team did a great job of setting everything up.
When you were out there, were you thinking about where you were going to place, or did you just put your head down and concentrate on going fast?
That first moto, I was pretty far back in the beginning. I was trying to get to the top twenty, so I just put my head down and tried to get as far as I could. With a couple laps to go, I saw I was in tenth place, so I was really excited about that. I think that set the tempo a little bit more for me in that second moto, knowing that I could get up there into that top ten.
What did the JGR guys have to say about your result? Were they pumped?
Yeah, they were pumped. They expected around fifteenth.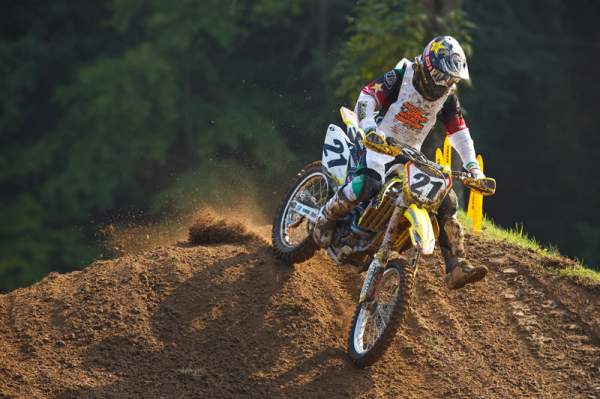 Paluzzi was on a Suzuki at Loretta Lynn's.

How did the opportunity for you to fill in for Josh Grant come about?
Jeremy Albrecht just called us on Tuesday, explained the situation, and offered us the spot. We didn't really have anything else going on at the time, and we were looking, so we took it right away. We flew down here Tuesday night on a redeye flight and got on the bike Wednesday and started doing some testing. Then it was off to do the national on Saturday morning!

Is this strictly a two-race thing, or is there a chance we might see you on a JGR bike in 2011?
You know, honestly, I have no idea. As of right now, it's just a two-race thing, so I guess we'll just see where things go.

What are your expectations for the final race this weekend at Pala Raceway?
I wouldn't say I have any expectations. We're working on starts a lot this week, because they weren't amazing at Steel City. I'm just going to do the best I can and try to get into that top ten again. That's what I'm going to do. That would be great.