5 Minutes with... Brett Metcalfe
GEICO Powersports Honda's Brett Metcalfe has been trying to do better than third overall for the last couple of races. He set that goal at Southwick, and then nearly won the opening moto before running out of fuel with a few turns left in the race. But at Steel City, he actually pulled it off, grabbing second overall, and once again nearly winning the first moto, only to get outfoxed this time by Kevin Windham. We caught up with him after the race to get his take.
Racer X:
Your racing is very solid right now, but it's missing just a touch in order to win. Is that how it feels? That's what it looks like.
Brett Metcalfe
: Well, the only thing that's missing is crossing the finish line first. Actually, just crossing the finish line this week was good. That first moto, I made that mistake and stalled it. I think if that didn't happen, I would have really went on with it. It's just a silly mistake. It's always that I need to eliminate that. It's something I can control. Like I said, everything is really clicking. I'm riding well and my starts were decent today.
The second start wasn't great...
The second one wasn't. But it was solid. I was up there. Now, I feel like I have good momentum and some confidence and I'm leading more laps than ever right now. It's time to press for the win and today was really, really close. Close is a bad word. This next weekend is going to be good for me, I believe. I'll just go for it there.
You're relatively familiar with the track. I know you've probably been out there quite a few times.
Not since they've made changes; I haven't been there for months. The dirt and everything is a typical Cali track, so I think I'm going to dig it. It's awesome; I like it. I'm looking forward to that. It was a good day today, actually. I enjoyed racing with Kevin [Windham] in that first moto. It was cool getting to battle with him. I've never raced with Kevin until these last few Nationals.
There was Unadilla last year, but you were probably a mile ahead of him...
Well, that didn't count. So, it was cool and actually enjoyable. We battled and we were a little aggressive at one point, but never anything crazy.
It was actually interesting to watch you two because your riding styles are so different so you were kind of going faster in different spots.
Yeah, it was a cat-and-mouse game. I felt like I was really good in some spots and then once I kind of heard what was going on... This track is very good for Kevin. It's a Kevin Windham kind of style track. With his bigger body, I think he was really good in some spots where I couldn't be very good.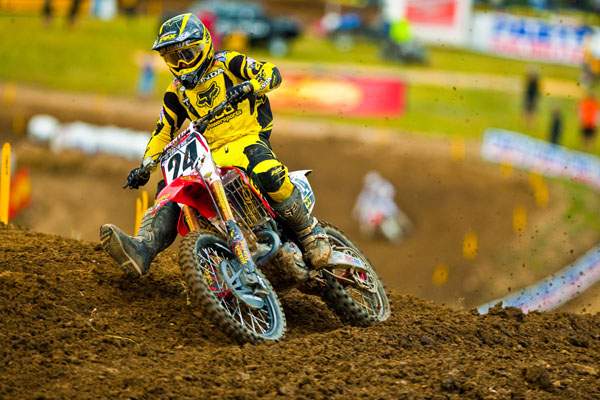 Brett Metcalfe finally stepped up a spot on the podium, landing second overall at Steel City.
Photo: Steve Cox
Bigger body for planting the bike in the slick stuff?
Yeah, planting the bike, charging in hard, turning on a dime... That's where I struggled to get traction. That comment was exactly how I felt. I would pull and then he would pull and get me and I'm like, "Man, I have to change things up!" It was a cool race. There was a point where I thought I was going to run out of gas again, for real. It crossed my mind. I'm like, "Dude, I'm going to run out. Should I start letting up? What should I do?" I was scared to run out.
Now your head's all messed up... Where are you in points now?
Second. But not by much.
Yeah, but that's progress. Your first ever year on a 450, to be running second in a championship with one round to go... That's good. You're racing MX1 for Team Australia and Jay Marmont is MX3 with Dean Ferris in MX2. I know that it's a staple of the team to have Chad Reed on it and usually Michael Byrne, because they've been around forever. This year, you guys are doing without both of them. What do you think about your chances as a team?
Well, I think we're in with a decent shot to get a top-three. To pull off a win, there are some teams that are really strong and that's going to be a longshot, but I think we're in with a shot for an overall top-three. In years past, with Byrner, me and Chad, we had been going for the win and it's been backfiring and not working out. Maybe this approach is something that will move us forward and won't backfire. We'll see what happens.
What's going on with your hand? You've been favoring it...
When I ran out of gas at Southwick, in the first moto there on the last lap, obviously I was pretty pissed at that instant. I slammed the crossbar with my hand – just punched the crap out of it – because apparently it was the crossbar's fault that I ran out. I was like, "You damned crossbar!" So, I punched it as hard as I could with the meat of my hand, like a hammer, and never really felt it at the time. It was not even a problem. Then, after the moto, I'm sitting there cooling down and I'm like, "Man, why is my hand hurting so bad?" I realized it was swollen up and thought about it and it was from punching the handlebars. It's not a problem now, it just hurts whenever someone shakes my hand. It just really kills right now, but it's all good.

We don't think of you as having a temper because you normally seem pretty even-keel. Are you one of those guys who, when we don't see you, you have a temper all the time? Like you're always throwing things around the house or something?
No, that's not me. I try and hold my emotions in, which is a good thing and a bad thing also. That part of me right there was kind of letting some anger out. After I let that out, I left it on the track, went back and was totally cool. We went on for moto two and there was no problem. That's part of me that I don't really enjoy – being angry – but sometimes you have to let the anger out.
And for the last thing, do you feel like this is the top of your riding level so far in your career?
Yeah, I do. Every year you look and every year I want to try and get better and better and find ways to improve – find new things, techniques, dieting, training, whatever it is. It's an ongoing process to become better as a racer, so I do believe this year in Supercross was my best ever result, and outdoors of course is going great. I definitely feel like the 450 has helped me propel myself big time and just continuing to get better as a rider, too.
That's the irony of Brett Metcalfe: Everybody pigeon-holed you as a 250F rider and then you rip on a 450. People should have known that three or four years ago...
That was a choice I had to make at the end of last year. I just had to push. I knew I had to get off of the 250 and I had been feeling it for a couple of years. If someone came to me and said, "Hey, we have an awesome team and 450 for you to ride," I would have taken it, but it didn't happen. It's the common thing here, where people say, "He needs to win the Lites class, the championship, or win races," and this and that. I was going for that. I was always chasing that carrot there in the Lites and I never got it, but here I am in the 450s and I'm way closer to winning races than I was on the 250. Sometimes, you have to re-evaluate and chase something else.