The seesaw battle in the 250s continued at the penultimate round of the 2010 Lucas Oil AMA Pro Motocross Championships at Steel City between points leader Chris Pourcel of the Monster Energy/Pro Circuit Kawasaki team and GEICO Powersports Honda's Trey Canard, and both riders refused to back up or let the other get a leg up. Unfortunately for one of them, though, there had to be only one winner.
In the 450s, a crash resulted in a mechanical DNF for the champ in a moto and led to an overall win by the eldest racer in the series.
450
Honda Red Bull Racing/GEICO Powersports Honda's Kevin Windham likes Steel City Raceway in Delmont, Pennsylvania. He always has. It suits his style of careful line choices and awesome throttle control. But in the previous nine rounds of racing, no one was able to dethrone this year's new champ Ryan Dungey of the Rockstar/Makita Suzuki team.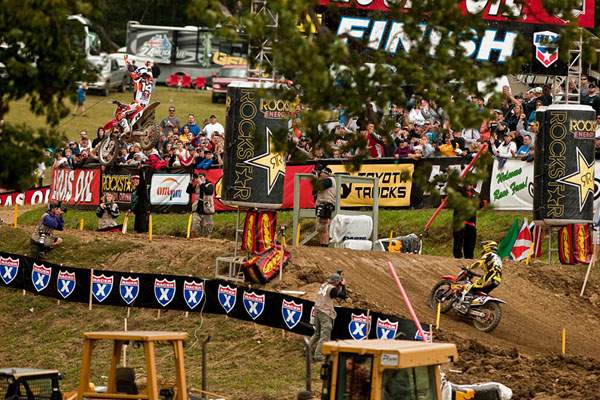 Kevin Windham (14) takes the checkered in the first 450cc moto at Steel City, just in front of Brett Metcalfe (24).
Photo: Steve Cox
Instead, Dungey dethroned himself. On the first lap, he lost his balance in a rut and crashed, sheering off his front-brake rotor before dropping out of the moto.
Meanwhile, GEICO Powersports Honda's Brett Metcalfe grabbed the lead on the first lap and began to stretch out a very large advantage while Windham moved by temporary teammate Andrew Short for second.
Out front, Metcalfe had the race in hand before a stall cost him the lead. Windham took over, but Metcalfe struck back and passed the veteran, only for Windham to regroup and make a pass stick with about a lap to go at the end of the moto. Windham went on to score his first outdoor moto win since Glen Helen in 2007, the last year he raced motocross full-time. Metcalfe came in second in front of Townley and Short, making it a Honda top-four sweep. Brayton was fifth.
In moto two, Short again grabbed the start, but this time it was Windham who got by him first and moved into the lead. Dungey followed him through, though, and eventually made the pass stick for the lead. Windham stayed close for a while, but eventually ended up settling for second while Metcalfe worked his way through from the tail end of the top 10 to get within spitting distance of Windham at the finish, grabbing third in the moto. Brayton was fourth and Short was fifth.
Overall, Windham took what could be his last AMA National victory over Metcalfe, Brayton, Short, Mike Alessi (with a 7-7 score), Dungey, JGR replacement rider Nick Paluzzi, Kyle Chisholm, Bobby Kiniry, and then Ben Townley, who dropped out of the final moto after a first-turn crash that also ended Billy Mackenzie's time as a Kawasaki fill-in, as Billy Mac suffered a broken left collarbone in the fall.
In the points, though, Metcalfe moved past Short into second in the standings, while Windham has reached 14th in the points despite only racing from Millville on.
250
GEICO Powersports Honda's Trey Canard let an opportunity slip through his fingertips at Southwick, but it seemed he wasn't prepared for the to happen again at Steel City. However, title rival and points leader Chris Pourcel wasn't about to give any quarter, either.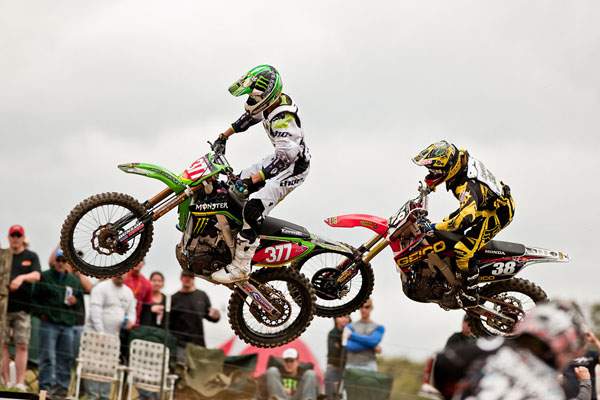 Chris Pourcel (377) and Trey Canard (38) battled about this close in both 250cc motos at Steel City.
Photo: Steve Cox
Pourcel's teammate Tyla Rattray grabbed the holeshot in the first moto, but Pourcel was quickly past him and into the lead. Canard came around to end lap one in third after passing a couple of riders on the opening lap. Canard wasn't going to wait around, though. On lap two, he zapped Rattray for second, then set out after Pourcel, passing him for the lead less than a lap later.
Pourcel came right back and passed Canard the next lap, but Canard put his exclamation point on the race when he took Pourcel wide in a 90-degree left-hander at the bottom of a hill just past the start area. From there, Canard would never be headed, although Pourcel did manage a late-race charge that left the two racers not only separated by less than one second at the checkered, but the late-race charge left them over 20 seconds in front of Rattray. Canard's teammate Eli Tomac grabbed fourth over TLD/Lucas Oil Honda's Wil Hahn.
Dean Wilson
took the holeshot (he had two big falls in moto one and finished way back in 17th) and led commandingly over Tomac, DNA Shred Stix/Star Racing Yamaha's
Nico Izzi
, Canard (who passed a couple guys in the opening lap to come around in fourth), Rattray, Hahn,
Justin Barcia
, Pourcel,
Darryn Durham
and Izzi's teammate Tickle.
In the first half of the race, Canard looks out of sorts and fails to move forward much at all, only getting into third close to halfway, but at about the halfway point, Pourcel moves into fourth behind him and puts some pressure on, and then Canard fires up, passing Tomac (with Pourcel following suit) and then chasing down Wilson for the lead, making the pass with three laps to go. Pourcel seemed to concede second to Pourcel, and Pourcel put on another late-race charge and again came up just short – about two seconds back – of Canard. Wilson finishes third over teammate Rattray, then Tomac, Barcia and Wharton. That's a top-seven full of all seven healthy Pro Circuit and Factory Connection racers, setting the stage for a knock-down, drag-out finale at Pala, where team tactics may very well come into play for both teams.
With the final two motos still left to run, Pourcel leads Canard by only seven points. The good news for Pourcel is that he can finish second to Canard in both motos and still secure the championship by one point. The bad news is that if Canard goes 1-1 again (he has won five of the last six nationals overall), Pourcel can't finish any worse than second in either moto, or the title will not be his. And in the case of a tie in points, it will go to Canard, who has the most overall wins (five to Pourcel's two so far).
WMX
Pala
season finale next weekend in order to successfully defend her outdoor title.