5 Minutes with... Trey Canard
GEICO Powersports Honda's Trey Canard had a bit of a rollercoaster day at Southwick, winning moto one, but then fading late in moto two to finish at the tail end of the top 10. Still, he managed to pick up three points on championship rival Chris Pourcel with two races – four motos – left to run.
Racer X:
One of the best Ricky Carmichael quotes has to be, "Championships are won on your bad days." So, the whole point is to try to minimize the amount of points you lose when things don't go your way, because when things do go your way, you're going to win, but when things don't go your way, you have to minimize the loss. Despite that second moto you had, you still gained points today. That has to be somewhat of a positive, right?
Trey Canard
: I'm not excited about the second moto, and I'm bummed that I lost two spots at the end, but I was giving it everything I had. I mean, it's a real weird feeling when you're off. I wasn't comfortable with the bike and it felt like every hole that was out there, I hit. I wasn't in a good flow. I wasn't even thinking about the championship, I just wanted to go forward! It's just a really awkward feeling. I mean, I would try to go faster. "Maybe I need to go faster. Maybe I need to go slower. Maybe I need to jump this bump. Maybe I need to just go through these bumps." I was trying everything that I could and it was just an off race. To be honest, I didn't feel comfortable all day.
Even winning the first moto?
I didn't feel good, no. I was washing the front end everywhere. I was squirrelly. I was hitting bumps wrong.
So, you changed stuff for the second moto?
I didn't change my stuff because I didn't know which direction to go in. Plus, I won [the first moto], so I was like, "Maybe it's okay." All in all, it wasn't that bad of a day. I still made up points and I got a moto win and learned some things and I'm healthy. So it's not a bad day. I just need to brush it off and go into the next race and come in ready.
That's one thing in the past that wasn't a strength – brushing off the last race – but it seems like it's become a strength.
Yeah, I think I've improved from Unadilla. At the end of the first moto, [Tyla] Rattray was coming and I felt like, had it been Unadilla, he would have passed me. That was a positive thing. I did everything that I could. It might not have looked like it, but if you're a racer, you know the feeling of feeling completely out of sync and that was totally the case. I did make up points, so I just have to pull everything positive out of the day that I can and move on to the next race, because anything is possible. At the end of the day, it's just a dirt-bike race, and I'll be here until the end doing everything I can.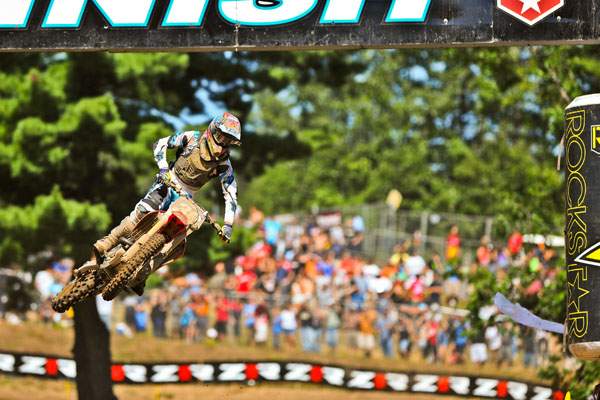 Trey Canard won moto one, but had a really bad second outing.
Photo: Steve Cox
You have been in championship position before. That's different from some guys in your position that just started winning nationals, but you've done it back in 2008 in the Lites East. You've been in that position where you had to beat a certain guy and then you beat that guy. Do you feel like the same guy today?
I'm the same guy, really. In a sense, I've changed a whole, whole lot, but at the end of the day, my heart is still the same. I'd like to think of myself as a guy who has a lot of heart. I want to do anything that I can to do my job.
Maybe sometimes you have too much heart and try too hard, huh?
Too much, sometimes, for sure. What I'm saying is, I have changed. I think that I've changed a lot for the better and I think that I've moved forward, which is a good thing. At the end of the day, I'm still the same person.
Having been in that position before, if and when it does come down to the final round, do you like those odds?
All things aside, the pressure is on him [Pourcel]. He's the one being chased and he's the one that can lose it. The same with me; things can happen. What works best for me is coming in and doing the best that I can. Coming in as ready as I can be and focusing on me and focusing on the race. I know it sounds cliche, but being in the moment and being there when it counts.